September 29, 2011 | 10:19 AM
The Solar Bowl
© 2011 Flickr/Daniel X. O'Neil cc by 2.0
Are you ready for some clean energy? Ok, so maybe you won't hear that on a Monday Night Football broadcast anytime soon, but fans flowing through some stadium turnstiles may notice new solar panels and wind turbines. Following a wider trend in the sporting world, several prominent NFL teams are employing a new offensive strategy -- clean energy.
Last Sunday, the Washington Redskins, with help from Redskins legends Joe Theismann and Mark Rypien, flipped the switch on their new solar installation in what is being called the NRG Solar Bowl. NRG Energy recently finished installing the largest solar power system in the NFL just outside the Redskins' FedEx Field. The 8,000 solar panels are arranged above one of the stadium's parking lots, so they provide covered parking in addition to clean energy. The solar panels will generate more than 20% of the stadium's needs on game day. But perhaps more impressively, the Redskins' system will supply all of the stadium's electricity on non-game days.
On the other side of the United States, Seattle is also making a play for clean energy. Not many (actually, I don't think anyone) think of Seattle as a hotbed for solar energy. But the Seattle Seahawks' new clean energy project doesn't require direct sunlight to create electricity. The Seahawks' 3,750 solar panels feature cutting-edge photovoltaic technology that captures sunlight from every angle. The whole system, spread out on the roof of a 2.5-acre parking garage, will generate enough electricity to provide electricity for almost 95 Seattle-area homes. The team hopes to use the solar panels as an educational tool, including by installing a kiosk that shows fans how much energy they're saving.
These clean energy projects may seem like small steps compared to the wider problems facing the climate. But the cultural significance associated with the NFL is simply staggering. About 1 million fans attend NFL games every weekend; if Sunday's football fan becomes Monday's climate activist, we'll be squarely on the path to winning the conversation on climate change.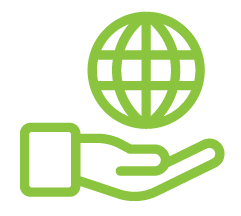 Before You Go
At Climate Reality, we work hard to create high-quality educational content like blogs, e-books, videos, and more to empower people all over the world to fight for climate solutions and stand together to drive the change we need. We are a nonprofit organization that believes there is hope in unity, and that together, we can build a safe, sustainable future.
But we can't do it without your help.
If you enjoyed what you've just read and would like to see more, please consider making a generous gift to support our ongoing work to fight climate denial and support solutions.