January 18, 2011 | 10:00 PM
Solar A Go-Go
© 2010 Flickr/Edmund Tse
The Problem: Create a cheap way to give people access to electricity in developing countries.
The Market: 1.68 billion people around the world without access to grid electricity.
The Solution: Pay-as-you-go solar?
Eight19, a U.K. company, is hoping their new project IndiGO can revolutionize how people around the world get access to electricity.
Traditional solar panels have a large upfront fee that many people cannot afford. IndiGO, on the other hand, acts as a pay-as-you-go solar service that makes access to clean energy less expensive. This is an example of a concept that "enables a new generation of solar power products that are affordable, providing customers with access, often for the first time, to clean, low-cost energy that eliminates the health risks and carbon emissions of kerosene."
Individuals first buy the IndiGO unit upfront from Eight19 for a one-time charge of $10. To activate their IndiGo unit, users buy a scratch card -- similar to a gift card --and text the code on the card to the IndiGo server. After validating the code, the team at IndiGo sends backs a unique PIN number that is entered into the IndiGo unit to enable the system to provide solar output for a set period of time. The IndiGO unit acts as a battery and outlet for the solar panel allowing customers to receive electricity on demand, based on their individual usage. Thus, consumers pay for the energy that the IndiGo unit enables them to store, instead of paying for large, continuously running installations.
IndiGO systems have a couple of key benefits. First, the IndiGO system includes an LED lamp and an adaptor to charge cell phones, making the machine versatile enough for an array of users. Second, the cost of operating the IndiGO system is a little less than half of the cost of kerosene lamps. In Kenya, where trials of the product are currently being run, the average cost per week of the system is only 100-150 Kenyan Schillings ($1.45).
IndiGO is mainly focused on the pay-as-you go solar at the individual level, but there are other organizations trying to develop this model on a larger scale. For example, the Modi Research Group has developed a community-based program called SharedSolar. SharedSolar uses two or more individual solar panels, within close proximity, and connects these to a smart meter to create a unique "minigrid" for participating community members to buy solar energy in the same way IndiGO users buy credits.
Although the IndiGO system is currently limited to Kenya, trials will be expanded to Zambia, Malawi and the Indian Subcontinent over the rest of 2011, with a commercial release scheduled for early 2012. The SharedSolar program recently had a successful launch in Uganda and is looking to expand to other parts of Africa over the course of the next year. Both of these efforts are timely, given that 2012 is the International Year of Sustainable Energy for All, a UN initiative that aims to increase access to energy while promoting the share of clean energy in the global marketplace. For a look at even more companies and nonprofits trying to make clean energy available to people in developing countries, check out the Energy Access Practitioner Network.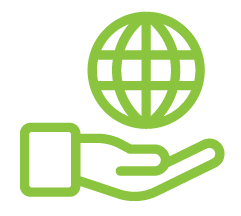 Before You Go
At Climate Reality, we work hard to create high-quality educational content like blogs, e-books, videos, and more to empower people all over the world to fight for climate solutions and stand together to drive the change we need. We are a nonprofit organization that believes there is hope in unity, and that together, we can build a safe, sustainable future.
But we can't do it without your help.
If you enjoyed what you've just read and would like to see more, please consider making a generous gift to support our ongoing work to fight climate denial and support solutions.