March 18, 2015 | 7:50 AM
Summer Camp for World Changers
When it comes to the list of countries that will be pivotal in the success – or failure – of climate negotiations at the UN's COP21 meeting in Paris later this year, India is right up at the top. Home to both the world's second-largest population and on track to be the third-largest economy, India holds the unique position of enjoying consistent growth in its GDP at the same time 24 percent of its citizens lack access to basic electricity.
With Prime Minister Narendra Modi making rapid economic development a public priority, even as devastating floods and drought have become a regular fact of life for millions, India now faces a profound choice about its energy future. The nation can take advantage of its massive wind and solar potential and pioneer a new path to low-carbon development on an unprecedented scale. Or it can keep building coal plants and watch extreme weather and other climate impacts accelerate. Either way, given India's size and influence as a key member of the BASIC negotiating bloc at the UN, it's a choice whose consequences go far beyond the nation's borders.
Which is why we found ourselves in New Delhi in February, welcoming 453 participants to the 27th Climate Reality Leadership Corps training. With talks in Paris on the horizon, our goal was to grow the network of activist influencers shaping public opinion and building support for a strong agreement, both in India and beyond.
If you've never personally experienced a Climate Reality Leader training, perhaps the best way to describe the atmosphere is having the electricity of summer camp, but for world changers. As a general rule, Climate Reality Leaders don't fit a single profile – scrolling through the list of professions and home cities for attendees in New Delhi, you'd see "CEO, Shanghai," "Student, Kolkata," and "Filmmaker, The Hague," to name just a few. Some had been active in the movement for decades, while others were just taking their first steps. But in New Delhi, all of them had put their jobs, education, family life, and other responsibilities on hold.  And they all came hungry to learn how they could help tip the balance toward a strong agreement at COP21.
What they got was a crash course in organizing, climate science, and media strategy skills led by former Vice President Al Gore and other field leaders. What they also got was an in-depth look at where they could leverage these skills to help accelerate the progress India is already making, with a special focus on three areas:
Solar energy: From the grassroots entrepreneurs of Barefoot College bringing solar to rural communities to Prime Minister Modi's plan to install 100 GW of capacity by 2022, initiatives to expand clean energy are growing across India and – with the right political will and technological support from Western nations – could scale up in a big, big way.
Efficiency: If India is going to meet the development needs of a growing population without exponentially increasing carbon pollution, the country needs to get serious about improving energy efficiency in every sector. The good news is that the government recognizes efficiency as an area where it can make real gains in reducing emissions and has already developed a roadmap to get there, known as the Low-Carbon, Inclusive Growth plan. The challenge now is to put the plan into action.
Education: Over the past seven years, Climate Reality India has been working in schools across the nation to educate students about the reality of climate change, reaching nearly 1 million. With many educators and academics in the audience, the training not only shared success stories from the climate education program, but invited attendees to get involved.
Of course, this training was just the starting point, and after the sessions wrapped up, it was time to get to work. As hundreds of new Climate Reality Leaders were saying their good-byes and preparing to head home, we challenged them to take on 4,000 Acts of Leadership using their new skills to get people talking about COP21 and create the kind of overwhelming demand for action that negotiators simply can't ignore. 
We're under no illusions: getting world leaders to get serious about cutting emissions in Paris is going to take all of us. And for India to balance its responsibilities to its citizens with its responsibilities to the planet and commit to the low-carbon development path we know can grow its economy and help bring millions out of poverty, it's going to take millions standing up and speaking up together. But after seeing the incredible drive and determination of everyone at the New Delhi training, we know that if anyone can make this happen, it's our Climate Reality Leaders. And that gives us real hope.
Want to help make it happen? Join the Climate Reality Leadership Corps.

If ever there was a moment when people from all walks of life and all corners of the world could make a real difference in stopping climate change, this is that moment. If there was ever a time you wanted to stand up and change the world, this is the time to do it. How? By becoming a Climate Reality Leader and working with former US Vice President Al Gore and renowned climate scientists and communicators to learn about what's happening to our planet and how you can use social media, powerful storytelling, and personal outreach to inspire audiences to take action. Give us three days. We'll give you the tools to change the world. Learn more.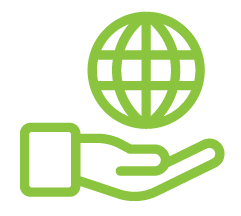 Before You Go
At Climate Reality, we work hard to create high-quality educational content like blogs, e-books, videos, and more to empower people all over the world to fight for climate solutions and stand together to drive the change we need. We are a nonprofit organization that believes there is hope in unity, and that together, we can build a safe, sustainable future.
But we can't do it without your help.
If you enjoyed what you've just read and would like to see more, please consider making a generous gift to support our ongoing work to fight climate denial and support solutions.