July 24, 2017 | 6:00 AM
Take a Number: 100
This week, we're launching Take a Number, a new series where we pick a number or statistic from the world of climate science, social science, or policy and look at what it means for us out in the world. We're kicking off with everyone's favorite whole number: 100.
One hundred.
Since 2014, the #RE100 initiative has been working behind the scenes with businesses and organizations of all sizes and sectors to negotiate transitions to 100 percent renewable electricity. The reason is simple: shift to 100 percent renewable electricity and you massively reduce the amount of carbon pollution you produce as a company.
The initiative has seen a steady stream of successes as companies that have committed to the pledge include Coca-Cola, Apple, IKEA, Google, Starbucks, and Walmart. But on July 10, something big happened as #RE100 announced that 100 companies had officially pledged to transition to renewable electricity.
Not only is this an important step towards a cleaner future, 100 major companies that millions rely on every day transitioning to 100 percent renewables – and succeeding – sends a signal that the shift to a clean energy economy is truly on and proves to other companies and organizations that they can make the switch as well.
The importance goes beyond statements. With 100 leading companies committing to renewables, someone's got to provide that power – which means growing jobs in a clean-tech sector that already employs some 2.8 million Americans. Plus, with more demand and more capacity coming online, renewable electricity keeps getting cheaper. So it's easy to see why this movement is quickly gathering steam (er—that is, solar and wind) as a smart financial decision for global businesses.
Our own initiative, 100% Committed, is targeted at helping communities, businesses, and schools shift to 100 percent renewable electricity. Renewable energy helps fight the climate crisis, generate jobs, and even save money – in more and more regions of the US and around the world, energy from renewables is as cheap or cheaper than dirty fossil fuel energy. As a result, it's easier and more affordable to switch than most people realize. Already, we've helped communities like Salt Lake City in Utah, Boulder and Aspen in Colorado, and Shandanken in New York make the commitment, as well as universities such as Colorado State University, University of Wisconsin – Stevens Point, Plymouth State University, and Hampshire College.
However, there's a dark side to 100 as well. For instance, an alarming 100 companies are responsible for 71 percent of global emissions. Some of the big names on the list are ExxonMobil, BP, and Shell – all companies that deal in fossil fuels. Chinese coal companies are collectively the number one producer, churning out an estimated 14.32 percent of global emissions between 1988 and 2015. However, with China's increasing shift away from coal to low and zero-carbon energy, that picture is changing and #RE100 has shown that progress can be made, even with big names.
The CEO of Shell, Ben van Beurden, recently urged Big Oil to begin transitioning to cleaner energy, and is a strong advocate for implementing carbon taxes. Darren Woods, CEO of ExxonMobil, urged President Trump to remain in the landmark Paris Agreement. Big Oil knows that it has to adapt to the changing energy scene, or it risks becoming obsolete.
You can help us, and #RE100, further the movement for clean energy, too. Read our blog here to learn how you can make the transition to renewable energy at home, or how to attend one of our Climate Reality Leader trainings and learn how to advocate for a cleaner future directly from our founder and chairman, former Vice President Al Gore.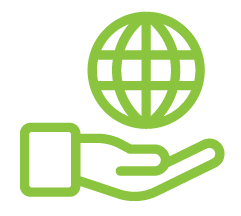 Before You Go
At Climate Reality, we work hard to create high-quality educational content like blogs, e-books, videos, and more to empower people all over the world to fight for climate solutions and stand together to drive the change we need. We are a nonprofit organization that believes there is hope in unity, and that together, we can build a safe, sustainable future.
But we can't do it without your help.
If you enjoyed what you've just read and would like to see more, please consider making a generous gift to support our ongoing work to fight climate denial and support solutions.