April 03, 2017 | 10:00 AM
Talking to the Public About Climate? Ask These Three Questions First, Says Former Vice President Al Gore
At our recent Climate Reality Leadership Corps training, four climate activists shared their tips and suggestions for fighting the climate crisis. One of the most fascinating parts of the video was when former US Vice President and Nobel Laureate Al Gore provided a glimpse into his own process for preparing for a speaking engagement.
Ever since An Inconvenient Truth came out in 2006, Vice President Gore has been giving his iconic presentation nearly non-stop, advocating tirelessly for climate action around the world. If you've ever seen his presentation (perhaps at a Climate Reality Leadership Corps training) you probably walk away floored.
"I give a lot of talks and a lot of speeches… I got advice from someone who was a mentor many years ago. And I will pass it on to you for what it's worth."
Former US Vice President Al Gore
As we mentioned in "Change Starts with Me," part of effectively communicating about the climate crisis is connecting with your audience in a meaningful way – and to do that, you've got to know what your audience cares about first.
But how do you know? Here's the process Vice President Gore follows to prepare for a speaking engagement.
Talk to Someone Familiar with Your Audience

First, research your audience. Vice President Gore says, "I try to find somebody who's very familiar with the makeup of the group and what they're like." If you can speak with a member of the group in advance, get an idea of their interests and needs. If you can't speak in person or on the phone, connect over email or online. Making an impromptu talk? Ask your questions to the crowd at the beginning, or as the room fills up. You'll be better off with any information you can get than nothing at all.
You won't always have the opportunity to speak with an expert well ahead of time. If you can't talk to an expert or a member of your audience, but you do have some time to prepare, you can still put yourself in your audience's shoes.
With that in mind, here are three questions to ask before you make a presentation, pitch your idea, or have a conversation about the climate crisis.
1. What Three Things Does This Group Feel Good About?

Knowing what your audience feels good about can help get their attention and make a connection right away. It's not just about your opening either. You can also come back to these topics and how the idea you're trying to convey is tied to them.
Here's an example: You're advocating for putting solar panels on your child's elementary school. By knowing your school administrators and parents want to save money, you can focus on the cost-saving aspect of solar panels and speak to how the savings from energy costs could go into funding programs that help children learn, like upgrading the computer lab or expanding the library.
2. What Three Things Does This Group Feel Bad About?

Now that you know what the group feels good about, consider the opposite. What challenges and difficulties does your audience encounter? Are there problems they are wanting to solve? Do you know of any issues in particular they prioritize as their highest concern? Why do they prioritize one issue over another?
These questions help you identify what part of your topic can solve problems for your audience. You're going to be much more successful at connecting your audience with your issue if you explain how it relates to what they already care about.
To continue the solar school example, you know that your school community is extremely concerned with its shrinking budget. Parents and teachers are both worried about the level of education the children are receiving, particularly in science and technology. Another way to win them over is to explain how teachers could draw on student interest in the solar panels being installed to teach their classes about clean energy technology and climate science.
3. If You Could Make a Change in Their Thinking, What Change Would You Hope For?

Once you know the positives and the negatives, what would you like to see change? How can the people in your audience shift their thinking to move from a negative situation into a positive one? What kind of outcome are you hoping for after you speak to this person or group?
Knowing these answers helps you build your talk to create a shift in the audience's thinking. And if you're not sure, test your ideas out on a friend or relative. Can they recall the key ideas you're trying to convey? Do they understand the issues and see the solutions clearly? Use their feedback to strengthen your talk.
To continue our school example, perhaps by pushing for solar panels you'd like your school community to think about creative ways to offset energy costs rather than simply cutting programs, or to think about how making key investments now will pay off long-term, both by improving education as well as reducing costs.
Remember: It's About Your Audience, Not About You

So you've answered these questions. Now what? As Vice President Gore says, "I will try to keep these things in mind as I try to connect with them. Depending on the answer to the third question I'll weave that into the presentation that I give."
By truly understanding your audience, you're able to adjust your message and focus on what's important to them rather that simply broadcasting what's important to you. And when it comes to persuading an audience to act, making a personal, emotional connection with your audience is absolutely crucial.  
Science, Not Silence

Now that you know the three questions to ask before conversation about climate change, will you take one minute to stand with reality?
Show that you support climate action by taking the pledge: I Stand with Truth. I Stand with Reality.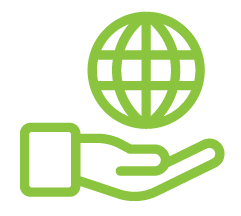 Before You Go
At Climate Reality, we work hard to create high-quality educational content like blogs, e-books, videos, and more to empower people all over the world to fight for climate solutions and stand together to drive the change we need. We are a nonprofit organization that believes there is hope in unity, and that together, we can build a safe, sustainable future.
But we can't do it without your help.
If you enjoyed what you've just read and would like to see more, please consider making a generous gift to support our ongoing work to fight climate denial and support solutions.