March 03, 2016 | 3:06 PM
Team up! Crafting an Effective Green Team for Your Event
So, you've spent months planning the perfect green event. You picked a green venue, bought sustainably sourced products, and drafted an on-site waste reduction plan. There's nothing left to do but sit back and watch your event set a new model for sustainability … right?
Well, not quite yet. Even the best-planned events can fall flat on their sustainability goals if they don't have the right support to back them up on game day. That's why we put so much emphasis on developing effective event green teams for all of our Climate Reality Leadership Corps trainings. These team members work to ensure that our greening initiatives are successfully implemented and communicated on the day of the event. In other words, they're the people who take our sustainability plans and make them a reality!
As we prepare for our Climate Reality Leadership Corps training in Manila, Philippines, we thought we'd share our process for forming our event green team with you:
Team Formation
Depending on the size of the event and the venue, your green team may include volunteers, event staff, and venue staff.  When recruiting volunteers and staff to join your team, it's important to pick people who understand the importance of sustainability and are enthusiastic about the event greening process. These are the people who are going to get into the nitty-gritty details of waste diversion and energy saving, while communicating the importance of these efforts to your attendees. And like any subject, the more they understand and are excited about sustainability, the better they're going to be at spreading the word to everyone at your event.
To put it another way, seek out people who can get attendees energized about using a refillable water bottle, taking public transit to and from the event, and powering down their electronics!
Education
No matter how experienced your green team members are with sustainability, it's crucial to educate them about the specifics of the environmental initiatives at your event. Recycling capabilities and energy-saving tactics can vary between regions and venues, so it's important to provide a full briefing on your event greening plan for your team (yes, even the most eco-experienced of them).
Education is particularly important when working with venue staff – including site managers, kitchen staff, and janitorial crews. These are the people who are directly responsible for waste diversion and energy savings at the venue on a daily basis. Yet, there is a good chance this is the first time that they've ever received a briefing about ways they can reduce the venue's environmental impact. Reviewing things like basic recycling and composting procedures with them could make or break your event greening goals.  Plus – we've seen firsthand that when venue staff realize just how small changes can make a big difference in their carbon footprints, they'll adopt those strategies into their normal workplace practices well after your event ends!
Legacy Building
Although the main goal for any event greening initiative is to lower the event's environmental footprint, don't forget that your sustainability efforts can have effects that last far longer than the days you're on site. A true measure of green team success is if you inspire others to take your sustainability mission to heart!
Your green team members (both those you employ and venue staff) should come away from your event with a newfound or expanded knowledge about waste diversion, energy savings, and sustainability in general. Through working your event, they should gain firsthand knowledge about reduction strategies that they can apply to other aspects of their lives.
The event's sustainability legacy shouldn't stop at employees, though. Your attendees should also leave having learned about sustainability (yes, even if your event's program has nothing to do with the environment!). A well-trained, enthusiastic green team will engage attendees in their sustainability efforts and inspire them to make greener choices in their daily lives.
It's Your Turn
Ready to do your part and make a difference in fighting climate change? Sign up to learn more about becoming a Climate Reality Leader, and we'll keep you updated with resources and information about upcoming trainings. As a trained Climate Reality Leader, you'll join us in inspiring communities to act and build support for solutions across the planet.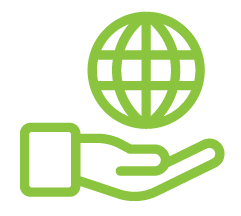 Before You Go
At Climate Reality, we work hard to create high-quality educational content like blogs, e-books, videos, and more to empower people all over the world to fight for climate solutions and stand together to drive the change we need. We are a nonprofit organization that believes there is hope in unity, and that together, we can build a safe, sustainable future.
But we can't do it without your help.
If you enjoyed what you've just read and would like to see more, please consider making a generous gift to support our ongoing work to fight climate denial and support solutions.