June 08, 2016 | 6:00 AM
Telling the Story: Five Times Leonardo DiCaprio Spoke Out on Climate Change
"I stand before you, not as an expert, but as a concerned citizen." 
–  Leonardo DiCaprio, United Nations address, 2014.
What's eating Leonardo DiCaprio? Climate change.

Here at Climate Reality, we love great stories and the people who tell them. And like a lot of people, we've loved the great roles and stories Leonardo DiCaprio has been in over the years, in movies from Titanic to Inception and more. But what we've loved even more is how he's been telling the big picture story of how our climate is changing every chance he gets.
Why does it matter that one of the biggest movie stars around is talking about climate change? Because when someone like DiCaprio uses his A-List profile to raise awareness about climate change, he can get people talking about the issue in a way few others can, bringing the message to millions and taking climate action mainstream. And if we're going to build a big, broad, and diverse movement with the numbers to shift away from fossil fuels – and we are – that matters a lot.
So to give credit where it's due, we've put together a highlight reel of the times when DiCaprio has seized the mic to spread the word about what's happening to the Earth's climate. Listen and you'll also hear the story of our movement: the challenges we face, the opportunities in our hands, and the momentum we're building every day.
Making Titanic moves for the planet!

To say Leonardo DiCaprio's win at the Academy Awards earlier this year was long anticipated by movie lovers around the world might be the understatement of the year. Inspiring one of the best known memes on the internet, DiCaprio was nominated for an Oscar five times (over 12 years) before winning.
But Oscar aside, what got us really excited is that DiCaprio took what some would call the most significant moment in his career to tell people about his other great passion: climate change. In a brilliant and heartfelt acceptance speech, DiCaprio made a compelling case for why all 34 million live viewers should take action on the "most urgent threat facing our entire species."
We can't wait until The 11th Hour to take climate action. 

Hollywood activists can get a lot of flack, but DiCaprio's commitment to climate science and activism came well before his Oscar. After wrapping Titanic, he went on to create the Leonardo DiCaprio Foundation, which is "dedicated to the long-term health and wellbeing of all Earth's inhabitants." Since 1998, the foundation has granted $45 million to stop climate change and to promote biodiversity and conservation across the globe.
DiCaprio credits former US Vice President Al Gore with inspiring him to take on climate change as an activist. In an interview with Rolling Stone, he said, "I am consumed by this. There isn't a couple of hours a day where I'm not thinking about it."
>> Related: Ten Times Al Gore Inspired Us to Act On Climate <<
And it's true: we really don't have time to wait. The evidence of our changing climate is all around us, from unprecedented coral bleaching across the globe to record low sea ice in the Arctic. Climate change is already affecting our health, our environment, and our economies – we have to take meaningful action now.
Joining millions on a Revolutionary Road toward a future powered by clean energy!  

We may not like the fact, but it's true that not everyone can get their calls or meetings taken with global politicians and leaders. So we appreciate that someone who then picks up the phone and sits down to talk about climate change with people like Pope Francis, US Secretary of State John Kerry, and UN Secretary General Ban Ki-moon.
More importantly, the guy shows up alongside the rest of us and has  joined the People's Climate March and given a powerful address to the United Nations as a Messenger of Peace. He really keeps busy.
DiCaprio also actually puts his money where his mouth is. Last year, he pledged to divest all his personal assets from fossil fuels (as well as his foundation's assets) because "we must transition to a clean energy economy that does not rely on fossil fuels."
The move is winning fans in the climate community, but less so among the the Big Polluters trying desperately to stop the transition to a clean energy future. Even as Peabody Energy and Arch Coal declare bankruptcy, major fossil fuel companies and trade groups shell out nearly $115 million a year to fight policies that would address climate change. But here's the reality: these companies are fighting a losing battle. We're already well on our way to a future powered by renewable energy.
Dirty fossil fuels are soon to be The Departed. 

In 1952, Mark Ruffalo and DiCaprio were US Marshals who investigated a hospital for the criminally insane (in Martin Scorsese's Shutter Island). But in 2015 (and, you know, in the real world), they co-founded 100%, a campaign dedicated to making clean energy accessible and affordable to everyone -- because "100% clean is 100% possible"
>> Related: Nine Celebrities Changing the Conversation on Climate Action <<
Enough really is enough! The fossil fuel era is coming to a close and the future will be powered by renewable energy.
Dirty fossil fuels just don't make economic sense – and some of the world's most powerful businesses know it. IKEA, Google, Walmart, Starbucks, Goldman Sachs – these are just some of the corporate names we see every day powering more and more of their business with clean energy.
The global director of sustainability at Mars, Inc., Kevin Rabinovitch, said it best: "Preserving the climate can also save you money."
There are going to be Growing Pains, but the future is bright.

Transitioning to a clean energy economy isn't going to be easy every step of the way, but we owe it to ourselves and to future generations to stop climate change. As DiCaprio said to some of the world's leaders last year, "We are now in a race to better ourselves, to better the planet. Be bold, be courageous, do everything in your power to change our current course."
We have a lot of work ahead of us. Are you ready to start?

It's true, Leonardo DiCaprio is a true champion for the climate movement. But fortunately you don't have to have an Oscar to help build a better future for all of us.
Sign up now to receive updates from Climate Reality. We'll deliver ways for you to take climate action, right to your inbox.
© 2015 Eskinder Debebe/UN/Flickr cc by 2.0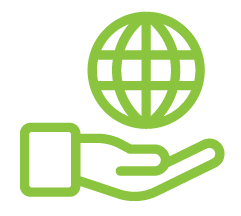 Before You Go
At Climate Reality, we work hard to create high-quality educational content like blogs, e-books, videos, and more to empower people all over the world to fight for climate solutions and stand together to drive the change we need. We are a nonprofit organization that believes there is hope in unity, and that together, we can build a safe, sustainable future.
But we can't do it without your help.
If you enjoyed what you've just read and would like to see more, please consider making a generous gift to support our ongoing work to fight climate denial and support solutions.