June 29, 2015 | 11:20 AM
The Alliance for Climate Protection®: The Elements of Purpose
Like many Climate Reality Leaders out talking to all kinds of audiences about climate change, the Reverend Terry Gallagher is used to hearing people just dismiss the subject as alarmist hype. But when it happens, he can also afford to smile a little more than most Leaders would. Why? Because he used to do the exact same thing.
So how does a climate change denier wind up an ordained minister and a Climate Reality Leader? The story starts when he was growing up on the west side of Cleveland and first felt called to a life of purpose. As a young Irish American, Terry heard the call as an invitation to join the Catholic ministry and become a minister. But as powerful as the call of ministry was, he found – like a lot of teenage boys before and after him – there was something even more powerful standing in the way of a life of celibacy. Namely, his attraction to girls.
So instead, Terry went to college and studied mechanical technology. When he graduated, a large chemical company offered him $25 per month more than a large steel company did, and the choice was obvious.
It was a choice that set Terry on the path to a 32-year career in the chemical industry, one that would see him rise from floor worker to workaholic plant manager overseeing two facilities. During that time he began to hear about climate change, but refused to listen. After all, he reasoned, there was no way human behavior could affect the Earth in such a profound way. The notion, he admits, "didn't fit my worldview at the time," and so his attitude was simply, "I ain't gonna engage with you alarmists, so take your green and go away." And when yet more environmental regulations came down to dictate what kind of emissions the plants could produce or how they could process chemicals, he did what everyone else did: grumble loudly – and comply.
Having to deal with these regulations, however, was the first step down the road to becoming a climate activist. At first, it was just a practical matter: being plant manager meant his neck was on the line when it came to compliance and he wasn't about to risk it. So, he says, the first rule became that "Gallagher ain't going to jail, so we're going to operate these plants within the law or these plants ain't going to operate."
Before long, though, he began to see that running his plants this way, controlling their emissions and the kinds of processes they used, wasn't just better for the environment. It was also leading to better product quality, safety, and yields. And it got him thinking.
Meanwhile, just as Terry's career as a chemical executive was lining up before him, life intervened and he once again heard the calling to a life of purpose and Christian ministry that had sounded decades earlier. Only this time he answered, entering the seminary to study and train as a minister and ultimately leaving his career in industry behind.
But as he found, becoming a minister wasn't the concluding chapter in his life's story, but the starting point for a new book entirely. Most important, he still had questions about his purpose. His work as a local church pastor was deeply rewarding, but there was still something missing in his ministry. He needed a direction.
Which is how he began working with oppressed peoples around the world and how, six years after joining the ministry, he found himself in a remote Colombian village up in the Andes.
Terry was there as part of a Christian Peacemaker team standing in solidarity with gold miners protesting the threat of eviction by the Colombian army, an eviction, they suspected, motivated by plans for an international company to seize their mine. When his team arrived, they were taken on a tour to see the mine and the process of refining gold there. The rest of the team saw a community scratching a living out of the hillside and was awestruck. Terry, having run chemical plants for decades, saw the chemicals they were using and saw a community poisoning themselves, their children, and their land for generations to come, all without realizing it. Horrified, he began talking to the villagers about how running this mine was devastating their health and destroying the environment all around them. But as he did, he realized that this kind of practice – and the selective blindness that went with it – was far from limited to a village in the Andes. He knew he had to do something.
When Terry returned from Colombia, his first step was to return to the seminary to study. He knew the direction his ministry would take, focusing on ecological justice and waking faith and secular communities to the environmental crisis unfolding all around the world, and he needed to prepare.
Emerging from the seminary, Terry knew his ministry would mean reaching out to all kinds of audiences to tell the story of climate change and environmental degradation, and he began looking for tools and resources to help. So when he learned about the Climate Reality Leadership Corps and heard about an upcoming training, he jumped at the opportunity.
[ Related Video: Terry discusses his experience as a Climate Reality Leader ]
Terry found in the Climate Reality Leadership Corps a "great source of positive energy and hope" and a community that shared his many of his values and concerns for ecological justice. And while much of his outreach since training has focused on engaging the Christian community, he encounters many of the same challenges other Leaders do speaking to secular audiences. As he says, "Christians, like most people, are trying their best to avoid this issue. I believe that this avoidance response is because people suspect that if this is a true crisis, then everything must change."
Even still, he remains hopeful that things will change. In part, because when he talks to Christians about what climate change means for their children and for millions suffering around the world, the message begins to sink in. And once people understand the urgency of the situation, they want to know what they can do.
As for what Terry will do, he's nothing if not ambitious, especially for a self-confessed introvert. After doing 40 presentations and other acts of outreach in 2014, he's working to double that number this year. And with the UN climate talks beginning in November, he's not thinking small either.
"My ministry of ecological justice is a ministry of education, advocacy and action," he says, "So with that in mind, I already have purchased tickets and hotel to be there for the Paris [climate] talks. Now I just need to find a way to get invited to the discussion table."
Become a Climate Reality Leader

Join us for an upcoming Climate Reality Leadership Corps training and work with former US Vice President Al Gore and renowned climate scientists and communicators to learn about what's happening to our planet and how you can use social media, powerful storytelling, and personal outreach to inspire audiences to take action. Give us three days. We'll give you the tools to change the world. Learn more.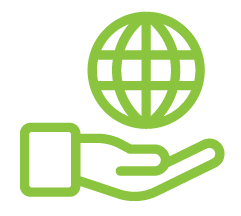 Before You Go
At Climate Reality, we work hard to create high-quality educational content like blogs, e-books, videos, and more to empower people all over the world to fight for climate solutions and stand together to drive the change we need. We are a nonprofit organization that believes there is hope in unity, and that together, we can build a safe, sustainable future.
But we can't do it without your help.
If you enjoyed what you've just read and would like to see more, please consider making a generous gift to support our ongoing work to fight climate denial and support solutions.