February 14, 2012 | 3:06 PM
Thank you for standing up for the climate
© 2012 350.org/Flickr cc by nc sa 2.0
Yesterday, our Chairman, former Vice President Al Gore, joined Bill McKibben of 350.org and thousands across the country to petition the U.S. Senate to reject the Keystone XL pipeline. Specifically, we asked the Senate to oppose an amendment that would short-circuit President Obama's decision to reject the permit for the pipeline. We joined a diverse coalition of environmental groups, progressive campaigns and businesses to bring that message to the U.S. Senate.
Our message was heard loud and clear. In just under seven hours, we smashed through our goal of 500,000 messages opposing the Keystone XL pipeline. And in just one day, from noon on Monday to noon today, we've collected over 781,000 messages telling our Senators to reject this latest effort to build this pipeline so we can stop the dangerous carbon pollution it carries.
© 2012 350.org
The threat from the pipeline is clear. Tar sands oil is one of the most carbon-intensive oils on the planet. The EPA estimates that carbon pollution from the pipeline – from extraction to refining to storage at your local gas station – would be 82% higher than average crude refined in America. This translates to an additional 27 million metric tons of carbon per year – and impacts we simply cannot afford. Think about it this way: An additional 27 million metric tons per year is equal to the annual emissions from seven coal-fired power plants.
Over three-quarters of a million Americans signed a petition to make it clear that if we're going to solve the climate crisis, we cannot build this pipeline. A few hours ago, the coalition took your messages up to Capitol Hill and delivered them to the Senate leadership. Thank you for telling our leaders to stand up to the oil industry's lobbyists and reject this pipeline once and for all. If you haven't yet, take a look at our petition and help spread the word.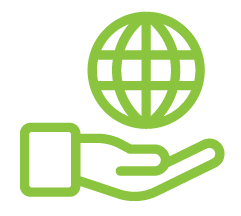 Before You Go
At Climate Reality, we work hard to create high-quality educational content like blogs, e-books, videos, and more to empower people all over the world to fight for climate solutions and stand together to drive the change we need. We are a nonprofit organization that believes there is hope in unity, and that together, we can build a safe, sustainable future.
But we can't do it without your help.
If you enjoyed what you've just read and would like to see more, please consider making a generous gift to support our ongoing work to fight climate denial and support solutions.