December 31, 2018 | 6:00 AM
The Alliance for Climate Protection®: Time to Make Some Climate Resolutions
It's not hyperbole to say that 2018 was a big year in the climate world.
First, international scientists sounded the alarm on the extraordinary dangers ahead without massive emissions cuts with the Intergovernmental Panel on Climate Change's (IPCC) bombshell report, Global Warming of 1.5ºC.
And with the recent Fourth National Climate Assessment, brave scientists from US federal agencies brought the message home, calling out what unchecked temperature rise means for all Americans.
But climate deniers – particularly the denier-in-chief, President Donald Trump – and Big Polluters keep doing everything they can to block progress, undermining US fuel economy standards, introducing a pro-polluter power plan projected to cost some 1,400 lives every year, and so much more.  
Which means that we have a lot of work to do in 2019 to protect the health of our families and the future of our planet.
For us, this means working a world shifting from dirty fossil fuels to affordable clean energy sources like wind and solar. Where the seven out of 10 Americans who see our climate changing and want our government to act are the ones shaping federal policy. And where scientific facts – not Big Polluter spin from oil and coal companies – inform our global policies.
If you're ready to help make this world a reality, here are some ways you can take action in 2019:
1. Join a Global Community of World-Changers

In 2018, we're hosting trainings in Atlanta, Georgia, and one in Brisbane, Australia and we'd love for you to join us.
Attend a training and you'll join our over-17,000-strong Climate Reality Leadership Corps, a global network of trained activists committed to spreading awareness of the climate crisis and working for solutions.
Climate Reality Leaders speak to groups and communities of all sizes about what's happening to our planet and how together we can solve it, raising awareness on a global scale. They also pressure policymakers at all levels to act and run diverse campaigns that fight for clean electricity, carbon pricing, and much more.
As just one example of the difference these incredible activists make, in 2018, five Climate Reality Leaders served as plaintiffs in the US federal court case Juliana v. United States. The case filed by the 21 young plaintiffs in Juliana v. US asserts, "Through the government's affirmative actions that cause climate change, it has violated the youngest generation's constitutional rights to life, liberty, and property, as well as failed to protect essential public trust resources."
How's that for taking a stand?
2. Take Action Locally

You'd never know it from the White House, but all across the US, Americans want bold action on the climate crisis – and they're standing up to make it happen.  Witness: hundreds of thousands have taken to the streets and marched for climate solutions. Meanwhile, over 70 percent of the population wants the US to "emphasize the development of alternative energy such as wind and solar power" over dirty fossil fuels.
Want in? Our Climate Reality Chapters bring together Americans of all backgrounds and walks of life to push for practical clean energy solutions in their communities and fight the fossil fuel agenda on the national stage. And there's a place for you.
Already, Climate Reality chapters have become a vital force for progress. They're helping expand clean energy alternatives, tackling the legacy of fossil fuels in low-income communities, and pushing for carbon pricing policies, to name just a few of the many campaigns already underway.
In 2018, for example, when the Trump Administration proposed replacing the historic Clean Power Plan with a pro-polluter alternative, members of our Chicago chapter testified at an EPA hearing to oppose the move.
3. Arm Yourself with the Facts

Did you know that there's more carbon dioxide in the atmosphere today than at any point in the past 800,000 years? Wow. Or that in the US, average annual temperatures have warmed about 1.8 degrees Fahrenheit since the beginning of the 20th century?
Every week, we share valuable resources and facts like these to help you better understand how our climate is changing, the solutions that exist, and what you can do to help solve this crisis.
We know staying up-to-date on the latest policy changes, innovative solutions, and actions to end the climate crisis isn't easy (there's a lot happening). But visit our blog and we'll keep you posted on the latest on the movement for climate solutions – plus, there are quizzes like this one to test your knowledge! And if you sign up for our email list, you'll never miss a thing.
What are your climate resolutions for 2019?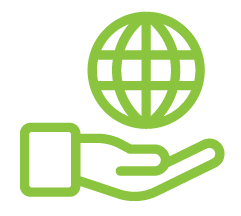 Before You Go
At Climate Reality, we work hard to create high-quality educational content like blogs, e-books, videos, and more to empower people all over the world to fight for climate solutions and stand together to drive the change we need. We are a nonprofit organization that believes there is hope in unity, and that together, we can build a safe, sustainable future.
But we can't do it without your help.
If you enjoyed what you've just read and would like to see more, please consider making a generous gift to support our ongoing work to fight climate denial and support solutions.