December 31, 2017 | 6:00 AM
Top Climate Wins of 2017
This year held ups and downs in the fight for climate solutions. But as we look forward to 2018, we've collected some incredible climate wins to celebrate and inspire as we continue to work for a sustainable future.
1. Over 1 Million Americans Say #IAmStillIn.

When President Trump announced he'd be withdrawing the US from the historic Paris Agreement, Americans stood up to tell the rest of the world that #IAmStillIn and committed to confronting climate change. On November 15, a coalition of American businesses, legislators, and citizens delivered that petition to the UN's COP 23 climate conference with over 1 million signatures (including over 25,000 Climate Reality supporters) showing that we are #StillIn, even if the president isn't.
2. Indonesia Unveils a Plan for 1,000 Eco-Mosques by 2020.

The world's largest Muslim-majority country announced a plan to pair Muslim leaders with private companies, Indonesia's health and planning ministries, universities, and other religious groups to develop 1,000 eco-mosques by 2020.
3. More than 200,000 marched for climate, justice, and jobs.

On April 29, Climate Reality and hundreds of our supporters joined hundreds of thousands of people from faith communities, indigenous nations, environmental organizations, and every group in between for People's Climate March events in Washington, DC and cities around the world. 
4. Growing Numbers of Cities Around the World Are Committed to Climate Action.

From Stockholm, Sweden to Moab, Utah, cities across the globe are working toward climate solutions. Cities like Salt Lake City, Utah, and South Lake Tahoe, California are transitioning to 100 percent renewable electricity thanks to our 100% Committed campaign, while Copenhagen, Denmark is working to become carbon neutral by 2025.
5. Google Reached 100 Percent Renewable Energy.

In December 2016, Google announced it would power all its data centers with renewable energy. But the internet giant one-upped itself in November 2017 with the announcement that the company has purchased enough renewable energy to power 100 percent of its products and services!
6. Nine US States Came Together to Cut Greenhouse Gas Emissions.

In August 2017, nine Northeastern US states agreed on a plan to reduce CO2 emissions by 30 percent between 2020 and 2030 as part of the Regional Greenhouse Gas Initiative. The plan strengthens the states' bipartisan commitment to reduce carbon emissions from the region by increasing annual cap reductions to about 3 percent per year.
7. Hundreds of Thousands of Americans Spoke up to Say Leave Environmental Protections Alone.

In May 2017, Environmental Protection Agency Administrator Scott Pruitt asked the public what environmental regulations could be repealed, revised, or replaced. The answer was resounding: none of them. Hundreds of thousands of Americans – including nearly 15,000 Climate Reality supporters – spoke up to make clear that no regulation is too burdensome when it comes to protecting the health of our families and our planet.
8. The World Bank Group, ING, and Insurance Giant AXA Announced plans to Divest from Fossil Fuels.

Major financial institutions have stepped up in a big way this year to take on the climate crisis. Recently, the World Bank, ING, and AXA joined the renewable revolution and announced intentions to divest from fossil fuels.
9. India and the United Kingdom Cancelled Plans to Open New Coal-Fired Power Plants.

Both India and the UK have joined countries around the world working to shut down dirty coal-fired power plants and invest in clean, renewable energy. The UK is set to close its last coal power station by 2025 while investing in new renewable energy installations. Meanwhile, India cancelled plans to build a new coal plant and instead turned to solar installations.
10.  Climate Reality Trained nearly 3,000 Climate Reality Leader Activists This Year.

Activists from across the country and around the world joined us in Denver, CO, Greater Seattle, WA, and in Pittsburgh, PA for our largest training ever to become Climate Reality Leaders working together to fight the climate crisis.
And the best news of 2017? There are no signs we're slowing down. As we look to 2018, the fight for climate solutions goes on. You can help us as we continue building a movement to fight back against fossil fuel interests and find commonsense solutions to the climate crisis.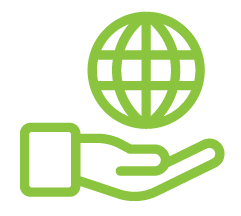 Before You Go
At Climate Reality, we work hard to create high-quality educational content like blogs, e-books, videos, and more to empower people all over the world to fight for climate solutions and stand together to drive the change we need. We are a nonprofit organization that believes there is hope in unity, and that together, we can build a safe, sustainable future.
But we can't do it without your help.
If you enjoyed what you've just read and would like to see more, please consider making a generous gift to support our ongoing work to fight climate denial and support solutions.