December 28, 2016 | 6:00 AM
The Top Eight Moments of Climate Progress in 2016
Chances are, if you care about what's happening with the climate, the energetic statements about fossil fuels coming from President-elect Donald Trump and the prospect of a cabinet stacked with oil insiders don't exactly fill you with hope. And make no mistake, 2017 is already shaping up to be a year of line-in-the-sand battles about the direction of the nation, beginning with the Senate confirmation process of these big oil insiders in January.
But even with these big fights ahead of us – and by the unprecedented numbers of Americans we're seeing getting involved already, we're expecting fireworks – several things happened in 2016 that may not have lingered in the headlines (or made it in the first place) but meant that the gears of progress started turning even faster. And because they did, there's every reason to believe the forces pushing us forward in 2017 will be a whole lot stronger than those trying to push us back to the nineteenth century.
So without further ado, here's our list of top wins and reasons for hope in 2016.
The Big Deals

1. The Paris Agreement Went into Effect
Today is a celebration! The #ParisAgreement is officially in force. Retweet if you have #ClimateHope! #EarthToMarrakech #MakeItAReality pic.twitter.com/ayt4W2uUaD

— Climate Reality (@ClimateReality) November 4, 2016
When negotiators finally agreed to the Paris Agreement in December 2015, it was nothing short of historic. After all, this was the world's first ever global climate agreement. But after the champagne was gone and the press cameras left, there was a long way to go and real questions to answer. Before the agreement could officially go into effect, at least 55 countries responsible for at least 55 percent of the world's greenhouse gas emissions had to formally approve it. Some questioned whether, with everything happening in the world, enough of the major polluters – countries like the US, China, India, and Brazil – would formally sign on and whether the process would drag on for years in international limbo.
They soon got their answer. Because instead of just limping along, the Paris Agreement set a new standard for international cooperation, becoming one of the fastest to ever enter into force. On October 5, several EU member countries joined the US, China, India, Brazil, and a whole host of others in formally joining the Paris Agreement, crossing the 55 country/55 percent threshold and meaning it would go into effect on November 4. The numbers just kept growing and as of December, 118 parties to the agreement have formally signed on. 
Critically, this is just another step forward and our work is far from done. Now people around the world have to keep the pressure on their leaders to live up to their commitments to cutting emissions and strengthen them in the years ahead, if we're serious about the agreement's goal of keeping global average temperature rise to "well below" 2 degrees Celsius. But finally, we have the international framework and consensus to do it, and that's a critical starting point.
2. The World Said No to HFCs
Huge news! More than 170 nations reached a deal to cut #HFCs (which are a big contributor to #ClimateChange) https://t.co/elc06WVvdH pic.twitter.com/m64rAa8bJA

— Climate Reality (@ClimateReality) October 16, 2016
Remember the hole in the ozone layer? Back in the 80s, the image of the gaping hole in the atmosphere over the North Pole inspired world leaders to create the Montreal Protocol, an international agreement to phase out the chemical compounds – primarily chlorofluorocarbons (CFCs) – causing it. The Montreal Protocol remains one of the most successful international environmental agreements ever and has enabled the hole in the ozone layer to recover.
Now the catch: the compounds many companies turned to as replacements for CFCs in air conditioners, refrigerators, and other applications – hydrofluorocarbons (HFCs) – are incredibly potent greenhouse gases, trapping up to 3,000 times more heat than carbon dioxide. Scientists estimated that replacing HFCs with greener alternatives could prevent as much as 0.5 degrees Celsius of warming, a big deal when you consider the extraordinary consequences of every 0.1 degree of temperature rise and the Paris Agreement's goal of keeping warming to 2 degrees or less.
The good news: in October, negotiators from 197 countries met in Kigali, Rwanda to amend the Montreal Protocol to phase out HFCs. Going into the summit, negotiators were concerned that a deal could be sunk by competing priorities between richer developed nations like the US and developing nations worried that a quick phase down would mean their citizens living without coolants and air conditioning as temperatures rose. Ultimately, negotiators reached a compromise deal where developed countries begin phasing out HFCs by 2019 and developing economies like India have until 2028, but can receive greater financial assistance if they begin earlier.
How big of a deal is this? Well, Secretary of State John Kerry described phasing out HFCs as "likely the single most important step that we could take at this moment to limit the warming of our planet." We'll take that.
Countries Get Serious

3. China Gets Ready to Launch the World's Biggest Carbon Market
Starting next year, climate deniers in Congress are going to have a hard time keeping a straight face in asking the question, "But what about China?"
That's because China is about to launch the world's biggest carbon trading program to limit emissions in several key sectors, including coal-fired power plants. The country has watched and learned from the successes and setbacks we've seen in using markets to control emissions in the EU and California, among others, and has been piloting test plans in key cities and provinces for the past few years. There's doubtless more learning to be done and speed bumps ahead – this is the world's most populous country and biggest polluter, after all and there's a lot of pollution from coal plants to cut down – but if China can get serious about using the power of the market to fight climate change, the US is all out of excuses.
4. The Most Vulnerable Countries Lead the Shift to a Clean Energy Economy
A 100% renewable world is happening — and developing nations are leading the way https://t.co/1FiTBDRiMs #1o5c #COP22 pic.twitter.com/kQvTDawICV

— Climate Reality (@ClimateReality) November 21, 2016
At this year's UN COP 22 climate conference in Marrakech, the 48 members of the Climate Vulnerable Forum – a coalition of the countries most at risk from the effects of the climate crisis – announced a commitment to reach 100 percent renewable energy by 2050. With those most affected by the crisis taking the lead in implementing the shift to clean energy we need to solve it, the message to the rest of the world is clear: Your turn.
5. North America Gets Halfway There
The US, Canada, & Mexico vow to get half their overall electricity from clean power by 2025 https://t.co/O1sDJaD99o pic.twitter.com/K8qzNOHFnS

— Climate Reality (@ClimateReality) August 9, 2016
While not reaching the same ambitious heights of the Climate Vulnerable Forum, the joint commitment from the US, Canada, and Mexico to get 50 percent of their energy from non-fossil fuel sources by 2025 is incredibly significant. Why? First, that target is less than 10 years away. Second, the signals it sends to markets and investors couldn't be clearer about the direction of energy in some of the world's biggest economies. Because when it's clear where the money is headed, momentum builds for the shift to clean energy and becomes a force that not even deniers in office can stop.
The Signs of Progress

6. The World Economy Grew (World Emissions Didn't)
Big Polluters say we have to choose between the economy and the environment. That's just not true. (via @RobertKennedyJr) #SXSWEco pic.twitter.com/wCK1ng5O1b

— Climate Reality (@ClimateReality) December 17, 2016
Heard that line about how we can't afford to shift to clean energy? Well, for the third year in a row, carbon pollution stayed flat as more countries and companies are using more and more clean energy, while the global economy itself grew.
7. Clean Energy Just Keeps Growing
Amazing! Clean energy now employs more than 8 million people globally https://t.co/c3C6jtLSew pic.twitter.com/E6gYJCvDh1

— Climate Reality (@ClimateReality) August 21, 2016
We've said it before: clean energy isn't just about cutting emissions and solving the climate crisis. It's also about putting people to work and creating opportunities. The numbers back it up as the International Renewable Energy Agency reported that clean energy jobs in 2015 topped 8 million people.
The Inspiration

8. The Standing Rock Sioux (and Others) Fight and Win
We must protect our water, our planet, and our rights. @AlGore on Standing Rock and the Dakota Access Pipeline: https://t.co/YawFpIacmf

— Climate Reality (@ClimateReality) December 1, 2016
If the sight of the incredible bravery and resolve of the Standing Rock Sioux and other protesters facing up to water cannons, rubber bullets, and freezing temperatures day after day and night after night to block the construction of the Dakota Access Pipeline didn't fill your heart and move you to tears, we suggest you check your pulse. And when the Army Corps of Engineers announced that it was denying the permit and seeking another route, it signaled a victory both for Native rights and for people everywhere over powerful corporations. The rest of us would do well to take heart and inspiration from the tribe's courage and commitment in the fights ahead.
There are many more moments to celebrate, like Finland becoming the first country in the world to ban coal, but this is our shortlist and gives us hope that despite developments in the US the march toward a sustainable future is on.
What Will 2017 Bring?

Climate Reality Leaders are an extraordinary group of people from around the world that are unified around the same cause, spreading the truth about climate change and inspiring action on the climate crisis. The Chairman and Founder of The Climate Reality Project, former US Vice President Al Gore, trains Climate Reality Leaders to educate others about climate change and tackle the crisis head on. There are now over 10,000 Climate Reality Leaders in more than 135 countries educating their communities about the climate crisis.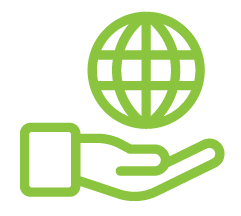 Before You Go
At Climate Reality, we work hard to create high-quality educational content like blogs, e-books, videos, and more to empower people all over the world to fight for climate solutions and stand together to drive the change we need. We are a nonprofit organization that believes there is hope in unity, and that together, we can build a safe, sustainable future.
But we can't do it without your help.
If you enjoyed what you've just read and would like to see more, please consider making a generous gift to support our ongoing work to fight climate denial and support solutions.