October 14, 2015 | 11:45 AM
Top Takeaways from the Climate Reality Leadership Corps Miami Training
What do you get when you put nearly 1,000 climate activists from around the world in a room together? An energetic crowd that's ready to learn, inspire, and lead the fight against climate change.
This was the feeling at our latest Climate Reality Leadership Corps training in Miami, FL last month. Led by Climate Reality Founder and Chairman Al Gore and featuring influential climate scientists, organizers, and media personalities, the training explored some of the big issues facing Florida and the climate community today. And with nearly 1,000 new trained Climate Reality Leaders equipped with the tools and knowledge they need to educate others, they're taking solving climate change into their own hands.
The Miami training was the 30th we've held, and with 29 already in the record books, you might figure we've seen it all. Not so. In fact, we came away from Miami learning just as much from our encounters with the new Climate Reality Leaders as they did from the training. Let's take a look at some of the top takeaways from the three-day training.
1. Latinos are a major force in the fight against climate change.

Our Miami trainees were as culturally diverse as they come, including attendees from 57 countries. One clear trend in the room was the strong Latin American presence from attendees and speakers alike. This isn't surprising: a poll conducted by the New York Times, Stanford University, and the environmental research group Resources for the Future found that Hispanics are more likely than non-Hispanic whites to view climate change as an issue that affects them personally.
While the widespread assumption is that Latinos typically prioritize immigration, education, and employment as voting issues, recent data shows Latinos care strongly about climate change as well. Latinos are increasingly stepping up to tackle climate change head-on, and we saw exactly this passion and activism in Miami.
For Latinos climate change is second only to immigration in importance with @jorgeramosnews #CRinFlorida pic.twitter.com/kYjMyDMqnj

— Mario E. Molina (@maedmolina) September 30, 2015
2. Florida is missing out on an incredible amount of solar energy potential.

Did you know that the state of Florida – you know, the Sunshine State – has the third-highest potential for solar power in the US, right behind California and Texas? But, Florida isn't taking advantage of this potential to actually produce solar energy. In fact, it's not even a top-10 solar-energy-producing state.
On top of the state's lack of solar production, there's a big issue at hand for Floridians who want to purchase solar power in the first place: the state doesn't allow consumers to buy electricity from any source other than a utility company. Only three other US states besides Florida have similar restrictions, a sign that most of the country acknowledges consumers' rights to purchase the electricity best for them. Three guesses who benefits most from these types of unfavorable policies (though we're guessing you'll only need one).
But there might be good news on the horizon for solar energy. Floridians for Solar Choice are leading a ballot initiative asking voters if they want to be able to buy solar power from solar companies.  If passed, residents and businesses in Florida will be able to choose their energy source freely. It will also save consumers money: rooftop solar PV is projected to cost the same or less than electricity from the power grid in 47 of the 50 US states by 2016. Freedom for consumers to choose their energy sources, less expensive electric bills, and staying away from coal sounds like a triple-win for Floridians.
3. Sea-level rise will devastate south Florida unless we do something about it.

By mid-century, several billion people worldwide are projected to live in a city, many of which will be port cities at risk to flooding, rising sea levels, and damage from intense storms. And one of the most at-risk cities with the most to lose in terms of assets is – you guessed it – Miami. The city has an estimated $416 billion in assets at risk from coastal flooding now with that number predicted to increase to over $3 trillion by 2070 as sea levels continue to rise. These numbers aren't just counting the cost to developers building expensive beach-front condos, but also to regular Floridians. An estimated 4.8 million in fact, which is almost a quarter of the state's population, would be put at risk by a 20 inch (one half meter) sea level rise.
Flooding from high tides is a regular occurrence in Miami. When your patent leather shoes are getting wet on a regular basis, you'd think you'd want to do something about it, but instead, some of the state's government officials are skirting the obvious, referring to sea-level rise flooding as "nuisance flooding."
It doesn't stop there. Scientists project sea levels may rise some two feet by 2060 and between three to five feet or more by the end of the century. And thanks to an expansive shoreline, low elevation, and a high population density, Miami stands to suffer trillions of dollars in damages if a serious storm occurs unless we take serious action.
4. The media is paying attention and covering climate change more than ever before.

The media's role in covering climate change – and influencing the public's perception – is constantly evolving. We were lucky enough to have an expert media panel at our training to weigh in, including MSNBC's Chris Hayes, Telemundo's Vanessa Huac, The New Yorker's Elizabeth Kolbert, and Mashable's Andrew Freedman.
Typically, the media covers climate change extensively in the wake of major natural disasters or when world leaders discuss related policies. Between TV, radio, social media, and the constant flow of information on the Internet, the public is getting hit from all angles and all media sources. That's why it's up to us to steer the conversation on the real consequences of climate change and its solutions – which is exactly what our new trained Climate Reality Leaders will be doing in their communities.
Ready to get active?

Subscribe now to learn more about our upcoming Climate Reality Leadership Corps trainings and how to get involved.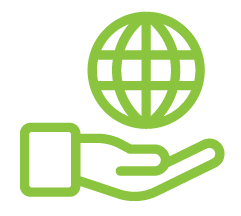 Before You Go
At Climate Reality, we work hard to create high-quality educational content like blogs, e-books, videos, and more to empower people all over the world to fight for climate solutions and stand together to drive the change we need. We are a nonprofit organization that believes there is hope in unity, and that together, we can build a safe, sustainable future.
But we can't do it without your help.
If you enjoyed what you've just read and would like to see more, please consider making a generous gift to support our ongoing work to fight climate denial and support solutions.