July 01, 2015 | 1:08 PM
Brazil, China, and the US Step Up on Triple Tuesday
That's just one of several headline takeaways on a Tuesday of big announcements from Brazil, China, and the US – three of the world's top greenhouse gas emitters – with major implications for the UN climate talks in Paris  later this year. First, China released its long-awaited commitments for the Paris talks – known as its intended nationally determined contribution (INDC). Meanwhile, back in DC, US President Barack Obama met with Brazilian President Dilma Rousseff to discuss strategies for fighting climate change, with a statement following announcing a new joint commitment from the two nations.
Here's what you need to know:
The US and Brazil both pledged to generate 20 percent of their electricity with renewable, non-hydropower sources by 2030. That means the US will have to triple its renewable capacity while Brazil will have to double its own. In under 15 years. Coming from the nations with the biggest populations in the Western Hemisphere and two of the world's largest economies, that's big.
Brazil will restore 12 million hectares of forest by 2030, increasing the footprint of land reducing carbon dioxide in the atmosphere by an area slightly larger than Pennsylvania or about the size of England.
As expected following its joint agreement with the US last fall, China announced that it will generate 20 percent of its electricity with non-fossil fuel sources by 2030.
China repeated its pledge to peak carbon emissions by 2030, "making best efforts to peak early."
China also committed to step up reforestation efforts and increase its forest volume – which, as in Brazil, plays a key role in reducing atmospheric carbon levels – by about 4.5 billion cubic meters above 2005 levels.
What Does It Mean?
One of the tired arguments against developed nations like the US taking bold steps to address climate change is that it doesn't matter what we do if developing nations like China just keep polluting. As of Tuesday, it's time to officially nail the coffin in that one.
The proof? In the INDC, China outlines its goal:
"To embark on a new path of industrialization, developing a circular economy, optimizing the industrial structure, revising the guidance catalogue of the adjustment of industrial structure, strictly controlling the total expansion of industries with extensive energy consumption and emissions, accelerating the elimination of outdated production capacity and promoting the development of service industry and strategic emerging industries." 
Or to put it in terms non-bureaucrats actually use and understand, China is embarking on a fundamental transformation of its economy, shifting away from carbon-intensive development on a scale the world has never seen. As just one indicator, China's 20-percent renewables by 2030 pledge means it will have to add about the same capacity in zero-emissions power as its coal-fired plants produce today – and nearly as much capacity as the entire US energy sector. Then there are all the supporting steps, like commitments to have 50 percent of new buildings in cities and towns be green buildings by 2020, or efforts to promote 30 percent of motorized transport be through public transit in large and medium cities by the same year.
And then there's the flipside of the "It doesn't matter what we do if China doesn't do anything" argument. Now that China is doing something – something very, very big – do you think it's going to be highly motivated to push other nations to do something too and make strong commitments in Paris? You better believe it.
[Related: US and China Shake Hands on Carbon Deal]
Can You Say "Strong Market Signals"?
Government announcements like Tuesday's are just one part of a picture that's looking increasingly promising for a landmark climate agreement  later this year. Because when the leaders of two world superpowers and Latin America's leading economy are all committing to radically scaling up renewables, it sends a clear message to markets and investors. And that message is "There's money to be made in clean energy. A lot of money."
When these signals are so strong that even the most bullheaded oil execs couldn't mistake them, it encourages investors to support the clean-tech entrepreneurs  and businesses producing solar panels, developing new technologies, and making batteries increasingly efficient, to name only a few steps. The result is that innovation continues, technology improves, and costs keep coming down. Which in turn attracts more investment and the virtuous cycle continues. As the line goes, "It doesn't take a weatherman to know which way the wind blows."
Want to keep in the loop with what's happening in clean energy and other areas as we work for a strong global climate agreement in Paris in December? Sign up for our activist email list and we'll keep you posted on what's happening and how you can help make history this year.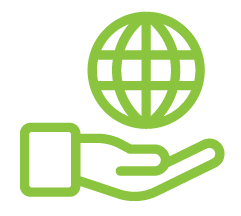 Before You Go
At Climate Reality, we work hard to create high-quality educational content like blogs, e-books, videos, and more to empower people all over the world to fight for climate solutions and stand together to drive the change we need. We are a nonprofit organization that believes there is hope in unity, and that together, we can build a safe, sustainable future.
But we can't do it without your help.
If you enjoyed what you've just read and would like to see more, please consider making a generous gift to support our ongoing work to fight climate denial and support solutions.