June 18, 2014 | 7:30 AM
The Turning Point
In the struggle to solve the climate crisis, a powerful, largely unnoticed shift is taking place. The forward journey for human civilization will be difficult and dangerous, but it is now clear that we will ultimately prevail. The only question is how quickly we can accelerate and complete the transition to a low-carbon civilization.
Continue reading at RollingStone.com
Recently, the news about the climate crisis has included some hard things to read -- like the announcement by scientists that the collapse of the West Antarctic ice sheet is now irreversible. But we don't have time or reasons to feel despair; that's just another form of denial, paralyzing action.
Some are saying there's no turning back, but as you'll see in my new article in the next issue of Rolling Stone magazine, I'm extremely hopeful for the future of our great planet. 
Sometimes it's worth reminding ourselves that the solutions to this climate crisis are right in front us, right here, right now, and I wanted to share this good news with people like you who are fighting for a clean-energy future. Around the world, people like you are fighting the good fight and helping to power a clean-energy future. We're not giving up, and I strongly believe that we are going to rise to meet this challenge. 
Take a few minutes now to read my Rolling Stone article, "The Turning Point," before it hits newsstands on Friday. 
When you're finished reading, there's one more thing you can do. Help make sure everyone knows that the fight isn't over yet – share this article with friends, family, and others who are helping to create a healthy and sustainable future for all of us. 
Together, we can create lasting change. And that's just one more reason I'm hopeful this year.
Image: © 2014 James Moran / Flickr cc by nc 2.0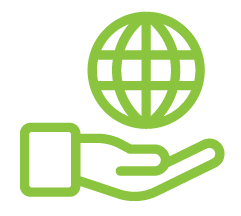 Before You Go
At Climate Reality, we work hard to create high-quality educational content like blogs, e-books, videos, and more to empower people all over the world to fight for climate solutions and stand together to drive the change we need. We are a nonprofit organization that believes there is hope in unity, and that together, we can build a safe, sustainable future.
But we can't do it without your help.
If you enjoyed what you've just read and would like to see more, please consider making a generous gift to support our ongoing work to fight climate denial and support solutions.