June 26, 2018 | 10:24 AM
Tweet by Tweet, Learn How to #LeadOnClimate
Taking on the climate crisis is no easy task – between doomsday headlines and deniers repeating the same old myths everywhere, being a climate activist can be pretty daunting.
But it's an extremely important job, with the list of climate impacts from more frequent extreme weather events to higher rates of disease growing longer all the time. And we need all the help that we can get to beat this thing.
That's why we're extremely inspired by those who fight the good fight. Companies and people from all walks of life – and from all over the globe – who are stepping up and taking some serious action..
And we believe their stories can inspire others to do the same.
>>> Should you become a Climate Reality Leader? <<<
So we decided to hear from the climate champions themselves – and what better way to do that than to host a #LeadOnClimate Twitter chat?
Businesses, activists, and environmental organizations from all over the world accepted our invitation and participated in the chat. But we were especially happy to see regular people chime in, like John Chambers from Ontario. After all, the only way we're going to turn this crisis around is with everyone getting involved.

Talking with John from Ontario, Canada. #LeadOnClimate

— John Chambers (@_JohnChambers) June 20, 2018

During our chat, we asked what drives people to join the climate movement. We have to give it to "Climate Mama" for having the perfect answer.

A5: What keeps me going: Being able 2 look my kids in their eyes & tell them I did everything I could to #leadonclimate #zerohour #climatehope https://t.co/kqYu58qsmy

— Climate Mama (@CLIMATEMAMA) June 20, 2018

It's not easy to be an activist in any field. So how does one even start to #LeadOnClimate?
Our friends at the environmental justice organization Green for All reminded everyone that small actions can make a big difference. A simple letter to your legislator can go a long way to pressure political leaders to support renewable energy. (And there are other actions that you can take – even in your own backyard.)

A2: The world needs your words to survive. Whether it's in a letter to your local lawmaker, on a poster at a rally, or in a 280-character tweet, your voice is powerful. Share your story, state your opinion, and spread the message. #LeadOnClimate

— Green For All (@GreenForAll) June 20, 2018

After taking the first steps to #LeadOnClimate, we promise the next ones will come easy and soon you'll be running a marathon! A great example is Jamie Margolin, who took part in one of our Climate Reality Leadership Corps trainings and is now leading the Zero Hour youth climate march on July 21 in Washington, DC!

A2. A step you can take to help solve the climate crisis is marching with @ThisIsZeroHour in DC this summer or with our sister marches all around the world! #ThisIsZeroHour to act -- RSVP to join us here #LeadOnClimate and spread the word!https://t.co/SLVfFhuarB

— Jamie Margolin (@Jamie_Margolin) June 20, 2018

Feeling inspired yet? We certainly are.
If you're ready to step up on climate, learn more about becoming a Climate Reality Leader. Spend three days working with former US Vice President Al Gore and world-renowned scientists and communicators to learn how you can help solve the climate crisis. Check it out now!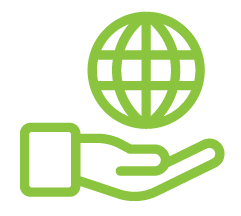 Before You Go
At Climate Reality, we work hard to create high-quality educational content like blogs, e-books, videos, and more to empower people all over the world to fight for climate solutions and stand together to drive the change we need. We are a nonprofit organization that believes there is hope in unity, and that together, we can build a safe, sustainable future.
But we can't do it without your help.
If you enjoyed what you've just read and would like to see more, please consider making a generous gift to support our ongoing work to fight climate denial and support solutions.