April 24, 2015 | 12:00 PM
United on the Road to Paris—and Beyond
This post was originally published in the May issue of Formiche, and was also featured in EcoWatch.
2015 is shaping up to be the year when the world takes action on the global climate crisis. Business leaders, non-profit organizations, NGOs, national governments and citizens all over the world are mobilizing in the lead-up to December's United Nations Framework Convention on Climate Change 21st Conference of the Parties in Paris (COP21), where we hope national leaders will sign a strong emissions reductions agreement.ƒ
As we look ahead to COP21 and beyond, we must hold leaders of all political parties and at all levels accountable for taking action to combat the largest threat the world has ever faced.
The Paris negotiations represent a critical opportunity for the international community to take a bold step forward to halt climate change. At The Climate Reality Project we believe COP21 is our best chance yet to secure a strong international agreement that includes meaningful emissions reductions commitments based on national circumstances, a system of periodic review for these commitments and a long-term goal of net zero carbon emissions.
To harness this global momentum towards COP21, The Climate Reality Project recently launched its Road to Paris campaign. The campaign focuses on garnering public support from the international community and citizens in eight key countries that are strategically significant for COP21: Australia, Brazil, Canada, China, India, Philippines, South Africa and the US.
In each of these countries, The Climate Reality Project's Road to Paris campaign will build on the work we've already undertaken, including training new members of the Climate Reality Leadership Corps and activating local branches, which will employ social/digital earned media tactics to educate and mobilize communities, hold events, and offer practical suggestions for grassroots action people can take to support and strengthen the commitments their national governments have made. Our partnership with Live Earth: Road to Paris will also play a significant role in the campaign and serve as a rallying point for in-country programs.
So what does the Road to Paris look like on the ground?
In the US, our Road to Paris campaign will foster public support for the climate efforts already underway—most notably the United States' initial commitment for the COP21 negotiations and the US Environmental Protection Agency's Clean Power Plan—and train a new cadre of Climate Reality Leaders.
To take a step back, the United Nations has called for each country to submit an initial commitment—officially called an intended nationally determined contribution (INDC)—for reducing carbon emissions domestically. Countries around the world have waited to see if the United States would make good on President Obama's own calls for climate action. At the end of March, the country did just that, committing for the first time to reducing carbon pollution based on real world targets with real world policies, by announcing an INDC that would reduce national greenhouse gas emissions 26-28 percent below 2005 levels by 2025.
The US plans to accomplish this largely through existing policies like fuel economy standards for vehicles and the Clean Power Plan, the first-ever national standard that would limit emissions from existing power plants. This proposed rule is significant for the United States because 40 percent of the US carbon pollution that drives climate disruption comes from power plants—the rule would cut emissions by 30 percent below 2005 levels by 2030, making it the largest single action that the United States has taken to address climate change.
Our goal with the Road to Paris campaign is to help provide the political and social support for the commitment the US has already announced, helping to provide a bold example to encourage other countries around the world to commit to their own strong national plans. Through these efforts, we can build a powerful movement for change at COP21.
And while this year is meaningful in the context of the year-end negotiations, the Road to Paris won't end at the conclusion of COP21. Beyond December, climate change will continue to be a critical issue for countries all over the world. Particularly in the US, it is increasingly something that voters care about—a recent national poll of registered voters in the US showed that a majority of voters favor candidates who will take action to fight climate change.
For exactly this reason, the Road to Paris campaign in the US includes a Climate Reality Leadership Corps training in Cedar Rapids, Iowa, this May. The training will not only help to empower the great work of community leaders on the ground there, but will also capture Iowa's unique political significance—as the first caucus state, Iowa's voters will help determine the issues and candidates that will feature in the presidential race for the next 18 months.
The Iowa training—which will take community leaders and equip them with the knowledge and tools to communicate effectively around climate change—is one of two trainings in the US this year—the other will take place in Miami, Florida in September.
As we look ahead to COP21 and beyond, we must hold leaders of all political parties and at all levels accountable for taking action to combat the largest threat the world has ever faced. We have the solutions to solve the climate crisis and—as the Road to Paris campaign shows—the international community is beginning to take action. Now we must work together to mobilize individuals, organizations and leaders to build the momentum we need to stop global climate change altogether.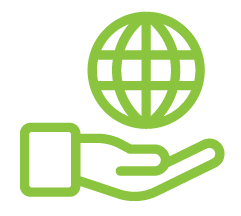 Before You Go
At Climate Reality, we work hard to create high-quality educational content like blogs, e-books, videos, and more to empower people all over the world to fight for climate solutions and stand together to drive the change we need. We are a nonprofit organization that believes there is hope in unity, and that together, we can build a safe, sustainable future.
But we can't do it without your help.
If you enjoyed what you've just read and would like to see more, please consider making a generous gift to support our ongoing work to fight climate denial and support solutions.