December 13, 2011 | 9:54 AM
A very Inconvenient Youth
Over the last few months we've introduced you to some of our outstanding Climate Presenters from around the world. Today, we would like you to meet one of our youngest and most active Presenters, Corey Husic.
Corey is a high school student from eastern Pennsylvania and a member of Inconvenient Youth, a group of young climate activists personally trained by our Chairman, former Vice President Al Gore, to give presentations about climate change. After travelling to Cancun, Mexico, to attend last year's United Nations Framework Convention on Climate Change (UNFCCC), Corey followed up with a trip to Durban, South Africa, this month to experience COP 17 and to meet with climate groups from around the world. We caught up with Corey to ask him a few questions.
Why did you decide to become an Inconvenient Youth Presenter?
When I learned about the opportunity to become an Inconvenient Youth presenter, I saw this as an experience to gain more tools that would be necessary to continue educating others about climate change and the importance of protecting the natural environment. Inconvenient Youth also provided a community of concerned youth who are willing to share ideas and work together towards fighting climate change and educating the public about this crisis. Without this communication, the effort will go nowhere quickly, and the work will be harder than necessary.
Tell us about the most memorable presentation you've ever given.
The most memorable presentation that I've given was to a high school environmental science class. During the actual presentation, many students had great questions and were involved in the discussion.
However, what made this presentation most memorable was that over the next few days, several students from that class approached me to tell me about the changes they had made around their household to conserve energy or about the way they shared information about the climate crisis with friends and family. Although an engaged audience is exciting to most presenters, an audience that truly understands and is willing to take action, like this science class, is most memorable and a sign of good fortune for the future of our planet.
Why did you decide to travel to Durban?
There were three main reasons why I decided to travel to Durban for the United Nations climate change conference. First, being at the place where negotiations are being held gave me insight into the ways my country and nations around the world are responding to the climate change crisis on a political level. Second, the strong component of non-governmental observers at the conference created important opportunities to work with educators, activists, and scientists to discuss ways to educate and implement strategies to promote a healthy planet and fight climate change. Lastly, I was drawn to the fact that youth play an important role at the conference in working with environmental organizations and governmental negotiators.
Did you have the chance to meet with any other youth groups during your trip?
Youth play a very important role at the UNFCCC, so a large constituency of youth was present at the conference. Every morning, I attended the meetings of the Youth Non-Governmental Organizations (YOUNGO), where youth groups developed strategies to work with negotiators and pressure the negotiators towards achieving an international treaty to reduce emissions, and ultimately slow or stop climate change. More than 20 youth organizations were active at this year's YOUNGO meetings, so I was able to share ideas and experiences with hundreds of youth from around the world.
What is the most important lesson you learned during your travels?
The most important lesson I learned from attending the conference was that the fate of our planet should not be left entirely to the government-appointed negotiators who are discussing a treaty at the conference. These negotiators and the countries they represent are often not willing to make the necessary effort to fight climate change and protect the people and ecosystems affected by this change. At the UNFCCC conference, organizations and youth stepped up to tell the negotiators that the world needs our help, and that without everyone's cooperation, the planet as we know it will take a turn for the worse in the future. As members of this planet, it is our responsibility to protect the land on which we live, as well as preserve the world for those around us who need a healthy Earth to survive.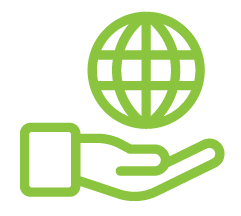 Before You Go
At Climate Reality, we work hard to create high-quality educational content like blogs, e-books, videos, and more to empower people all over the world to fight for climate solutions and stand together to drive the change we need. We are a nonprofit organization that believes there is hope in unity, and that together, we can build a safe, sustainable future.
But we can't do it without your help.
If you enjoyed what you've just read and would like to see more, please consider making a generous gift to support our ongoing work to fight climate denial and support solutions.