May 27, 2016 | 12:15 PM
Video: The Story of China's Solar King
Huang Ming, founder and CEO of Himin Solar Energy, is known as the "Solar King" of China. A former oil industry engineer, Huang made a life-changing decision to begin his company when his daughter was born: "I worried about there being no blue skies for her to see, so I changed my thinking from oil to solar power."
When Huang started Himin Solar Energy, he had a dream of making it the Silicon Valley of solar energy. The company began to grow quickly – so quickly Huang didn't realize its profits were doubling each year, helping China become the world's largest consumer of solar energy.
Himin's corporate headquarters are in Dezhou, a city that's leading the way for renewable energy in China. Dezhou has 124 miles (200 kilometers) of roads with solar-powered streetlights and 90 percent of the buildings use solar water heaters. Himin Solar Energy is helping drive the creation of this solar-powered infrastructure in part by manufacturing 3 million solar water heaters a year, which Dezhou and other cities in China have purchased. These solar water heaters alone have prevented the burning of over 200 million tons of coal over the last 20 years. But it doesn't stop there. About 800,000 of the city's 5.5 million residents now have careers in the solar industry – and Huang Ming's dream is beginning to come true.
Let's face it: China is ahead of the game when it comes to solar. The nation produced 64 percent of the world's solar energy in 2013 and currently invests more in solar than any other country. It's time for the rest of the world to catch up so we can create the global clean energy economy we need to stop climate change and thrive into the future.
Check out the video above to learn more about Huang Ming's solar story, which was originally part of our 24 Hours of Reality and Live Earth: The World Is Watching broadcast last fall.
And to stay updated about the latest progress with renewable energies, sign up here.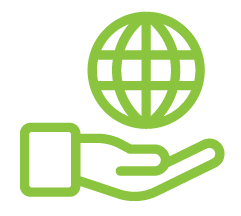 Before You Go
At Climate Reality, we work hard to create high-quality educational content like blogs, e-books, videos, and more to empower people all over the world to fight for climate solutions and stand together to drive the change we need. We are a nonprofit organization that believes there is hope in unity, and that together, we can build a safe, sustainable future.
But we can't do it without your help.
If you enjoyed what you've just read and would like to see more, please consider making a generous gift to support our ongoing work to fight climate denial and support solutions.