September 29, 2011 | 10:06 AM
Want to learn about climate change? Have a party.
Millions of people watched the live broadcast of 24 Hours of Reality -- and some people took the opportunity to have a party. All over the world, communities organized watch parties that gave people an opportunity to view the presentation, discuss it among themselves and have some fun along the way.
Here are just a few examples from here in the United States. The Georgia Climate Change Coalition organized an event at a renovated movie theater in the town of Athens. Those who attended not only watched the presentation, but discussed what they could do to reduce their carbon footprints at home.
"To me, 24 Hours of Reality was a perfect kickoff for our new coalition, since our aim is to help people understand how the global problem of climate change is going to affect the Southeast and what we can do here to avert and adapt to those changes. By breaking the presentation into 24 local segments, the Climate Reality Project did something similar, showing how the overall process poses unique challenges to every community and region."

-- Event Organizer Duncan Elkins
Another event was held at the Fire Headquarters in Montclair, New Jersey. Gray Russell, a Climate Reality Presenter, is the town Environmental Affairs Coordinator. He led a discussion on how to reduce energy use in Montclair, a town that the EPA has designated a Climate Showcase Community.
"Attendees happily shared success stories about organic gardens, motor-free and pesticide-free lawn care, municipal and residential energy audit how-to's, grant and incentive programs, and much more. Everyone left with a revitalized commitment to redouble their efforts. The resounding tone was a shared desire to move the ball closer to a carbon-neutral future."

-- Climate Reality District Manager Greg Mattison
More than a hundred people attended an event at Myers Park Baptist Church in Charlotte, North Carolina, sponsored by several environmental groups.
"One comment [we] received after the event: 'It's great working with so many passionate and talented people. Thanks to all that helped coordinate this, and I'm excited to keep working with you for a green and peaceful future.' People left the event feeling energized and ready to roll up their sleeves and make a difference."

-- Kathleen Green, MPBC Earthkeepers
In Ketchum, Idaho, home to the Sun Valley Ski Area, guest speakers explained how climate change is impacting local rivers, animals and forests.
"About 50% of our group [was] under the age of 25. The bonus was lots of energy and discussion afterwards and highlighted by a group of local high school students who reported out to the crowd about their successful petition initiative to get a ballot item on this November's vote to require the payment for plastic grocery bags in stores!"

-- Joyce Allgaier, City of Ketchum Planning Manager
And in York, Maine, the Green Business Initiative took time after the event to discuss how they could motivate other members of their community to participate in similar events.
"We are excited to be a part of the global effort The Climate Reality Project represents and we are touched that the recent devastation of Tropical Storm Irene in Vermont, our close neighbor, was included in the presentation only a few days after the event."

-- Amy Halsted, Green Business Initiative Communications Director
We're thrilled that these communities and so many others around the world organized watch parties around 24 Hours of Reality. But a watch party wasn't the only way to view the event. Through our partnership with Ustream, you could see it either on our homepage or on dozens of other websites which embedded the program. Or, you could watch the live broadcast of the final hour of current TV.
Once again, a special thanks to everyone around the world who helped make 24 Hours of Reality a success. Together, let's take the next step and help make solving the climate crisis a reality. And if you missed the live broadcast, it's not too late to watch any part of it now and it's not too late to host your own event.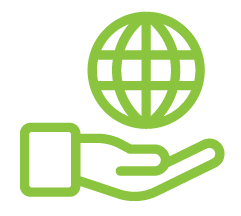 Before You Go
At Climate Reality, we work hard to create high-quality educational content like blogs, e-books, videos, and more to empower people all over the world to fight for climate solutions and stand together to drive the change we need. We are a nonprofit organization that believes there is hope in unity, and that together, we can build a safe, sustainable future.
But we can't do it without your help.
If you enjoyed what you've just read and would like to see more, please consider making a generous gift to support our ongoing work to fight climate denial and support solutions.