August 02, 2018 | 4:16 PM
What Is the International Solar Alliance? Here's How It Could Transform Our World
A while back, we published a video (made by our friends at The Years Project) on our Facebook page and it was enormously popular. More than 9 million people watched it, hundreds of thousands of people shared it, and it sparked thousands of comments. The video was all about the International Solar Alliance (ISA) — and we don't blame people for getting excited about it. Because if the ISA reaches its goals, it could help transform the way we power our world. Check it out:
 

What Is the International Solar Alliance? How Did It Start?

The International Solar Alliance was created at the same time as the Paris Agreement in December of 2015, announced by India's prime minister, Narendra Modi, and France's then-president, François Hollande. (The Paris Agreement, of course, is the historic global climate agreement that came out of the UN's COP 21 climate conference in Paris, France)
The timing and the partnership made perfect sense. The Paris Agreement, after all, was the first time the world had come together to truly tackle the climate crisis as one planet. It meant new ways of confronting the crisis, requiring new collaborations to do it.
By connecting two great economies – one a European leader and one developing rapidly and on its way to becoming the Earth's most populous nation – the ISA opened the door to an ambitious collaboration on climate solutions and gave the world hope we could reach the goals set forth in Paris Agreement.
>> Learn More: [Infographic] From Paris To Poland: Keeping Climate Action on Track <<
But the alliance is much more than just India and France. It's made up of over 120 nations (though not all have officially signed on), mostly in "sunshine countries" near the equator in the torrid zone. Many of these countries, despite being solar rich, have higher rates of energy poverty and lack widespread access to modern systems of electricity.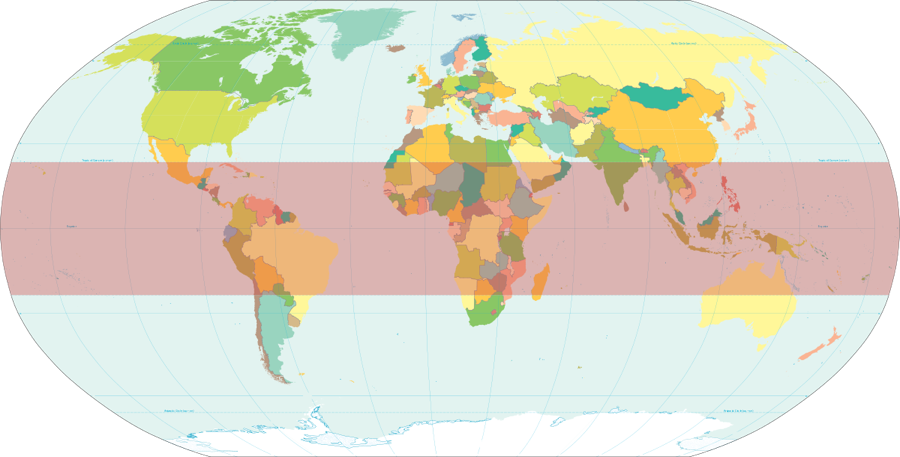 A map highlighting the torrid zone, the area between the Tropics of Cancer and Capricorn.
So What Does the ISA Aim to Do? And Why Is It Such a Big Deal?

According to the United Nations, "the initiative…focuses on investment in large-scale solar energy in developing countries to both meet escalating energy demand and fight rapid climate change."
To put that into ordinary language, the ISA is aiming to mobilize more than a trillion dollars in order to triple the amount of solar energy installed around the world— and all before 2030. That's a target of over a trillion watts of solar installed across the Earth in just the next 12 years.
Big picture, the ISA is all about tackling common challenges and pooling resources to scale up solar energy in a big, big way. The idea is that by sharing experiences, knocking down barriers, and combining demand for solar technologies – and the funds to pay for them – from many, many countries, the ISA can help drive down prices and make solar energy more affordable and accessible for everyone.
As one Indian energy expert and former climate diplomat said, "The idea is that larger markets and bigger volumes will lead to lower costs, making it possible to spur demand."
What's equally exciting about the ISA is that these efforts also mean new solar and support jobs in many developing countries. Because part of its mission is to train new workers in skilled related to renewable energy. There's no doubt about it – the future looks bright.
Get the Facts about Renewable Energy

It's a fact: Renewable energy is the future, and it's helping power our world today. But there's a lot of misinformation out there about renewables. That's why we created a free fact sheet that covers the basics about solar, as well as wind and geothermal energy.
In just two pages, we answer these questions:
What exactly is renewable energy?
How is it different from fossil fuels?
What types of renewables exist today?
How can I debunk common myths about renewables?
The climate is changing, but these facts don't. Download our free renewable energy fact sheet today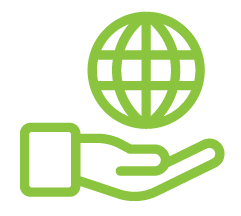 Before You Go
At Climate Reality, we work hard to create high-quality educational content like blogs, e-books, videos, and more to empower people all over the world to fight for climate solutions and stand together to drive the change we need. We are a nonprofit organization that believes there is hope in unity, and that together, we can build a safe, sustainable future.
But we can't do it without your help.
If you enjoyed what you've just read and would like to see more, please consider making a generous gift to support our ongoing work to fight climate denial and support solutions.