June 20, 2018 | 10:02 AM
What People Are Saying about Our Climate Reality Leadership Corps Trainings
Every year, we gather activists from all walks of life — teachers, faith leaders, doctors, parents, you name it — at Climate Reality Leadership Corps trainings around the globe. Over the course of three days, trainees learn from world-renowned experts about how to inspire their communities to take action on climate change.
We think they're pretty amazing events – and judging by the huge smiles and incredible energy we see in faces leaving, we're pretty sure most Leaders would agree. But you still don't have to take our word for it. Here's what people are saying about what it means to become a Climate Reality Leader. (And don't forget — our trainings are completely free.)
Climate Reality Leaders Walk Away Hopeful 

When you read what Climate Reality Leaders have to say about our trainings, the word that comes up over and over is "hope."
Why is that a big deal? Because we all know how urgent a problem climate change is, but by attending a Climate Reality Leadership Corps training, you'll learn how we can solve this crisis with the technology we already have today – and how you can help. And that's cause for hope.

And More Determined than Ever

Everyone comes to our trainings with one thing in common: a shared passion for solving the climate crisis.
But our trainings aren't just about climate science. Climate Reality Leaders walk away with the skills and the confidence to take action at home — knowing how to shape public opinion, influence policy, and inspire their community to act. For many leaders, having these skills makes them more committed than ever. 

They Make Powerful Connections with Other People Just Like Them

At a training, you'll have the opportunity to connect with people who are just as passionate as you are about saving the climate. 
After all, our Climate Reality Leadership Corps trainings bring together hundreds — and sometimes even thousands — of people from across the globe. (Don't worry though, we buy certifiable carbon offsets for everyone who attends!)

>> Ready to learn more? Visit our training page. <<
And Learn Even More than They Expect 

Our trainings are for everyone — brand-new and advanced activists alike. As long as you care about the climate crisis and want to take real action, you're more than qualified to attend. 

From Incredible Climate Experts and Speakers 

You know how there's that one voice – maybe an expert in your field or an insightful writer or someone you heard on YouTube – who opened your eyes and completely changed how you think about things? The one you tell your friends all about, saying over and over again, "You've got to hear this person"?
Those are the voices you'll hear at a Climate Reality Leadership Corps training – and you'll come away with a whole new perspective on what's happening to the Earth and what we can do to save it.
We've had leading climate scientists like Dr. Katharine Hayhoe and Dr. Michael Mann; inspiring activists like Indivisible co-founder Leah Greenberg; media stars like Property Brothers' Jonathan Scott; elected leaders like Pittsburgh Mayor Bill Peduto; and more. And, of course, former US Vice President Al Gore works with attendees at every training!
Don't Miss Your Chance! Become a Climate Reality Leader

You heard it straight from people who have attended: You should become a Climate Reality Leader. You'll walk away hopeful, connected, and with more knowledge and determination than ever before. Join over 15,000 people who've already attended a Climate Reality Leadership Corps training and join this incredible network of activists fighting for our planet's future. 
As one Climate Reality Leader said, "Consider attending a future training — you will not regret it."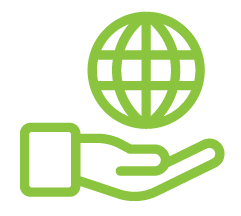 Before You Go
At Climate Reality, we work hard to create high-quality educational content like blogs, e-books, videos, and more to empower people all over the world to fight for climate solutions and stand together to drive the change we need. We are a nonprofit organization that believes there is hope in unity, and that together, we can build a safe, sustainable future.
But we can't do it without your help.
If you enjoyed what you've just read and would like to see more, please consider making a generous gift to support our ongoing work to fight climate denial and support solutions.