December 13, 2018 | 1:25 PM
What World Leaders Are Saying About COP 24 (in Tweets)
From our experience, 280 characters can be all you need to tell a story. So what better way to stay on top of COP 24 than by reading the tweets of global leaders who are at the conference?
Jokes aside, the UN climate meeting taking place in Katowice, Poland, is a big deal. The conference is set to put into motion the commitments made in the Paris Agreement, and it comes on the heels of new scientific research that make it clear that if we want to avoid the worst of the climate crisis, we need to act sooner rather than later.
>> What's Happening At Cop 24 And Why Does It Matter?<<
Here's what global leaders have to say (in tweets) about this important time in climate history:
1. Walk the Walk
 

Auf dem Weg zur @COP24 nach Polen. Gemeinsam werden wir alles daransetzen, einen sichtbaren Beitrag für einen Erfolg dieser wichtigen #Weltklimakonferenz zu leisten. #COP24 #ClimateAmbition (vdb) pic.twitter.com/xEzKoAeu8j

— A. Van der Bellen (@vanderbellen) December 2, 2018

Austrian President Alexander Van der Belle showed the world with a single tweet that he doesn't just talk the talk at COP 24 – he also walks the walk. On the way to the climate conference, the  president ditched his motorcade and traveled from Vienna to Katowice on a much greener ride. The leader knows from experience that the time to act on climate is now. The Austrian alps have been experiencing rising temperatures and diminishing snowfall, which is threatening the country's ski resorts.
2. The Journey Continues
 

.@FijiPM| "When it comes to combatting #ClimateChange, the whole world is in the same canoe-- and at @COP23, we have put that canoe on an excellent course. So let's all leave #Bonn rededicating ourselves to completing this journey together." pic.twitter.com/c0URnHDakb

— Frank Bainimarama (@FijiPM) November 18, 2017

For many years Fiji Prime Minister Frank Bainimarama has been a leading voice among world leaders to step up climate efforts. And there's a good reason for his concern. Fiji's very existence is threatened by extreme weather events and sea-level rise fueled by climate change. While participating in the opening of COP 24, the prime minister pinned a tweet he wrote at the end of COP 23 to the top of his Twitter page. The move is pretty symbolic if you ask us – it shows that we have already started our journey to beat climate change, we just have to stay on course.
3. Big Plans
 

Impulsar un desarrollo sostenible, justo e inclusivo y adaptar nuestras sociedades es fundamental para combatir el #CambioClimático.
Nuestra propuesta: reducir un 37% las emisiones actuales en 2030 y al menos en un 90% en 2050 para alcanzar así la neutralidad de carbono. #COP24 pic.twitter.com/odax75BSIS

— Pedro Sánchez (@sanchezcastejon) December 3, 2018

We're happy to say that COP 24 had just started and global leaders were already laying out big plans to reduce carbon emissions. On day one of the conference, Spanish Prime Minister Pedro Sánchez spoke of his country's goal to reduce greenhouse gas emissions by 37 percent from current levels by 2030. The target is one of the most ambitious among the European countries. And the best part? The country is planning on achieving that goal by investing heavily on renewable energy.
4. Americans Want Climate Action
 

Drugi dzień #COP24 Prezydent @AndrzejDuda rozpoczął od spotkania z b. Gubernatorem Kalifornii @Schwarzenegger#Katowice pic.twitter.com/LlFFgZ3S78

— Kancelaria Prezydenta (@prezydentpl) December 4, 2018

Polish President Andrzej Duda met with Arnold Schwarzenegger and proudly tweeted a photo of their friendly handshake. No doubt the president wanted to show off the very cool encounter with the former California governor. But we suspect the ex-governor had his own intention here: To make it clear that many Americans remain committed to curbing the climate crisis, in spite of the White House's decision to opt out of the Paris Agreement. And to ensure they're in the hearts and minds of negotiators at COP 24.
Want to learn more about how we can (and will) beat the climate crisis?

When you see what's at stake with climate change, it's easy to feel discouraged or defeated. But here's the good news: solutions to the climate crisis are already available today. Renewable energy is one of the most powerful ways we can fight for a better tomorrow.
Curious about clean energy? In our free fact sheet, we lay out the facts – what renewable energy is, how it's different from fossil fuels, and what types are being used today.
Get the facts! Download this free, printable resource today and spread the facts about clean energy and climate solutions.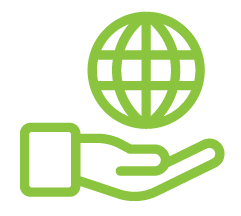 Before You Go
At Climate Reality, we work hard to create high-quality educational content like blogs, e-books, videos, and more to empower people all over the world to fight for climate solutions and stand together to drive the change we need. We are a nonprofit organization that believes there is hope in unity, and that together, we can build a safe, sustainable future.
But we can't do it without your help.
If you enjoyed what you've just read and would like to see more, please consider making a generous gift to support our ongoing work to fight climate denial and support solutions.