July 26, 2017 | 9:33 AM
Why Does Al Gore Wear a Green Ring Pin?
An Inconvenient Sequel: Truth to Power is a trenchant look at the ongoing fight for climate action. The film follows former US Vice President Al Gore as he visits melting glaciers and flooded city streets, and works alongside world leaders to push for solutions to the climate crisis, ultimately resulting in the historic Paris Agreement.
When you see An Inconvenient Sequel: Truth to Power in theaters this summer, you may notice a small green ring pin fixed to Vice President Gore's lapel and wonder, "What does that stand for?"

Let us explain

The green ring is part of The Climate Reality Project's logo, where it encircles the globe to connect us all. It also acts as a representation of the atmosphere we are fighting so hard to protect. It was designed in 2013 as a symbol that our trained Climate Reality Leader activists around the world could wear to show their commitment to protecting our planet.
Vice President Gore, Climate Reality's founder and chairman, has said of the pin, "The idea for the green ring was simple: we've got to make the climate crisis visible. Every day. Everywhere. Every way we can."
When someone now completes one of our Climate Reality Leadership Corps trainings, which are featured prominently throughout An Inconvenient Sequel: Truth to Power, they're given a green ring pin along with a note that reads:
"Wear this pin as a symbol of your commitment to help spread the reality of the climate crisis. Wear it, and you are taking a stand for action. Wear it, and together we can change the world."
Wearing the green ring is a way to make your commitment visible everywhere you go. It's how we join together to show our friends, our family members, our neighbors – and our leaders – that we mean business and we've got the numbers to make change happen.
We know we've got to solve the climate crisis – and we know the world is with us. But politicians won't act unless they see us speaking up every way and everywhere they look.
So when you see a green ring pin, be it on a former vice president or a neighbor at the supermarket, they're speaking up to say that we must confront the climate crisis. And with all of us speaking up together, we know we will.
Learn more about how you can make a difference for the future of our planet by attending one of our Climate Reality Leadership trainings. Click here to learn more.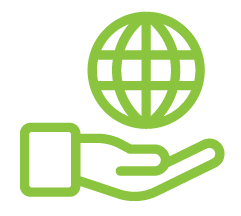 Before You Go
At Climate Reality, we work hard to create high-quality educational content like blogs, e-books, videos, and more to empower people all over the world to fight for climate solutions and stand together to drive the change we need. We are a nonprofit organization that believes there is hope in unity, and that together, we can build a safe, sustainable future.
But we can't do it without your help.
If you enjoyed what you've just read and would like to see more, please consider making a generous gift to support our ongoing work to fight climate denial and support solutions.