April 22, 2016 | 9:03 AM
Why This Earth Day Is Different
For decades, Earth Day has served as a global rallying cry for a cleaner, healthier planet. It's a symbolic day but only one day in a 365-day movement. But this Earth Day is different. Today we have renewed hope as leaders from almost 170 countries formally signed the Paris Agreement created at last December's COP 21 climate conference. The agreement commits countries to a series of pledges to cut greenhouse gas emissions and other steps with the goal of limiting global temperature rise to well below 2 degrees Celsius (with efforts to aim for 1.5 degrees). It isn't victory, but a hopeful sign that the international community is committed to get there.
There have been global climate agreements before, but nothing with this extraordinary reach, ambition, and international backing. It sends a clear message that finally, as a planet, we're serious about moving away from the dirty fossil fuels slowly destroying our planet and finally stopping climate change.
After many hard fought fights, wins, losses, optimistic moments mixed with disappointing setbacks, the climate action movement has had its fair share of ups and downs which only makes this moment more remarkable. I was awestruck by the unanimous view among all the world's leaders who were present that they have to take significant steps now to address climate change and by the fact that there was no climate denial expressed by anyone. It brought me back to the lead up to the Paris negotiations when millions of individuals, businesses and NGOs across the globe demanded their leaders do what's required to protect our planet. If you weren't at the UN ceremony, I can say that the world's leaders will be working together to protect your future.
With the Paris Agreement coming into force and countries actively cutting emissions and turning to clean, renewable energy, we have both the framework we need to stop climate change and the tools to do it. Already, we can see how the agreement has transformed perspectives all around the world and spurred countries, companies, and citizens to get to work even before it's been formally signed. In just the four months since negotiators reached the agreement, Copenhagen announced plans to divest from fossil fuels, while the influential Rockefeller Family Fund began to do the same. Norway banned over 50 firms from its sovereign wealth fund. New York State announced plans to go coal-free by 2020 while JP Morgan halted funding new coal mines. Investment in renewables reached levels double that of coal and gas.
The list goes on and on and reaches into nearly every sector. And it tells you that the world is changing in profound ways.
So let's savor this moment. Know that today, you're experiencing history in the making. Today on Earth Day, let yourself believe that finally solving climate change is possible – because, thanks to the Paris Agreement, it is. Imagine a world powered by renewable energy and know that while we won't get there tomorrow, we will get there.
Show your support for #ClimateAction this #EarthDay! Change your Facebook profile picture: https://t.co/F2SvGs1vwN pic.twitter.com/93HYEDzz5o

— Climate Reality (@ClimateReality) April 21, 2016
Tomorrow, however, it's time to act. There is real and hard work ahead of us to implement the Paris Agreement in every country that signs it and the fossil fuel industry and its powerful allies have no intention of going gently into that good night. Witness, for example, the current action against the Clean Power Plan here in the US brought forward by two dozen state attorneys general. Plus, we need to make the commitments to cutting emissions now in the agreement even more ambitious if we're going to keep warming below 2 degrees.
But also know that increasingly, millions and millions of people on every continent are waking up not just to the threat climate change poses to the future of our precious planet, but also to the reality we can solve it. They're speaking up for change with a voice so loud and strong that politicians can simply no longer afford to ignore it.
And more than anything, more than any meeting of politicians, more than any agreement, that simple fact gives us hope.
Thank world leaders for fighting climate change

Let world leaders know you support the Paris Agreement — and your president, prime minister, or representative know you're ready to get to work to implement it at home by signing our petition today.
Photo: NASA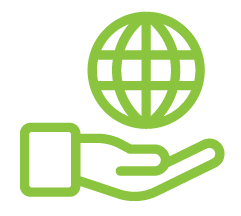 Before You Go
At Climate Reality, we work hard to create high-quality educational content like blogs, e-books, videos, and more to empower people all over the world to fight for climate solutions and stand together to drive the change we need. We are a nonprofit organization that believes there is hope in unity, and that together, we can build a safe, sustainable future.
But we can't do it without your help.
If you enjoyed what you've just read and would like to see more, please consider making a generous gift to support our ongoing work to fight climate denial and support solutions.