September 21, 2018 | 8:00 AM
The Alliance for Climate Protection®: Why the Global Climate Action Summit Really Mattered
You could be forgiven for thinking we've been here before.
A bunch of high-level Davos types come together to talk abstractly for a few days and at the end make a bunch of bold pronouncements about what so and so should do and what should happen to solve the climate crisis.
And then, well, it's not always clear what does happen.
Last week's Global Climate Action Summit in San Francisco, though, was different. Different, not just in the fact that it was firmly focused on the Paris Agreement process to decarbonize the global economy – but was largely comprised of governors, mayors, business leaders, and civil society representatives with no official seat in UN climate negotiations.
Different, also, in the way it brought these people together to bring real pressure on the national leaders who do. And different in the way that what came out of the Summit has every promise of making a lot happen. A whole lot.
Making Good on Big Promises

Any primary schooler knows that anyone can make a promise. What matters is if – and how – you make good on it.
When it comes to the Paris Agreement, the question of making good on promises is becoming critical. Because if we're going to have a shot at keeping global warming well-below 2 degrees Celsius, we need national leaders to make good on all the promises they made in the agreement to slash emissions.
Then we need them to actually make even more ambitious commitments to cutting emissions. And make good on those too.
Speed matters. In 2013, the Intergovernmental Panel on Climate Change (IPCC) released a carbon budget showing how much greenhouse gas we could emit while giving the planet a decent chance of keeping warming to 2 degrees Celsius or less.
 

Emission reduction trajectories associated with a 66% chance of avoiding more than 2C warming by starting year. Solid black line shows historical emissions, while dashed black line shows emissions constant at 2016 levels. Data and chart design from Robbie Andrew at CICERO and the Global Carbon Project. Chart by Carbon Brief using Highcharts.
Problem is, we've already spent most of it. Which means we've only got a limited time to get to peak emissions and then rapidly decarbonize to make that 2-degree goal. Naturally, the faster we get to peak emissions, the more time we have and the easier it will be to make the large-scale transition to low-carbon living necessary.
Outside of the White House and fossil fuel company boardrooms, almost everyone agrees that this is a critical goal. The big question is, how do we do it? How do national leaders know that they can fulfil the commitments they've already made – and then make even bolder ones?
That's where the Global Climate Action Summit came in.
A New Approach to the Paris Process

Running September 12—14 and organized and co-chaired by California Governor Jerry Brown, the Summit took a different approach to the Paris process. With a few notable exceptions, the Summit wasn't about the national leaders involved in actual UN negotiations and making commitments.
It was – for the most part – about all the states, cities, companies, organizations, and others doing the real work on the ground to meet them.
Looking forward to the UN's COP 24 climate conference coming up in Katowice, Poland this December, the Summit aimed to give national leaders the confidence to work on implementing the Paris Agreement and raise the bar with even more ambitious commitments to de-carbonizing. And to do it now.
Or, to put it another way, to do more, faster.
The strategy was simple. First, show what's working by bringing together representatives from many of the cities, states, businesses, and other organizations taking big steps to reduce their emissions. Companies like the Mahindra Group. Cities like Houston, Texas. States and districts like the Australian Capital Territory. Think of it as a message not just to national leaders, but to other cities, states, and businesses: "Hey, we can do this. Here's how you can too."
Second, the Summit aimed to assemble decision-makers with the power to effect change on a global scale – and then get them to commit to do more, faster.
With the tragedies of Hurricane Florence and Typhoon Manghut unfolding almost in parallel and underscoring the terrible cost of extreme weather linked to the climate crisis, what happened in San Francisco should give the rest of us real hope.
Because between the statements and the speeches, the Summit led to some huge developments. Developments that have the potential to accelerate the Paris Agreement process and de-carbonization worldwide. Developments that may – in the long run – be the bridge from "should" solve to "could" solve and even "would" solve the crisis.
Four developments in particular stand out.
California Leads by Example

Leading up to the Summit, the California state legislature made headlines passing SB 100, mandating that the state's electricity sector generate all its power from zero-carbon sources by 2045.
That in itself was a major accomplishment – and, as expected, Governor Brown signed the bill into law. But then he went one step – a big step further – by issuing an executive order requiring California to become entirely carbon-neutral by 2045.
Just to take a step back, that's the world's fifth-largest economy saying it will largely de-carbonize every sector and get to zero net emissions within three decades. If that's not a statement of purpose and challenge to basically every other state out there, it's hard to say what is.
Plus, just consider what this order from such a massive economy says to the markets and industries that will – and won't – help it reach that goal. It says the future is renewable. In 39-million-point font.
Coal's Days Are Numbered

At last year's COP 23 climate conference in Bonn, Germany, the governments of Canada and the UK launched the Powering Past Coal Alliance (PPCA), "a global alliance of national and sub-national governments, businesses and organizations working to advance the transition away from unabated coal power generation."
Canada and the UK created the PPCA in recognition of the fact that all European Union and Organization for Economic Co-Operation and Development states must fully phase out unabated coal by 2030 (and the rest of the world by 2050) if we're going to meaningfully limit the impacts of climate change.
The idea quickly caught on and the coalition already had a long list of big names as members, including countries like France, Mexico, and New Zealand; subnational states and provinces like British Columbia in Canada and Washington State in the US; and major companies like Diageo and Marks and Spencer's.
At the Summit, 10 new members joined, including the US states of Connecticut, Hawaii, Minnesota, and New York; the cities of Los Angeles, Honolulu, and Rotterdam; and Wales, the Australian Capital Territory, and Spain's Balearic Islands.
PPCA's growth is such a big deal in part because many of its members (like the UK and Wales in particular) have historically relied on coal to power their development. Making this commitment to phase out unabated coal completely is another big sign that the end is coming for the dirtiest fuel we have.
We Have a Roadmap

We have a goal of keeping global warming to well-below 2 degrees Celsius and the Paris framework to get there. But there's still been the lingering question of how we actually can do it.
Well, now we have a roadmap.
Leading up to the summit, a team of scientists and researchers from organizations including the Carbon Tracker Initiative, Climate Action Tracker, Potsdam Institute for Climate Impact Research, and Yale Data Driven got together and did the math(s) and analysis.
Their big finding, released in a report: For a realistic chance at holding the 2-degree warming line, the world needs to peak emissions and start accelerating de-carbonization in 2020. They call this "The Climate Turning Point."
To do it, the team identifies six benchmarks in renewable energy, transport, land use, heavy industry, city and state governments, and investment, along with the major steps necessary in each to make 2020 this turning point.
Ambitious? Yes. A work in progress? Most likely. But it also gives governments, businesses, civil society organizations, and individuals concrete targets and pressure points to focus on between now and 2020. Because as the report indicates, we don't have time to waste.
Big-Picture Momentum Is Growing

One of the biggest takeaways of the Summit was that beneath the headlines, momentum for action at the regional, local, and business level is real and growing. As just one example of the many, many big commitments, over 100 mayors, state and regional leaders, and CEOs pledged to become carbon-neutral by 2050.
Of course, much depends on how they act on these commitments, but if the policymakers heading to COP 24 needed convincing that the world is ready for bold solutions and has the technology to support them, they got it in spades in San Francisco.
What comes next?
That's up to us.
The Summit showed the tools and will are there for rapid de-carbonization. If you're ready to do your part to help and you live in the US, join a Climate Reality chapter near you. No matter where you live, sign up for our activist email list and learn how you can train as a Climate Reality Leader with former Vice President Al Gore and mobilize your community to support real climate solutions today.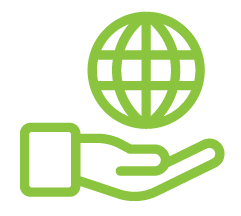 Before You Go
At Climate Reality, we work hard to create high-quality educational content like blogs, e-books, videos, and more to empower people all over the world to fight for climate solutions and stand together to drive the change we need. We are a nonprofit organization that believes there is hope in unity, and that together, we can build a safe, sustainable future.
But we can't do it without your help.
If you enjoyed what you've just read and would like to see more, please consider making a generous gift to support our ongoing work to fight climate denial and support solutions.