November 08, 2011 | 12:18 PM
Wine and warming: Climate change's threat to vineyards
© 2007 Flickr/roblisameehan cc by 2.0
First coffee, and now wine?
According to a recent study by scientists at Stanford, the wine industry could become the latest casualty of climate change, as vineyards around the world face the threat of rising temperatures. From California to Bordeaux, climate change is making it increasingly difficult for winemakers to cultivate premium grapes. Experts say that by as early as 2040, rising temperatures could diminish Northern California's wine-growing land by half. Since grape vines are extremely temperature-sensitive, a warmer climate also affects wine's acidity, color and aroma.
So what will this mean for your favorite varieties of wine? Climate change is expected to be a "big problem" for some of the most well known types. Pinot Noir, Cabernet and Sauvignon Blanc all grow in California, where wineries are considering switching to grapes that are better suited to a warmer environment. Vineyards in the Champagne and Bordeaux regions of France face disease brought on by an unusually cool and damp growing season.
Facing such a daunting threat to their industry, winemakers around the world are fighting back against climate change in an inspiring display of unity. Representatives from more than 300 vineyards attended the "Wineries for Climate Protection" conference held in Barcelona last June. The group concluded that "to arrest [climate] change means taking the lead in changing the use of energy, reducing petrol consumption and progressively bringing in renewable or biomass energies." One example: over 15,000 growers and 350 Champagne houses make up the Champagne Bureau, a worldwide organization that set the goal of cutting 75 percent of its carbon pollution by 2050.
Many individual winemakers have also taken it upon themselves to embrace renewable energy in their vineyard operations. From solar power to locally-produced biodiesel to in-house energy audits, winemakers across the globe are taking steps toward cleaner energy practices. These winemakers realize that climate change will not just affect their morning cup of coffee -- their very livelihoods are at stake.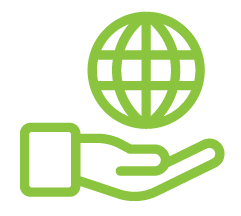 Before You Go
At Climate Reality, we work hard to create high-quality educational content like blogs, e-books, videos, and more to empower people all over the world to fight for climate solutions and stand together to drive the change we need. We are a nonprofit organization that believes there is hope in unity, and that together, we can build a safe, sustainable future.
But we can't do it without your help.
If you enjoyed what you've just read and would like to see more, please consider making a generous gift to support our ongoing work to fight climate denial and support solutions.