September 09, 2011 | 12:46 PM
Is Winter Going Downhill?
© 2011 Flickr/Ian BC North cc by NC 2.0
It's September. You know what that means? Winter is not too far around the corner. And I can't wait. It is my favorite time of year. A lot of people might think of winter in terms of hours spent shoveling driveways, but for me, a northern Michigan native, winter means pond hockey, skiing, hot chocolate and just watching the snow fall. But our winters are changing. Temperatures are rising and winters are getting shorter. And people who rely on Jack Frost's gifts for their livelihoods and recreation are noticing the change.
Climate change and what it will mean for ski season, I've found, is a popular topic for skiers on long chairlift rides. But it's not just the day skiers and locals who discuss climate change and its impact on our slopes. An increasing number of professional skiers and snowboarders are working to light a fire under the winter sports and mountain community to take action on climate change.
Later this month, the innovative Sherpas Cinema team will release their new film All.I.Can. It's an inspirational ski movie that they hope will empower people to take action on climate change. The movie opens with a grand view of the dangers we face, features some incredible displays of skiing, and closes with an inspirational call to reduce our carbon pollution.
Ski films are not the only avenues of action the winter sports community is taking. Protect Our Winters, an organization founded by professional snowboarder Jeremy Jones, is working to unite the winter sports community behind the fight to limit the impact of climate change on our communities and our outdoor recreation. They, like so many others, understand it's time for us to do our part to protect our environment and the activities that depend on it.
These talented athletes, like Jeremy Jones, are on the front lines of climate change; they understand that dwindling Alpine glaciers and erratic snowfall patterns are a reality we cannot ignore. Watching these skiers inspires me not only to ski steeper lines, but more importantly to "go big" on climate action. They, and the thought of shorter winters motivate me. But we want to hear your stories. Who or what motivates you to take action on climate change?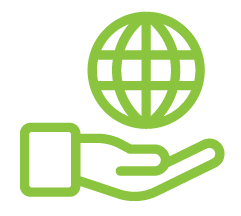 Before You Go
At Climate Reality, we work hard to create high-quality educational content like blogs, e-books, videos, and more to empower people all over the world to fight for climate solutions and stand together to drive the change we need. We are a nonprofit organization that believes there is hope in unity, and that together, we can build a safe, sustainable future.
But we can't do it without your help.
If you enjoyed what you've just read and would like to see more, please consider making a generous gift to support our ongoing work to fight climate denial and support solutions.