May 16, 2017 | 10:11 AM
Women Climate Champions Spotlight: Dr. Katharine Hayhoe
Meet Dr. Katharine Hayhoe. Dr. Hayhoe is a renowned atmospheric scientist at Texas Tech University who studies climate change and why it matters to real people. Dr. Hayhoe's resume is, to say the least, impressive. She has over 120 peer-reviewed publications to her name and has been the lead author of the second and third editions of the US National Climate Assessment. She also serves as a scientific advisor to a slew of organizations and programs. But the role she might be best known for is one as a respected climate communicator.
But you might be surprised to learn that Dr. Hayhoe is an Evangelical Christian. That's right — a woman of faith living in west Texas, but also an atmospheric scientist leading the fight for climate solutions. Seems contradictory, but it doesn't have to be.
 
Each of us, exactly who we are, with exactly the values we already have, have every reason we need to care" about climate change
As both a Christian and a scientist, Dr. Hayhoe is well-positioned to talk to faith communities about the reality of the climate crisis. "I may not sound like the traditional type of person who cares about climate change, but I do. And what's more, I care about it precisely because of who I am."
According to 2015 research from the Yale Program on Climate Change Communication, half of US Evangelicals believe climate change is happening (51 percent), whereas 27 percent think it's not happening and 23 percent don't know. However, researchers also found that a majority of US Christians (including Catholics, Evangelicals, and Protestants) overwhelmingly support policies that would help reduce climate impacts.
"What I've learned, in over a decade spent talking with and listening to thousands of people who disagree with me on climate, is that far more connects us than divides us," Dr. Hayhoe says.
 
In today's environment, talking about facts doesn't always persuade people. So what can? Talking about personal values and experiences.
Dr. Hayhoe, who spoke at one of our Climate Reality Leadership Corps trainings in 2016, has been called "one of the nation's most effective communicators on the threat of climate change and the need for action." When talking to people who dismiss climate change, Dr. Hayhoe says, "Don't start with the science. Instead, start by connecting over a value that you genuinely share with whoever it is you're talking to."
>> Related: Use This Research-Backed Message to Talk About Climate Change and Health with Anyone <<
If you're reading this, our guess is that you know our climate is changing and you want to make a difference. If that's true, learn more about becoming a Climate Reality Leader and hear from incredible scientists and speakers like Dr. Hayhoe. Because now, more than ever, we need people like you to help educate others not only about the climate crisis —  but also about the solutions available today.
As Climate Reality Leader Jill MacIntyre Witt said, "This training provides the groundwork for sharing the facts and educating others about the climate crisis in a respectable, fun, digestible, and educational way … It leaves you with a sense of hope."
Learn more about becoming a Climate Reality Leader. You can also follow us on Facebook to see more videos from Dr. Hayhoe's incredible series with PBS Digital Studios, Global Weirding.
A big thank you to Dr. Hayhoe, Texas Tech University, and PBS Digital Studios for allowing us to use the Global Weirding videos on our Facebook page. Learn more about Global Weirding with Katharine Hayhoe here.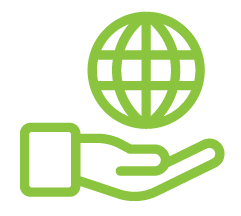 Before You Go
At Climate Reality, we work hard to create high-quality educational content like blogs, e-books, videos, and more to empower people all over the world to fight for climate solutions and stand together to drive the change we need. We are a nonprofit organization that believes there is hope in unity, and that together, we can build a safe, sustainable future.
But we can't do it without your help.
If you enjoyed what you've just read and would like to see more, please consider making a generous gift to support our ongoing work to fight climate denial and support solutions.