February 23, 2018 | 2:19 PM
Women Climate Champions Spotlight: Dr. Sylvia A. Earle
Not impressed yet? Dr. Earle won the prestigious TED Prize in 2009 and was awarded a knighthood by the prince of the Netherlands way back in 1981. The Library of Congress calls her a "living legend" and she's founded three different organizations for protecting and exploring the Earth's ocean.
The photo above was taken in 1979 (from Dr. Earle's time at NOAA), as she prepared for a historic dive in an armored suit. Off the coast of Oahu, Dr. Earle, "descended 1,250 feet (381m) while strapped to the front of a small research submersible. Once on the seafloor, Earle untethered herself from the vehicle and went exploring at a depth no human had done before — or has since — for more than two hours." And guess what? Dr. Earle still goes diving in the ocean, well into her 80s.
Believe us when we tell you, that's just scratching the surface of what Dr. Sylvia Earle has accomplished.
 

"To those who doubt humans are driving the acceleration of planetary warming, of climate change… get over it. Get over it. Wake up. Realize. Then do what you can do or at least don't get in the way."
This feature is part of a series Climate Reality is writing to highlight the important contributions women make every day as climate activists and experts. You can also meet two of our other Women Climate Champions, Dr. Katharine Hayhoe and Catherine Coleman Flowers.
It's clear that Dr. Earle has helped break the glass ceiling for women in marine biology and science. Just as important, she's also become a vocal climate activist – often speaking out on the connections between ocean conservation and climate change. Because, in her own words, "It's tragic that the United States is not leading the effort to do what humans can do to reduce carbon emissions, to respect the ocean, [and] to respect the atmosphere."
Her work to connect ocean conservation and climate change comes at a critical time. Because while these may seem like distinct issues, our oceans are actually being hit by a double whammy when it comes to carbon emissions:
Carbon emissions are driving ocean acidification. The oceans are an amazing carbon sink. Every year, they absorb a quarter of the carbon dioxide humans put into the atmosphere – but that's not without consequences. First and foremost, it's changing the chemistry of the sea surface: as the oceans take in carbon dioxide, the gas dissolves to form carbonic acid. Simply put, more carbon dioxide means a more acidic ocean. And a more acidic ocean means delicate ecosystems (like coral reefs, for instance) start to fall apart.

Dr. Earle said it well: It's not good for an aquarium at home if your system becomes too acidic — you have to adjust it or the fish die."

Carbon emissions are making our oceans warmer. Climate change isn't just making our average temperatures on land higher – sea surface temperatures are also on the rise. Warmer oceans hold less oxygen, leading to less abundant sea life in affected areas or, worse, dead zones.  Warmer oceans also place additional stress on fish and other creatures, making it harder for marine life to flourish (a phenomenon known as "thermal stress). If thermal stress and dead zones aren't enough, climate change also contributes to sea-level rise, changes in storm patterns, altered ocean currents, and changes in precipitation (all of which impact our oceans).
Dr. Earle has dedicated her life to protecting and preserving our oceans against human impacts like climate change and ocean acidification, as well as overfishing and pollution. She is adamant that healthy oceans mean healthy people and that we must do "everything [we] can to take care of [our] life support system." Dr. Earle, we couldn't agree more.
"[Dr. Earle] is the face of marine biology. She has taken a lifetime to make herself an expert in a topic that is central to the future of human civilization."
 Former US Vice President Al Gore
Here's What You Can Do

Dr. Earle has some advice for those who don't feel like they can make a difference for the future of our planet: "Well, if you think there's nothing you can do to make a difference, get over it, because think about whoever in history has made a difference. How do we have electric lights, how do we have cars, how do we have books, how do we have an alphabet, how do we have numbers? Somebody somewhere at some point discovered these and changed the world."
Here are three ways you can take action to help address climate change and keep our oceans healthy:
Download our e-book, Climate Change and the Water Cycle: Four Big Questions Answered. The climate crisis has a big impact on the way our water cycle works – including our oceans. Get the facts in this free download.
Become a Climate Reality Leader. Join former US Vice President Al Gore and renowned climate scientists and communicators to learn about what's happening to our planet and how you can use social media, powerful storytelling, and personal outreach to inspire people to take action. Apply now.
Dive into Mission Blue, Dr. Earle's nonprofit organization dedicated to "exploring and caring for the ocean, our planet's blue heart."
Every time I slip into the ocean, it's like going home. @MissionBlue #HopeSpots pic.twitter.com/6IrxXKxSTI

— Sylvia A. Earle (@SylviaEarle) August 16, 2017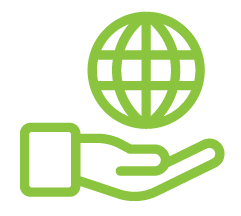 Before You Go
At Climate Reality, we work hard to create high-quality educational content like blogs, e-books, videos, and more to empower people all over the world to fight for climate solutions and stand together to drive the change we need. We are a nonprofit organization that believes there is hope in unity, and that together, we can build a safe, sustainable future.
But we can't do it without your help.
If you enjoyed what you've just read and would like to see more, please consider making a generous gift to support our ongoing work to fight climate denial and support solutions.