October 20, 2017 | 7:03 AM
Women Climate Champions Spotlight: Elsie Gabriel
"What about India?"
Listen to the debate on climate change in the US Congress and you'll hear the question over and over again from deniers and friends of fossil fuels. The message they want to send is that if India – being one of the world's largest economies and on track to become the most populous nation on the planet – isn't doing anything to cut emissions, then we shouldn't have to either.
There's just one small problem with this idea. It's totally wrong.
Contrary to what American coal supporters would have you believe, India's government has made renewable energy a priority. This year, the headlines have been all about how the country has seen quickly dropping prices of solar and cancelled plans for new coal plants in favor of more renewable energy installations.
Encouragingly, the big picture story here isn't just about a few powerful elected officials taking climate action. It's also about how women and young people in India have taken an active role in the fight for a cleaner environment and a more sustainable future. If you want proof, just look at one woman who's spreading the word in her home neighborhood of Powai, Mumbai, India and empowering her neighbors to find their voices too. Meet Elsie Gabriel.
Read more about how India is taking climate action.
Trained as a Climate Reality Leader in 2014 in Rio de Janeiro, Brazil, Elsie has drawn on her skills as an activist and expert in mass communications to champion a number of environmental causes close to her heart, from green travel and tourism to the conservation of nearby Powai Lake to many other local policy issues.
In her everyday life, Elsie is the founder and president of her own non-governmental organization, Young Environmentalists Programme (YEP) Trust, dedicated to equipping young people, women, and underprivileged communities with the tools they need to make a difference for their environment and in their communities.
Her organization has empowered hundreds across India to join the environmental movement and stand up for a more just and sustainable future. What makes YEP unique is its commitment to helping young people in particular connect with nature on an everyday and deeply personal level. The organization has worked to get young people involved in projects like planting trees, cleaning up the local lake, and campaigning to ban plastic bag use in Mumbai. Through this work, YEP hasn't just made a difference in the local environment, it's also made a real difference in local attitudes toward the environment.
 
India is the third largest GHG emitter in the world — but it's cancelling planned coal plants left and right https://t.co/da9Hrb4ikq

— Climate Reality (@ClimateReality) July 12, 2017

One example of this philosophy in action is YEP's Young Environmentalist education program, which aims to teach citizens, particularly students, "about how the planet's physical and biological systems work, and how we can create a more sustainable future." By incorporating hands-on, "getting your hands dirty" activities into classrooms and school clubs, the program helps students learn to see their surroundings in the context of a bigger natural world.
But the organization doesn't stop at education. It also frequently works to lift up the voices of women activists both in and outside the environmental movement. For over 10 years, YEP has hosted an event on International Women's Day to celebrate the contributions of women who have made a difference in their fields and communities. The event is meant to highlight the success of local women to "not only provide role models but also encourage the community to nominate women for honours." And there's a lot to highlight, judging by a March Walk for Water event hosted by YEP on World Water Day in Mumbai where women made up over 70 percent of participants.
What Elsie's story tells us is that some of the most important things happening on the climate front in India are going on outside the halls of government and out of sight of the headlines, where women are standing up and acting to protect the world they love in countless ways. And they're making a difference.
If you're ready to make a difference too, become a Climate Reality Leader just like Elsie and join the thousands of activists working to spread the truth about the climate crisis and how we'll solve it. Sign up here to get alerts about our next training.

This blog is part of an ongoing series by Climate Reality to highlight the important work of women fighting the climate crisis. Read about other women we've featured, like Catherine Coleman Flowers and Dr. Katharine Hayhoe.
Header image is of Powai Lake, which Elsie Gabriel is working to clean up. © 2012 Capt. Mohan Kuruvilla/Wikimedia cc by sa 3.0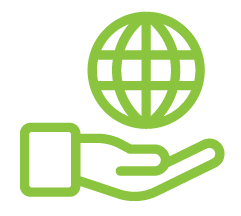 Before You Go
At Climate Reality, we work hard to create high-quality educational content like blogs, e-books, videos, and more to empower people all over the world to fight for climate solutions and stand together to drive the change we need. We are a nonprofit organization that believes there is hope in unity, and that together, we can build a safe, sustainable future.
But we can't do it without your help.
If you enjoyed what you've just read and would like to see more, please consider making a generous gift to support our ongoing work to fight climate denial and support solutions.