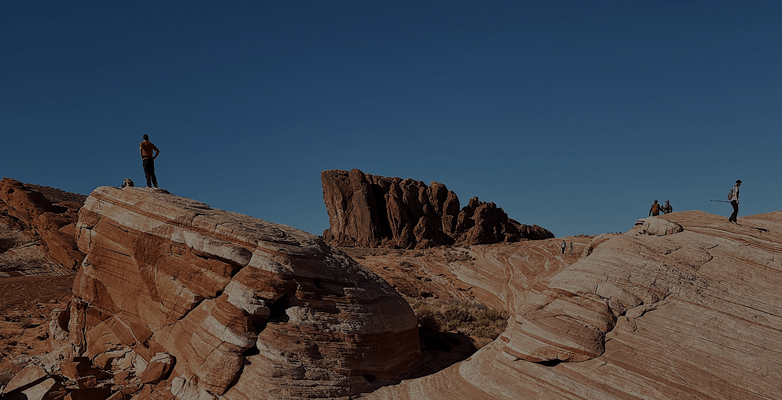 The Climate Reality Leadership Corps Las Vegas Training
Across the US Southwest, people are feeling the effects of the climate crisis. Most noticeably, they're feeling the heat.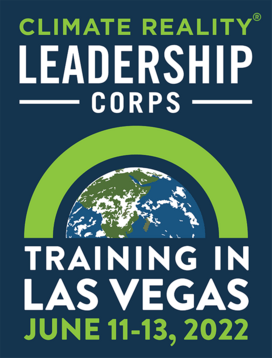 In recent years, summers in the region have become an endless series of record-breaking heat waves. And decades-long droughts are drying out rivers and reservoirs, creating thousand-acre tinderboxes just waiting for the next wildfire. All the while, the most vulnerable among us are suffering the impacts of this crisis first and worst.
But with vast, open desert spaces providing some of the nation's highest solar potential, the region can also be a major player in helping to power the just transition to a clean energy future.
That's why – from June 11-13 in Las Vegas, Nevada – The Climate Reality Project and former Vice President Al Gore will host the 49th Climate Reality Leaderships Corps training for climate activists across the US Southwest.
This two-and-a-half day free training provides those ready to make a difference with the tools, knowledge, and networks to mobilize communities and drive real action for climate solutions.
The training gives attendees an opportunity to learn directly from Vice President Gore about how to raise awareness of the climate crisis and inspire people to act, just as he did with the landmark films "An Inconvenient Truth" and "An Inconvenient Sequel: Truth to Power".
Please click here for information on the training's COVID-19 mitigation protocols and requirements.
Based on the current science, we are moving forward with an in-person training at this time, but recognize that conditions may change – perhaps quickly. We will continue to put the health and safety of our trainees and staff first and will keep in close contact with you regarding any plans to cancel or shift to a virtual event.​
This training will be delivered in English. Simultaneous Spanish interpretation will be offered during some sessions. Este entrenamiento se impartirá en inglés. Sin embargo, traducción simultánea en español será ofrecida durante algunas sesiones.
The Climate Reality Project strives to make our Leadership Corps trainings accessible to all. Please contact Brianna Widner at accessibility@climatereality.com by April 20 with any questions regarding our accessibility accommodations at the training.
Q: WHY IS CLIMATE REALITY HOSTING AN IN-PERSON TRAINING DURING THE COVID-19 PANDEMIC?
A: While Climate Reality is closely monitoring the current situation with COVID-19, we also value the collaborative benefits of meeting in-person. With that in mind, we are cautiously moving back to hosting in-person events, while being sure to take precautions informed by federal and local recommendations and guidelines. We will continue to watch the situation closely and will revise our event protocols and procedures as necessary to ensure the safety of our attendees, as well as our staff.
Q: CAN I PARTICIPATE VIRTUALLY IF I AM NOT COMFORTABLE ATTENDING THIS TRAINING IN PERSON/IF I CAN'T MAKE IT TO THE TRAINING LOCATION?
A: We understand that not everyone is ready or able to attend in-person events. However, we are not offering a virtual option for the Las Vegas 2022 training. We have future virtual training events in the works -please stay tuned by signing up for our email updates.
Q: WHAT ARE THE IN-PERSON TRAINING'S COVID-19 MITIGATION PROTOCOLS AND REQUIREMENTS?
A: Please click here for our COVID-19 protocols and requirements.
---
APPLICATIONS:

Q: IF I APPLIED TO THE MARCH 2020 LAS VEGAS TRAINING, AM I GUARANTEED A SPOT AT THIS EVENT?  WILL MY APPLICATION BE PRIORITIZED? 
A: As part of our enhanced health and safety protocols, Climate Reality will be limiting capacity for this training. As such, we cannot prioritize or guarantee any spots. We encourage you to apply before April 20.
---
CANCELLATION:
 
Q: COULD AN IN-PERSON TRAINING BE CANCELLED DUE TO THE PANDEMIC?
A: Possibly. Based on the current science, we are moving forward with an in-person training at this time, but recognize that conditions may change – perhaps quickly. We will continue to put the health and safety of our trainees and staff first and will keep in close contact with you regarding any plans to cancel or shift to a virtual event.Q: Will I receive a refund for travel and lodging reservations? / How can I secure refunds for travel and lodging reservations?
A: Climate Reality does not manage refunds for travel and lodging reservations. We recommend you discuss refund options when you arrange your travel and lodging. If the event is cancelled, please follow-up with the travel and lodging companies directly.
---
GENERAL:
 
Q. HOW DO I APPLY TO ATTEND THE UPCOMING CLIMATE REALITY LEADERSHIP CORPS TRAINING?
A. If there is currently an application open to attend a training, you can click here to find and complete the application.
Q. HOW CAN I STAY UPDATED ON THE NEXT CLIMATE REALITY LEADERSHIPS CORPS TRAINING?
A. Sign up for email updates about our upcoming trainings.
Q. HOW MUCH DOES A TRAINING COST?
A. There is no fee to attend the training, but you will need to arrange and pay for your own travel and lodging. Click here for some ideas and tips on how to fundraise for your trip. During the training, Climate Reality will provide lunch on the first two days, light snacks, and all training materials.
Q: DOES CLIMATE REALITY OFFER ASSISTANCE TO HELP PEOPLE ATTEND THE TRAINING? 
A: Yes. Climate Reality is offering scholarships for individuals who have not attended a previous training and need financial support to participate in the Las Vegas Leadership Corps training. 
Please click here for more information about the scholarship program.
Q. CAN MINORS ATTEND THE TRAINING?
A. If accepted to the training, any applicant under the age of 18 must be supervised and accompanied by a parent or legal guardian. Both the minor and their parent/guardian must be accepted into the program in order for the minor to attend the Climate Reality Leadership Corps training. Climate Reality cannot provide any assistance with childcare. Due to limited space, only accepted applicants are allowed to attend the training.
Q. MY PARTNER OR FAMILY MEMBER WOULD LIKE TO TRAVEL WITH ME. CAN THEY ATTEND THE TRAINING?
A. If your partner or family member would like to attend the training with you, they must apply. Only individuals who are accepted into the program can attend the training. However, there is no limitation on who can travel with you. Please understand that the majority of the three days will be occupied with the training and that your attendance at the entire event is required in order to have the full experience of becoming a Climate Reality Leader.
Q. WHAT IS THE ADDRESS OF THE TRAINING LOCATION AND WHERE SHOULD I STAY?
A. Training locations and accommodations vary by city. We'll send an email with the address of the training location and accommodation recommendations to all accepted and confirmed participants so they can arrange and pay for their own travel and lodging.
Q. WHAT ARE THE 10 "ACTIVITIES" THAT I HAVE TO COMPLETE AND WHERE AND WHEN MUST I COMPLETE THEM BY?
A. Within a year of completing the training with the Climate Reality Leadership Corps, newly trained Climate Reality Leaders are expected to perform 10 "Acts of Leadership." Acts of Leadership come in a variety of forms. Examples of Acts of Leadership include giving a presentation, writing a blog, writing a letter to the editor, organizing a climate action campaign, or meeting with local leaders. We look forward to the climate actions you come up with!
Q. DO I NEED TO STAY FOR THE WHOLE TRAINING?
A. Anyone who is applying to the Climate Reality Leadership Corps training must be able to commit to the full length of the training. Each part of the training plays an important role in your journey to becoming a fully trained Climate Reality Leader! You can expect the training to begin in the morning on the first day and end in the afternoon or early evening of the final day. Specific start and end times for each training will be sent to all accepted and confirmed participants.
Q. AREN'T WE PRODUCING ADDITIONAL CO2 IN THE ATMOSPHERE BY FLYING OUT TO THE TRAINING?
A. As an international organization committed to fighting the climate crisis on a global scale, Climate Reality holds trainings in many different locations around the world so people everywhere can join us in working to solve the climate crisis. Climate Reality is aware that the trainings may be distant from some attendees' homes and that event-related air travel is a contributor to carbon pollution. In addition to implementing an event sustainability strategy to reduce the emissions from the event, we measure event-related emissions (including air travel) and neutralize those emissions via verifiable carbon offsets. We have seen firsthand the value of in-person trainings and how the community grows from the connections that Climate Reality Leaders make during the training days. After the in-person training, attendees are invited to connect, share, and engage in an online platform that reduces or eliminates the need for any further long-distance travel in their work as Climate Reality Leaders. As of 2020, we also offer virtual training options for those who cannot or would prefer not to attend an in-person training. To find out more about the upcoming virtual trainings as they are announced, please subscribe to our training mailing list in the "GET MORE INFORMATION" form. You can also check for updates on our website. We hope you can attend a training in the future!
Q. HOW DOES THE CLIMATE REALITY PROJECT ACCOUNT FOR EVENT-RELATED EMISSIONS?
A. In planning our events, Climate Reality employs sustainable event practices in accordance with the event industry's leading standards: ISO 20121 and APEX/ASTM Environmentally Sustainable Meeting Standards. We also implement a comprehensive plan to divert as much waste as possible from the event to recycling centers and local compost facilities. Once onsite energy conservation and emission reduction strategies are exhausted, Climate Reality selects verifiable carbon offset projects to cover any remaining emissions impacts. By supporting these projects, we are able to offset and neutralize all event-related emissions, including those from air travel, energy use, vehicle use, etc.
Q: WHO IS THE INTENDED AUDIENCE FOR THE LAS VEGAS TRAINING?
A. The Las Vegas training has a regional focus on the Southwest and Mountain West regions of the United States and is designed for a US audience, particularly people who live in these regions. You need to be at least 13 years of age if you live in the US–or 16 years of age if you live outside the US–to apply and become a member of the Climate Reality Leadership Corps.
Q: WHAT LANGUAGE WILL THE LAS VEGAS TRAINING BE IN?
A: The Las Vegas training will be delivered in English. Simultaneous Spanish interpretation will be offered during some sessions.
Q: WHO CAN I CONTACT FOR QUESTIONS ABOUT ACCESSIBILITY AT THE LAS VEGAS TRAINING?
A: The Climate Reality Project strives to make our Leadership Corps trainings accessible to all. Please contact Brianna Widner at accessibility@climatereality.com  with any questions around accessibility at the training.
Do you have a question that is not addressed here? Please contact us at training@climatereality.com and we respond as soon as possible.
Climate Reality will offer 50 scholarships to cover transportation, hotel accommodation, meals, and childcare for selected participants.
The scholarships are only available to individuals who require financial support to attend the Las Vegas Training. To be eligible for the program, applicants must live in Arizona, Colorado, Nevada, New Mexico, Southern California, Utah, or Western Texas, and identify as part of one of the following groups:
Frontline communities*
Youth activists or students
Low-income communities
Faith communities
Climate Reality chapter members (who have not attended a training previously)
For more information about the scholarship opportunity and to apply, please click here.
The climate crisis is transforming everyday life and landscapes across the US Southwest.
In recent years, Western states have seen summers become an endless series of record-breaking heat waves. Decades-long droughts are drying out rivers and reservoirs and are creating thousand-acre tinderboxes just waiting for the next wildfire – all as residents suffer through more and more climate impacts from heatstroke to asthma attacks. Some are even losing their homes to raging fires.
These impacts and the fossil fuel pollution driving them inevitably hit communities of color and poor families hardest, making the fight for climate action equally a fight for justice.
Fortunately, there is cause for hope. Many individuals, Native tribes, community organizations, youth groups, businesses, and policymakers across the region are embracing climate solutions and working for a just transition to clean energy that can halt rising temperatures and make life better for millions.
At the Las Vegas Climate Reality Leadership Corps Training, we'll explore how the climate crisis is reshaping life in the Southwest, the practical solutions in our hands, and how together we can seize this incredible moment and build a better future for all.
---
A HOTTER, DRIER WEST
Across the Southwest, rising temperatures are making summer months not just uncomfortable, but downright dangerous, with increasing heat disrupting ecosystems and threatening human health.
Water is life in the Southwest. But in many parts of the region, extreme heat and changing precipitation patterns exacerbated by the climate crisis have brought about a two-decades long megadrought and a new normal.
As just one example, in August 2021, the Bureau of Reclamation announced the first-ever water shortage declaration for the Colorado River basin, including Lake Mead, which provides water to at least 40 million people across seven states and northern Mexico. The declaration reduces annual water allocations for Arizona, Nevada, and Mexico by as much as 18% in 2022, forcing elected officials, community members, and agricultural workers across the Southwest to make tough choices.
This new reality is already sinking in for the residents of Rio Verde, Arizona, outside of Scottsdale. The community will be shut off from its water supply and forced to find a new water solution by the end of this year, offering a grim preview of the Southwest's future if warming continues unchecked.
The impacts go beyond rivers and reservoirs, with heat and drought combining to make wildfire seasons in the Southwest longer and more destructive. Wildfires today burn more acres and cause more severe damage than they did 20 years ago. Nevada's Martin Fire in 2018 decimated more than 439,000 acres of critical habitat and grazing land. Arizona experienced its worst wildfire season in nearly a decade in 2020, when roughly 978,000 acres burned.
But wildfires don't just destroy ecosystems – they destroy communities. In the Mountain West state of Colorado, the Marshall Fire, a fast moving, late season wildfire swept through neighborhoods between Denver and Boulder, destroying nearly 1,000 homes and forcing tens of thousands of residents to evacuate in December 2021. This tragic fire ended up being the most destructive fire in Colorado's history. California's devastating Dixie fire, the second largest in its history, burned close to 1 million acres in 4 counties and destroyed most of the historic town of Greenville, displacing more than 1 thousand people. Across the Southwestern states, tens of millions of people live in areas of elevated wildfire risk.
At the Las Vegas training, we'll explore the science behind these changes, what's at stake for the Southwest region, and how policy makers, community members, and business leaders alike can respond to these threats.
---
FEELING THE IMPACTS: CLIMATE JUSTICE AND PUBLIC HEALTH
It's true across the US and it's true in the Southwest: the climate crisis hits frontline communities hardest.
Research consistently shows that Black, Latino, and low-income neighborhoods in the Southwest are hotter and more vulnerable to heat waves than white and wealthier neighborhoods. The urban heat island effect – where paved and concrete surfaces absorb and radiate excess heat, turning local areas even hotter – is partially to blame. But even more important are the decades of discrimination and disinvestment that have pushed communities of color into areas especially vulnerable to punishing heat – and left them less able to recover when climate disasters strike.
Extreme heat and heatwaves are especially dangerous for children, the elderly, outdoor workers and athletes, and individuals with chronic health conditions in these communities. And escaping the heat comes at a cost: extended use of air conditioning leads to high electricity bills that low-income residents simply cannot afford. This places a heavy financial burden on residents in older energy inefficient homes as well as renters who often have few options to retrofit or adapt their homes to be cooler or more energy efficient.
Many of the same communities exposed to extreme heat are also at risk from a related stressor: poor air quality. After all, fossil fuels, climate change, air quality, and inequality are all deeply interconnected. For starters, burning fossil fuels produces toxic air pollution that overwhelmingly affects communities of color. And as temperatures rise with global warming – thanks again to fossil fuels – the increasingly frequent and ferocious wildfires lead to yet more hazardous smoke that disproportionately affects people of color and lower-income families.
This injustice is painfully clear when you consider the poor air quality experienced in many Native communities in the Southwest, which are disproportionately located near oil and gas facilities and are consistently exposed to smoke from wildfires. During the 2020 wildfire season, for example, smoke from California wildfires and the COVID-19 pandemic made it difficult for the White Mountain Apache Tribe to perform preventative prescribed fire maintenance on its reservation. Despite the increased risk and exposure to poor air quality, federally recognized tribes receive less and less funding each year for Tribal air quality programs. Native communities also receive less funding for climate-related disaster recovery from Federal Emergency Management Agency (FEMA) than other communities.
The combination of extreme heat and poor air quality can be devastating, leading to increased rates of asthma and other respiratory illnesses, heart conditions, and even premature death. For many Black, Latino, and Asian communities, this combination of extreme heat and poor air quality add insult to the very real injuries suffered through years of discriminatory housing practices (known as redlining) and create measurably higher risks of asthma attacks.
It's clear that to fulfill the promise of a just transition to clean energy, frontline communities cannot and should not be forced to shoulder the burden and harms imposed by energy production. 
---
MAKING THE TRANSITION TO CLEAN ENERGY – AND MAKING IT JUST
In a fossil fuel economy, generating electricity and powering transportation inevitably comes at the cost of our health, our environment, and our planet. This is all too familiar in the Southwest region, where culturally and ecologically significant landscapes have been fragmented and degraded by oil and gas extraction for nearly 100 years.
But today, there's a better way. We have the knowledge, technology, and opportunity now to transform our energy sector to provide sustainable jobs, support community resilience, and shift the burden and harms of electricity generation away from poor and marginalized communities. This is the real power of a just transition to clean energy – and we're already seeing it begin in the Southwest.
Globally, use of renewables is growing fast. In just the past decade, solar and wind power alone have grown from 1.7% of global electricity generation to around 9.4%. This upward trend is expected to continue in 2022 and beyond.
In the US, solar and wind are following a similar trajectory, with deployments on track to hit new records in 2022 and new utility-scale solar capacity expected to increase by almost 40% from 2021. Nowhere is this trend clearer than in Western region, which is the largest producer of utility-scale solar, producing an estimated combined 47.5 billion kWh. That's enough to power 4.4 million homes for a year.
Even with this great news, states and communities face real challenges to ensure the transition to clean energy is a truly just one. For example, in working to expand large, utility-scale renewable energy projects, states will have to ensure siting projects in sensitive ecological communities does not harm these communities. States and planners will also have to ensure that large projects on Native land (recognized or unrecognized) proceed collaboratively and with free, prior, and informed consent.
Moving this energy transition into high gear will depend – to some degree – on major investments in the clean energy sector from state and federal governments and buy-in from the business community. And once again, challenges remain to make the transition just – especially in ensuring that all communities have fair and equitable access to the extraordinary job and wealth creation opportunities this transition will create. By supporting initiatives that not only reduce emissions but also create good-paying green jobs, and help develop a truly diverse workforce, governments and businesses can put millions to work building a future that is not only sustainable but equitable.
The benefits of a clean energy transition don't stop there – by shoring up our electricity grid and powering it with renewable sources, we can transform other fossil-fuel dependent sectors including transportation. Replacing gas guzzling passenger cars and commercial trucks with their EV counterparts can drastically reduce emissions, particularly when combined with clean-powered public transportation options. We're already seeing progressive clean energy bills that address this. In 2021, Nevada passed broad clean energy legislation that increases infrastructure for electric vehicle charging in more publicly accessible locations and accelerates the clean energy transition by requiring utilities to reduce their carbon-dioxide emissions by 80% below 2005 levels by 2030. The next frontier for Nevada and the Southwest as a whole is improving infrastructure for and access to renewably powered mass transit systems to ensure that everyone benefits from vehicle electrification.
The good news is that numerous organizations in the Southwest are already showing this approach works, finding creative solutions to deploy large-scale renewable energy projects to power communities while avoiding some of the tradeoffs of the past. As one example, a new initiative called Mining the Sun works to build solar energy farms on Nevada's million-plus acres of brownfields and old mining lands.
At the Las Vegas training, we'll explore how the Southwest can continue to grow and tackle climate change by building more livable and sustainable cities. We'll also learn how to center equity and justice in this transition to clean energy.
---
AT THE FOUNDATION: BUILDING GREEN COMMUNITIES
At its heart, our climate challenge offers the opportunity to rebuild our economy, transform our infrastructure, and reshape our society in ways that reduce environmental and social harms and maximize community benefits.
The renewable energy sector in the Southwest is a prime example of this new way of thinking, with incredible potential to create new jobs, reduce our reliance on dirty energy, and democratize access to electricity. Organizations like Native Renewables (based in the Navajo Nation) and Grid Alternatives (based in California) work with Native communities to provide solar panels to homes and community buildings while training and developing a renewable energy workforce. These projects have the ability to support Native sovereignty by bridging the electricity divide and providing communities with greater resilience options and safer electric and heating systems.
It's not just Native communities benefiting from the explosion in renewable energy. The sector also gives longtime fossil fuel workers a path to new careers with a future. A 2021 report outlining a pathway to achieve emissions reductions through renewable energy has been endorsed by 19 unions, including two that represent California oil workers, for its ability to create roughly 418,000 jobs in the state's economy by 2030.
The region's shift toward greater sustainability extends beyond energy, with water conservation efforts also seeing huge success, as local government and business leaders in Nevada demonstrate how to capture and reclaim water at enormous scales to reduce reliance on scarce water supplies. The Las Vegas Valley, for example, has implemented wide-ranging local water conservation efforts that have helped the community reduce its per-capita water use by 47% between 2002 and 2020, despite the population increasing by more than 780,000 residents during that time.
At the same time, with temperatures rising, many local governments, nonprofits, and communities are taking innovative steps to address the extreme heat. As one example, the City of Phoenix opened the first public heat response and mitigation office in the US to develop a city-wide strategic plan to address heat hazards and reduce heat vulnerabilities. Alongside this effort, nonprofit organizations, academics, and community groups came together to establish the Nature's Cooling Systems Project in the greater Phoenix metro area to develop nature-based and neighborhood-specific cooling strategies for areas suffering through the heat, demonstrating how communities can solve climate challenges at their doorsteps.
In tandem with these larger sustainability pushes, governments and communities in the Southwest have shown how transforming transportation can help reduce emissions in a big way. In many places, electric school buses are leading the charge. Nevada's Electric School Bus Incentive Program supports school districts in purchasing electric buses and installing the required infrastructure, making the transition easier. Electric buses can significantly reduce children's exposure to air pollutants, like those generated from traditional diesel buses. The shift to electric buses also has the potential to accelerate vehicle electrification overall by getting municipalities more familiar with EV technology, infrastructure, and policies required to make the transition to wider EV adoption in the form of electric cars, trucks, municipal fleets, and other forms of public transportation.
Throughout the Climate Reality Leadership Corps training, we'll explore these and other exciting local solutions that address the climate crisis while providing meaningful community benefits. We'll also explore the challenges ongoing efforts face and how communities in the Southwest can learn from one another to overcome these challenges.
---
2022: EMBRACING THE MOMENTUM FOR CHANGE
Polling shows that over half of residents living in the  states of Nevada, Utah, New Mexico, Colorado, California and Arizona are worried about global warming. And over half of the population believes that individuals, elected officials, and companies should be doing more. This bedrock support gives us the foundation for bold action on solutions.
One way for individuals to drive change is by engaging in civic action – such as participating in the democratic process and ensuring your voice is heard. And while national headlines may get garner attention, participating in state processes gives you a say in critical state policies to slash emissions and accelerate energy transition.
However, there isn't only one way to take action. Individuals can make a real difference by joining coalitions, taking part in campaigns, calling their local, state, and national representatives, and making their voices heard at public events like demonstrations and rallies.
At the Las Vegas training, you'll learn more about how you can make a difference and join a global network of change-makers. You'll have the chance to get connected with Climate Reality chapters, a nation-wide network of local groups working together to enact change on a local level. You'll learn about national campaigns such as 100% Committed, which works for a clean energy transition as well as Our Climate Moment, which pushes for aggressive federal, state, and local policies to fight climate change.
You'll also have the chance to build powerful skills to drive change in 2022 and beyond. You'll discover how to effectively communicate the issues, persuade decision makers, organize for a just transition, and more. And when you leave, you'll be ready to play a key role in the movement driving action at all levels of society and fighting for a better future for us all.
AGENDA
CLICK HERE FOR THE OUTLINE TRAINING AGENDA
HOTEL
There will be 1-2 hotel room blocks located on "the strip", with a discounted rate available to attendees. If you are accepted to the training, hotel information will be sent to you via email, so keep your eye out. Room blocks are limited and first come, first serve. For planning purposes the rates are below:
Nights of June 10 & 11 = $239 + tax & $39 resort fee
Nights of June 12 & 13 = $149 + tax & $39 resort fee
MEALS
A complimentary vegetarian lunch, healthy snacks, coffee, and refreshments will be provided on June 11 and 12. Light food will be served at the evening reception on June 11. June 13 will include coffee, refreshments, and healthy snacks.
Vegan and gluten free meal options will be available as well. You may also want to bring your own snacks to stay fortified.
Unfortunately, we are not able to accommodate additional food allergies or dietary restrictions. If necessary, we encourage you bring your own food that meets your dietary needs.
Before applying or confirming your attendance, please consider the following COVID-19 guidelines for all attendees. If you have any specific questions, please reach out to us at training@climatereality.com.
COVID-19 Vaccinations:
Vaccination is a vital tool to reduce the presence and severity of COVID-19 cases in communities everywhere. The Climate Reality Project will require full and up to date COVID-19 vaccination in order to attend the Las Vegas Climate Reality Leadership Corps Training. Our vaccination policy is in place to safeguard the health of our attendees and employees.
Proof of up-to-date vaccination is required - digital copies, photocopies, or the original copy of your valid COVID-19 vaccination card will be accepted onsite. Up-to-date vaccination is equivalent to two doses of the primary series of the Pfizer-BioNtech or Moderna vaccine, or one dose of the Johnson & Johnson vaccine, AND one booster dose of either the Moderna or Pfizer vaccine received at least two weeks prior to June 11. Please note that these requirements are subject to change based on current conditions at the time.
COVID-19 Testing:
Testing requirements will be announced closer to the training.
Masks:
Possible masking requirements will also be announced closer to the training date and will be based on federal and local policies and guidelines.