OUR MISSION AND GOALS

At The Climate Reality Project, our mission is to catalyze a global solution to the climate crisis by making urgent action a necessity across every level of society.
Because today, the truth is clear. Our fossil fuel economy is making the Earth hotter and more dangerous seemingly by the day. Unless we slash emissions by 2030, scientists say we could pass a point of no return and see the crisis become a global catastrophe.
At Climate Reality, we know that if humanity created this crisis, we can solve it too.
Led by former Vice President Al Gore and CEO Ken Berlin, we're working to do just that, fighting for a just transition to clean energy that will not only help stop climate change, but create a fairer and healthier future for the many.
This is the story of that fight in 2018. It's a story of everyday people coming together to speak truth to power. It's a story of the many standing up against the few for a better tomorrow for us all – and winning.
Most of all, it's a story that was only possible because of friends like you. Thank you.
Our Goals

GOAL 1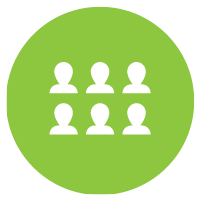 GOAL 3