CLIMATE REALITY
LEADERS
IN FOCUS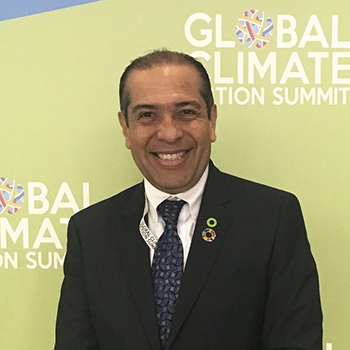 DR. JAIRO GARCIA

TRAINED: LOS ANGELES, 2018

Dr. Jairo Garcia knows cities can play critical roles in the fight for a sustainable future. In fact, he has a plan for it.
As the former director of climate policies and renewables with the City of Atlanta, Dr. Garcia wrote Atlanta's first climate action plan and was instrumental in the city committing to reach 100 percent renewable electricity by 2035.
Now, as the chief executive director at Urban Climate Nexus, he's helping cities across the country follow Atlanta's lead and develop their own holistic approach to sustainability and cutting carbon emissions.
After training as a Climate Reality Leader, Dr. Garcia is taking this commitment to an even bigger stage. Leading the Atlanta chapter's efforts in the Georgia state legislature, Dr. Garcia is working to remove barriers to renewables and push the state to create pro-climate policies like a renewable energy standard.
He's also working with the chapter to pressure the state utility, Georgia Power, to make a stronger commitment to renewables with a full-court press of letters to the editor, public comments, and personal testimony. In addition, he trains Atlanta Leaders on best practices for effective climate presentations, helping spread awareness throughout the region.