DIGITAL COMMUNICATIONS

At Climate Reality, we are storytellers of the possible. We create and share wide-ranging digital communications that both make the climate crisis personal for millions and show audiences how we'll solve it — and what they can do to make a difference. Key to this strategy is a commitment to audience-centric social media and content marketing that meets audiences where they are, highlighting what the climate crisis means for them, and empowering them to join the fight for solutions and take action through our programs at the level right for them. 
As part of this effort, in 2019-2020, we produced a range of practical explainer and toolkit content, adding "Weather vs. Climate" and "The Failing Economics of Petrochemicals" fact sheets, the updated Cities100 guide to urban climate action, and "What Can You Do? Your Guide to Climate Action" in 2020 e-book to the 16 e-books already available for download. Together, these new e-books have been downloaded more than 5,500 times.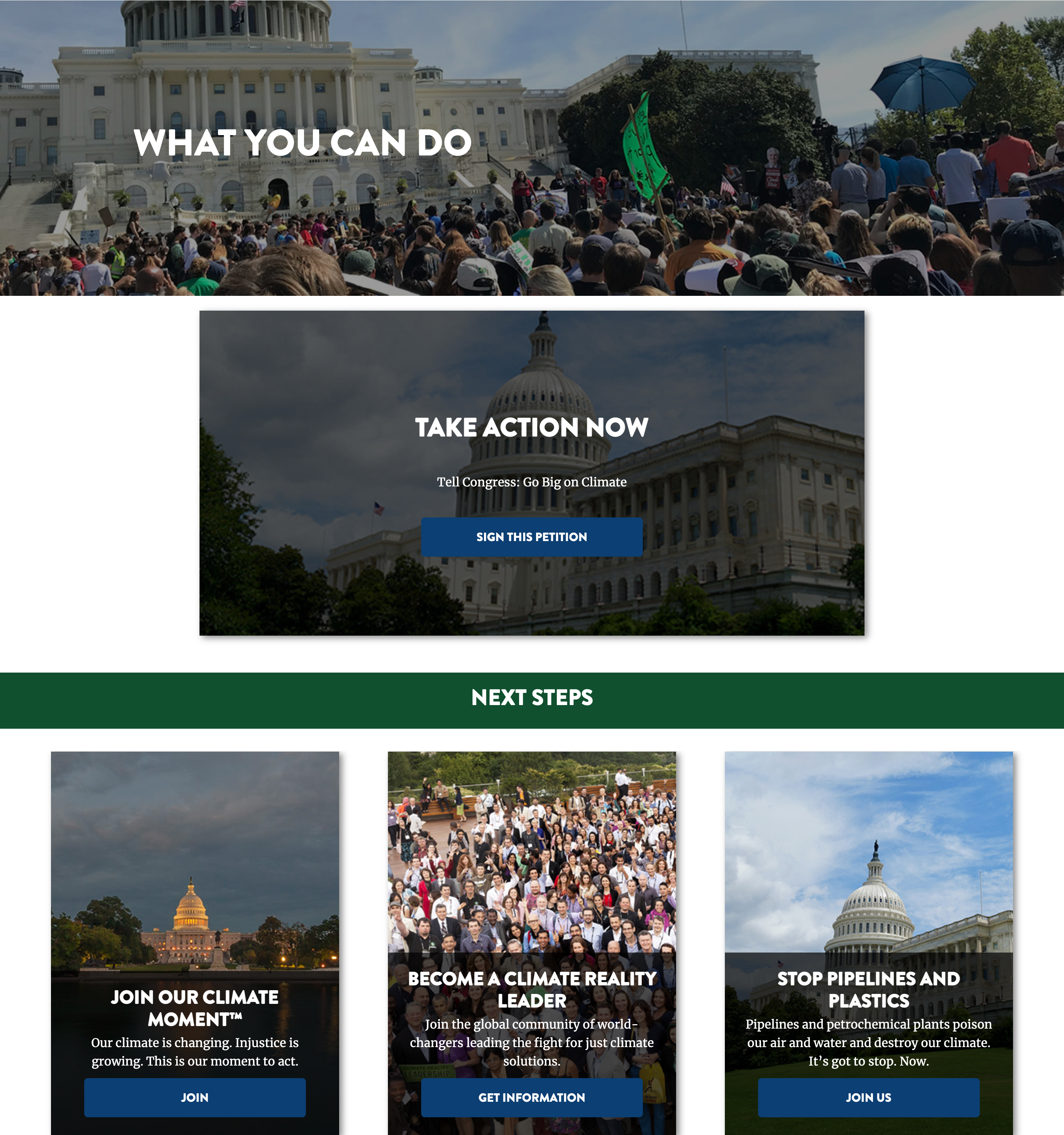 Key Themes and Actions 

Even before COVID-19 turned the world upside down, 2020 was a year of transformation at Climate Reality. 
Since our 2018 Climate Reality Leadership Corps Training in Los Angeles, we've worked to make climate justice an increasingly core component of work, raising awareness of the unequal impacts of fossil fuels and climate change on people of color and frontline communities. Just as important, when we advocate for energy transition, we advocate for a just transition to clean energy that centers community voices in decision making and creates jobs and opportunities for all — not just white and wealthy constituencies. 
With the economic shockwaves of COVID-19 and the murders of George Floyd, Breonna Taylor, Ahmaud Arbery, and more highlighting the deep inequities and systemic racism in society and the need for big-picture change, we've strengthened our focus on justice in climate solutions. Guided by this objective, we've focused many of our actions on pressuring members of Congress to pass stimulus measures that protect frontline workers and communities during the pandemic and ensure federal recovery efforts rebuild America with green jobs and clean energy in all communities. 
Using our digital tools, we mobilized our supporters to contact their representatives and senators in the lead up to key votes and to pressure state and Trump Administration officials directly to uphold essential protections on our air and water, and to make climate action a priority. Through these tools, nearly 140,000 signers sent almost 250,000 letters to members of Congress and state and administration officials. 
In addition, we've also recently launched a new action calling on state departments of education to ensure climate science becomes or remains a core component of education standards across the US, with nearly 8,000 individuals participating in just one week. 
Thanks in part to these efforts, we now share a message of urgency, solutions, and hope with over 1.5 million combined followers on Facebook, Twitter, and Instagram, and reach nearly 842,000 email subscribers.