CLIMATE REALITY LEADERSHIP CORPS:
ENTRENAMIENTO VIRTUAL AMÉRICA LATINA

April 22 - May 2, 2021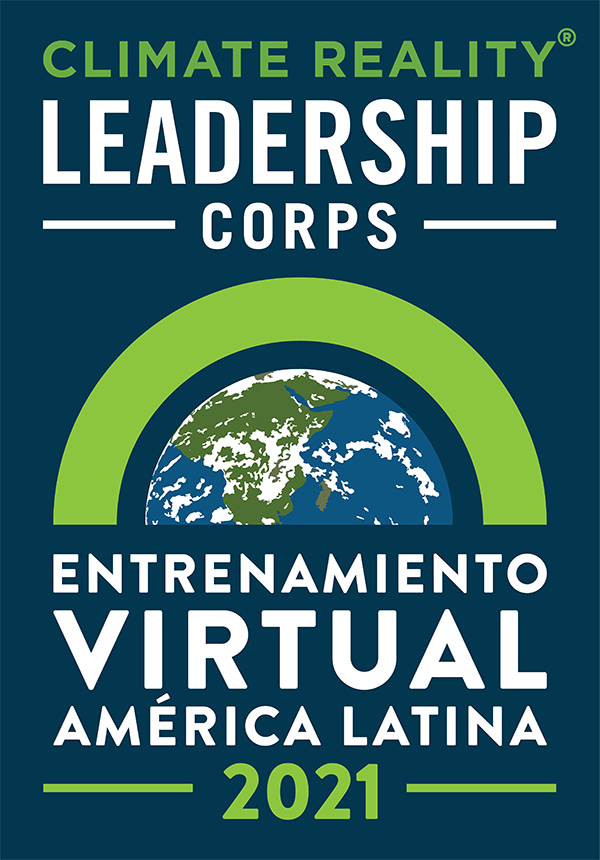 El entrenamiento se llevará a cabo en cuatro días de transmisiones en vivo de dos horas, con sesiones adicionales interactivas y bajo demanda, disponibles entre el 10 y el 18 de julio. También tendrás tiempo adicional después del 18 de julio para seguir explorando la gran variedad de contenido.
El horario de las transmisiones en vivo será:
Sábado, 10 de julio de 18:00 - 20:00 UTC -4
Domingo, 11 de julio de 18:00 - 20:00 UTC -4
Sábado, 17 de julio de 18:00 - 20:00 UTC -4
Domingo, 18 de julio de 18:00 - 20:00 UTC -4
Tú has sido testigo de cómo la crisis climática puede transformar nuestra Tierra. Has visto que el incremento de las temperaturas aumenta la injusticia en todo el planeta, y sabes que tenemos que actuar. 
Este julio, únete a la comunidad de agentes de cambio del Cuerpo de Liderazgo de  Climate Reality, quienes lideran la lucha por soluciones climáticas justas en América Latina y en todo el mundo, asistiendo al Climate Reality Leadership Corps: Entrenamiento Virtual América Latina.
Este entrenamiento conectará a estudiantes, activistas y líderes de toda la región. En él, explorarás los desafíos climáticos que enfrentamos en América Latina, y conocerás las emocionantes historias de éxito de las que puedes ser parte a través de nuestra oficina en la región. El evento se llevará a cabo principalmente en español y algunas sesiones adicionales serán en inglés.
The training features four days of two-hour live broadcasts, with additional on-demand viewing and interactive sessions available between July 10 – July 18. You will also have additional time after July 18 to continue to explore the great array of content.
The broadcast session schedule is:
Saturday, July 10 from 18:00 – 20:00 UTC -4
Sunday, July 11 from 18:00 – 20:00 UTC -4
Saturday, July 17 from 18:00 – 20:00 UTC -4
Sunday, July 18 from 18:00 – 20:00 UTC -4
You've seen the climate crisis transform the Earth. You've seen rising temperatures fuel rising injustice across the planet. You know we have to act.
Join the Climate Reality Leadership Corps community of changemakers leading the fight for just climate solutions across Latin America and around the world this July attending the Climate Reality Leadership Corps: Virtual Latin America Training.
The training will connect learners, activists, and leaders from around the region. It will explore the climate challenges people across Latin America face, as well as the exciting success stories that you can be a part of through our regional branch. The event will be held primarily in Spanish with some additional sessions also taking place in English.
El periodo de inscripción al Entrenamiento Virtual para América Latina ha terminado. Regístrate para recibir actualizaciones sobre entrenamientos futuros. 
The application period for the Virtual Latin America Training training has closed. Sign up for updates about our upcoming trainings.