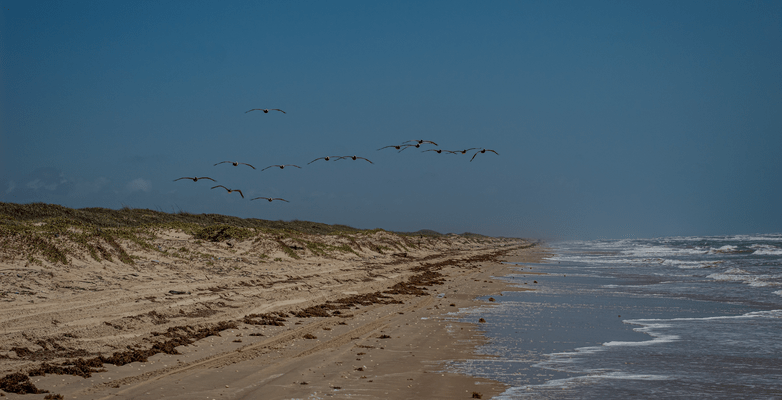 Power Up: A Climate Reality Training on Advocacy in Action
From Florida to Texas, communities along the Gulf Coast have borne a significant brunt of our nation's dependence on fossil fuel energy, with entire communities disrupted by disproportionate placement of polluting infrastructure. This Power-Up Training will be the first of its kind, connecting those impacted in the Gulf South to build local power together and advance regional climate solutions.
APPLICATION CLOSED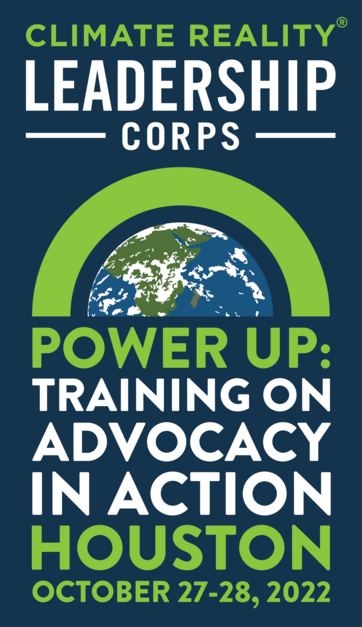 From October 27-28 in Houston, Texas – The Climate Reality Project and former Vice President Al Gore will host the first Power Up: A Climate Reality Training on Advocacy in Action for climate activists across the US Gulf Coast. 
The Gulf Coast has been targeted for continued investments in oil and gas refineries and pipelines that bring the very worst health impacts to communities of color, low-income neighborhoods, and other communities at the frontlines of the climate crisis and the racial inequity crisis. 
We are coming together to say enough is enough. Communities, social justice organizations, policymakers, and businesses in the Gulf South states are embracing climate solutions that support community resilience and promise a just transition to a clean energy economy that centers equity and prioritizes people over profits. 
This free two-day training provides those ready to make a difference with the tools, knowledge, and networks to mobilize their communities and drive real action for climate justice solutions.
The training gives attendees an opportunity to learn about the current state of the climate crisis in the Gulf South, to hear directly from organizations leading on the frontlines of a just and equitable transition, and to build local power to advance climate solutions. The training will also highlight the work of inspiring local leaders from regional civil rights and environmental justice groups who are mobilizing their communities to fight against polluting industries and racial injustice. 
APPLICATION CLOSED
WHO SHOULD ATTEND THE TRAINING?
Gulf South community activists and organizers fighting against polluting industries.
Trained Climate Reality Leaders from the Gulf South and Ohio River Valley regions eager to deepen their allyship with frontline communities and gain greater understanding of environmental justice issues.
Young people ready to lead the transition to a clean energy future.
Social justice organizers looking to amplify their message and engage new audiences.
People of faith embracing stewardship and creation care.
Parents and guardians concerned about the impacts of pollution on their family's health.
Applicants will be notified of acceptance in September and will be requested to RSVP to confirm their attendance.
WHAT YOU'LL GET AT THE TRAINING:
Learn why the Gulf South is a key battleground in the fight against climate change.
Gain a deeper understanding of the environmental justice and climate issues in the Gulf South region. 
Have the opportunity to join coalitions of regional leaders tackling climate change and environmental injustice, share your stories and work, learn about regional campaigns and programs, and connect with other allies on climate change solutions and policy.  
Connect with Climate Reality's vast network of volunteers and Climate Leaders, learn about our campaigns, partnerships, and strategies in the region, and join with us to advance environmental justice on the national stage.
Network with and support the work of other climate champions, social justice organizations, civil rights groups and others working to advance equity and justice in the region.
Our training scholarships are available to individuals who live in areas impacted by environmental disaster, extractive industries, or have disproportionally endured the physical,  economic, and mental burdens of climate change, and are taking action to address social and environmental issues in their community. 
The scholarship opportunity supports participants with transportation costs, hotel accommodation, childcare stipend, and a meal per diem. 
The scholarship application has now closed.
COVID-19:
Q: Why is Climate Reality hosting an in-person training during the COVID-19 pandemic?
A: While Climate Reality is closely monitoring the current situation with COVID-19, we also value the collaborative benefits of meeting in-person. With that in mind, we are cautiously moving back to hosting in-person events, while being sure to take precautions informed by federal and local recommendations and guidelines. We will continue to watch the situation closely and will revise our event protocols and procedures as necessary to ensure the safety of our attendees, as well as our staff.
Q: Can I participate virtually if I am not comfortable attending this training in person/if I can't make it to the training location?
A: We understand that not everyone is ready or able to attend in-person events. However, we are not offering a virtual option for this training. We have future virtual training events in the works—please stay tuned by signing up for our email updates.
Cancellation:
Q: Could an in-person training be cancelled due to the pandemic?
A: Possibly. Based on the current science, we are moving forward with an in-person training but recognize that conditions may change – perhaps quickly. We will continue to put the health and safety of our trainees and staff first.
Q: Will I receive a refund for travel and lodging reservations? / How can I secure refunds for travel and lodging reservations?
A: Climate Reality does not manage refunds for travel and lodging reservations. We recommend you discuss refund options when you arrange your travel and lodging. If the event is cancelled, please follow-up with the travel and lodging companies directly.
General:
Q. How can I stay updated on the next Climate Reality Leaderships Corps training?
A. Sign up for email updates about our upcoming trainings.
Q. HOW MUCH DOES A TRAINING COST?
A. There is no fee to attend the training, but you will need to arrange and pay for your own travel and lodging. Click here for some ideas and tips on how to fundraise for your trip. During the training, Climate Reality will provide lunch, light snacks, and all training materials.
Climate Reality has arranged three discounted room block options for attendees, though attendees may arrange lodging wherever they would like. All rates are first come, first served. Below are projected rates for planning purposes (specific lodging locations will be shared with selected applicants once they RSVP):
Option 1: Nightly rate = $185 + 17% (state and local taxes); cutoff date: September 26, 2022

Option 2: Nightly rate = $259 + 17.82% (state and local taxes); cutoff date October 4, 2022

Option 3: Nightly rate = $179.99 + 17% (state and local taxes); cutoff date is October 13, 2022
Q. Can minors attend the training?
A. If accepted to the training, any applicant under the age of 18 must be supervised and accompanied by a parent or legal guardian. Both the minor and their parent/guardian must be accepted into the program in order for the minor to attend the training. Climate Reality cannot provide any assistance with childcare. Due to limited space, only accepted applicants are allowed to attend the training.
Q. My partner or family member would like to travel with me. Can they attend the training?
A. If your partner or family member would like to attend the training with you, they must apply. Only individuals who are accepted into the program can attend the training. However, there is no limitation on who can travel with you. Please understand that the majority of the two days will be occupied with the training and that your attendance at the entire event is requested. 
Q. What is the address of the training location and where should I stay?
A. Training locations and accommodations vary by city. We'll send an email with the address of the training location and accommodation recommendations to all accepted and confirmed participants so they can arrange and pay for their own travel and lodging.
Q. What is an

Advocacy

Action

?
A. Advocacy Actions are any actions you take to help solve the climate crisis. We group these actions within five areas of impact, all of which hold the key to slashing climate changing emissions and transitioning the energy systems poisoning our communities. These five critical areas are:
Just Transition to Clean Energy

Zero-Carbon Transportation

Climate Justice and Public Health

Building Green Communities

Nature-Based Solutions
If we change these systems to be more climate-forward, we can avoid catastrophic climate change and ensure a safer, healthier, and happier life for all beings around the world. Through your chapter, branch, or general involvement as a Climate Reality Leader, The Climate Reality Project will serve as your way to become involved with a suite of activism opportunities that help build the political will to drive change.  
Q. Do I need to stay for the whole training?
A. Anyone who is applying to the training must be able to commit to the full length of the training. You can expect the training to run from the morning of October 27 to the early evening of October 28. An agenda will be sent to all accepted and confirmed participants.
Q. Aren't we producing additional CO2 in the atmosphere by flying out to the training?
A. As an international organization committed to fighting the climate crisis on a global scale, Climate Reality holds trainings in many different locations around the world so people everywhere can join us in working to solve the climate crisis. Climate Reality is aware that the trainings may be distant from some attendees' homes and that event-related air travel is a contributor to carbon pollution. In addition to implementing an event sustainability strategy to reduce the emissions from the event, we measure event-related emissions (including air travel) and neutralize those emissions via verifiable carbon offsets. We have seen firsthand the value of in-person trainings and how the community grows from the connections that Climate Reality Leaders make during the training days. After the in-person training, attendees are invited to connect, share, and engage in an online platform that reduces or eliminates the need for any further long-distance travel in their work as Climate Reality Leaders. As of 2020, we also offer virtual training options for those who cannot or would prefer not to attend an in-person training. To find out more about the upcoming virtual trainings as they are announced, please subscribe to our training mailing list in the "GET MORE INFORMATION" form. You can also check for updates on our website. We hope you can attend a training in the future!
Q. How does The Climate Reality Project account for event-related emissions?
A. In planning our events, Climate Reality employs sustainable event practices in accordance with the event industry's leading standards: ISO 20121 and APEX/ASTM Environmentally Sustainable Meeting Standards. We also implement a comprehensive plan to divert as much waste as possible from the event to recycling centers and local compost facilities. Once onsite energy conservation and emission reduction strategies are exhausted, Climate Reality selects verifiable carbon offset projects to cover any remaining emissions impacts. By supporting these projects, we are able to offset and neutralize all event-related emissions, including those from air travel, energy use, vehicle use, etc.
Q: Who can I contact for questions about accessibility at the Houston training?
A: The Climate Reality Project strives to make our Leadership Corps trainings accessible to all. Please contact Brianna Widner at accessibility@climatereality.com  with any questions around accessibility at the training.
---
Do you have a question that is not addressed here? Please contact us at training@climatereality.com and we respond as soon as possible.
Stretching from Florida to Texas, the US Gulf South is known worldwide as one of America's great cultural hotbeds, celebrated for the incredible diversity of its food, languages, music, art, and local traditions, as well as the resilience and insistent self-determination of the people who call it home. The Gulf South of today is a product of its complex history – shaped by the confluence of Native, Creole, African, Mexican, European, and other cultures, the displacement and disenfranchisement of Native tribes and communities, the legacy of the slave trade and forced labor of Africans and their descendants, and the shared struggle and ongoing fight for equality and justice for Black, Indigenous, and other people of color (BIPOC).
Against this historic backdrop, environmental justice and civil rights activists have fought for decades against environmental racism and the unfettered attack on communities of color by polluting industries. Most notably, against the sprawling network of refineries, pipelines, petrochemical plants, oil rigs, and other large industrial complexes that have been steadily taking over their neighborhoods, waterways, and landscapes. The toxic pollution spewing from these facilities has inflicted a tremendous health cost to local communities, overwhelmingly low-income families, and people of color. These facilities are also fueling the climate crisis and increasingly powerful storms and floods that threaten these same communities.
But if fossil fuel companies thought Gulf South residents would sit idly by as cancer rates skyrocket and life expectancies shrink, they were wrong. With oil and gas interests now planning to spend billions to expand their petrochemical operations across the region – many of the same multinational corporations who secretly funded efforts to deny the reality of the climate crisis in the first place – it's time to write a new chapter in the story of Gulf South resistance and resilience. [i]
That's why The Climate Reality Project is coming to Houston this fall for Power Up: A Climate Reality Training on Advocacy in Action, running October 27–28. The Climate Reality Project and former Vice President Al Gore are proud to partner with grassroots and environmental justice organizations from across the Gulf South on this special two-day event designed to connect, train, and empower advocates to fight the industry takeover in the region – and win.
Fighting Petrochemical Pollution
Today, much of the world is working to speed the transition from dirty fossil fuels to clean renewable energy. Meanwhile, the fossil fuel industry is spending billions on new pipelines and other facilities to lock in oil and gas use for decades, and on rapidly expanding the market for its petrochemical products, like plastics and industrial chemicals. All without regard for the cost to our climate or local communities.
Nowhere is this strategy clearer than in the Gulf South, where pollution from existing refineries, processing plants, and adjacent industries already force residents of industrial corridors to live with higher-than-average cancer risks (as much as 50 times in some locations). [ii] , [iii]
Emissions from these facilities are also contributing to the devastating hurricanes, lethal heatwaves, dangerous flooding and other climate impacts striking the same communities with alarming regularity. If the industry is successful in expanding its operations as proposed throughout the region, new facilities could generate more than 8% of US greenhouse gas emissions when they come online, fueling yet more climate devastation. [iv]
Adding insult to injury, as fossil fuel and petrochemical plants enter Gulf South communities, it becomes easier for other potentially polluting facilities like wood pellet plants, grain elevators, and fertilizer mixing plants to move in too, increasing the dangers residents live with every day.
At Power Up, we'll highlight the clear and present danger the fossil fuel and petrochemical industry poses to communities across the Gulf South and learn how we can organize together to stop new facilities from taking over the region. We'll also learn winning strategies from local activists and organizations like Rise St. James, which successfully blocked the construction of a new $1.25 billion petrochemical plant. [v]
Climate Justice and Public Health
The signs of injustice and environmental racism are all around the Gulf South. They can be seen in the corridors of industrial facilities along the Mississippi River, in places like Death Alley (also known as Cancer Alley) in Louisiana, and in predominately Black and Latino communities in Houston located near the Houston Refinery Corridor. [vi]  In these communities, residents regularly endure shelter in place orders to avoid exposures to hazardous chemicals resulting from accidental leaks and spills.
An estimated 5.6 million people in the Gulf South live within a half mile of active oil wells, compressors, and other polluting infrastructure due in part to redlining, a racist government-led housing policy that forced Black residents and other minority groups into segregated and disinvested neighborhoods. [vii] ,[viii] The region's diversity of oppressed people, its storied past as an epicenter of the confederacy, and traumatic legacy of forced slave labor still play a considerable role in the lives of those in the region today. After the abolition of slavery, freedmen's towns were established as areas where Black and eventually Latino populations took root and established a thriving collective of neighborhoods. It wasn't long after the abolition of slavery before the formal practice of redlining arose and then was defined during the civil rights era. The practice of redlining made it impossible for these communities to continue to thrive, receiving the label of hazardous.
Today, racist zoning practices continue to push heavy industry and polluting infrastructure into BIPOC and low-income communities across the Gulf South leading to disproportionate exposures to poor air quality and toxic pollutants. [ix], [x] , [xi] Often, these communities are home to high populations of uninsured and underinsured residents who are least equipped to face the high incidence of health problems like cancer, respiratory illnesses, and other afflictions associated with living in close proximity to these facilities. [xii]
The danger doesn't end there. As temperatures rise, so do the threats of catastrophic climate impacts from floods to hurricanes to heatwaves that many of these same communities face. As we saw with Hurricanes Harvey, Laura, and Delta – to name just a few – when these impacts strike, poor families and communities of color are often the first hit and the first forgotten by government responders and aid agencies.
Many have refused to take these threats lying down, rallying together to shape public and regulatory hearings, pressure legislators, and fight for the basic access to clean air and safe water that millions take for granted. Too often though, they run into policymakers with financial ties to the very industry they're supposed to regulate, blocking progress.
We can do better. We must do better. At Power Up, we'll explore how we can collectively work for justice for frontline communities living with fossil fuel pollution and climate change and reassert local control over our water, air, and land in the face of powerful corporate interests.
Driving a Just Transition to Clean Energy
Today, the Gulf South is known as the home of the fossil fuel industry in America.
Tomorrow is a different story. With 62 gigawatts of solar and wind energy already being planned or developed across the region – enough to power roughly 5,800 homes for a year – and the capacity for an estimated 508 gigawatts from offshore wind – the Gulf South can be the engine for a new kind of economy and show the nation what a just transition to clean energy looks like. [xiii], [xiv]
Critically, a just transition in the region can help both slash climate-changing emissions and create thousands of new jobs, especially in communities that have faced institutional neglect and disinvestment for decades. Plus – unlike the fossil fuel and petrochemical plants that primarily employ workers from outside their host communities – clean energy developments can put people to work in the places they live and help communities build real wealth. With the potential to create up to 17,500 jobs from offshore wind projects in Texas and Louisiana, the transition to a clean energy economy could provide the infusion of jobs needed to help offset the continued decline of jobs produced by the oil and gas industry [xv].
But a just transition in the region isn't just about electricity. It's about power. It's about ensuring those so often overlooked and most hurt by extractive industries and fossil fuels – Indigenous tribes, communities of color, poor families – finally have a real say in the future of energy and the economy in the region. It's time for the world to listen and learn from their example.
At Power Up, we'll look at what a truly just and community-led transition to clean energy can look like. We will chart a roadmap for the way forward, examining how the Gulf South can take advantage of the knowledge, innovation, and leadership of its communities to create a new model of equitable economic development and climate-smart living for the nation.
A New Way Forward
For too long, communities across the Gulf South have paid the price for the nation's addiction to fossil fuels, breathing poisoned air and suffering through one climate-fueled storm after another. This has to change.
Power Up is part of the movement uniting advocates and activists from across the region to build the skills we need to mobilize our communities and begin a truly just transition that inspires the nation.
After all, Gulf South communities know what future they want, and they know how to get there. At Power Up, we'll bring people living and working on the frontlines of climate and environmental injustice together with The Climate Reality Project's local volunteers and our allies from other local and national environmental justice organizations. We'll strengthen and add capacity to the existing movement focused on creating good jobs that support communities and families. And we will demonstrate a new approach to energy that can power our lives with solar and wind without destroying our planet.
This is our moment to draw on the rich legacy of social and environmental justice activism and resilience that has defined the region. This is the time to plot a new way forward for the region, the nation, and the planet.
Join us for Power Up: Training on Advocacy in Action. Let's get to work.
---
[i] https://climateinvestigations.org/exxonknew/
[ii] https://www.epa.gov/sites/default/files/2019-12/documents/waiting_to_die_final.pdf
[iii] https://www.ncbi.nlm.nih.gov/pmc/articles/PMC7691047/
[iv] https://www.reuters.com/article/us-usa-refining-emissions/u-s-greenhouse-gases-to-billow-on-gulf-coast-petrochemicals-charge-study-idUSKBN1ZE03A
[v] https://www.nrdc.org/experts/sujatha-bergen/if-you-build-it-they-will-suffer
[vi] https://www.tshaonline.org/handbook/entries/fifth-ward-houston
[vii] https://oilandgasthreatmap.com/threat-map/
[viii] https://www.nature.com/articles/s41370-022-00434-9
[ix] https://www.bloomberg.com/news/features/2022-03-09/zoning-reform-targets-a-toxic-legacy-in-dallas
[x] https://www.nola.com/news/courts/article_08140c44-4196-11ec-a23a-530b9b7438c2.html
[xi] https://www.usnews.com/news/business/articles/2022-01-26/epa-acts-on-environmental-justice-in-3-gulf-coast-states
[xii] https://www.ncbi.nlm.nih.gov/pmc/articles/PMC7691047/
[xiii] https://www.eia.gov/tools/faqs/faq.php?id=97&t=3#:~:text=How%20much%20electricity%20does%20an,about%20893%20kWh%20per%20month.
[xiv] https://cleantechnica.com/2020/05/09/dream-big-508-gigawatts-of-offshore-wind-potential-for-covid-19-recovery/
[xv] https://www.nola.com/news/environment/article_84c59e34-8083-11ec-8591-27ad943daf43.html