Support Farmers and A More Resilient Food System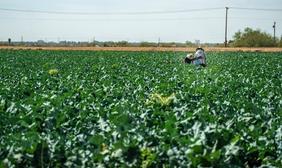 America's farmers play a critical role in addressing the climate crisis and protecting our food supply.  
That's why it's critical that Congress pass a 2023 Farm Bill – a once-every-five years piece of legislation – that includes the climate-smart tools and resources needed to reduce the impacts of climate change and incorporate sustainable conservation practices on farms. 
But some representatives in Congress have threatened to repurpose billions of dollars allocated to Farm Bill conservation programs through the Inflation Reduction Act (IRA). 
Protecting this funding is critical to fighting climate change, and farmers want to do their part. The IRA funding boosts USDA's oversubscribed federal conservation assistance programs to help more farmers participate in solving the climate crisis.  
Join us today and send a letter to your representatives. The 2023 Farm Bill is a great opportunity to address the challenges farmers face while charting a course to a more resilient farm economy and food system.