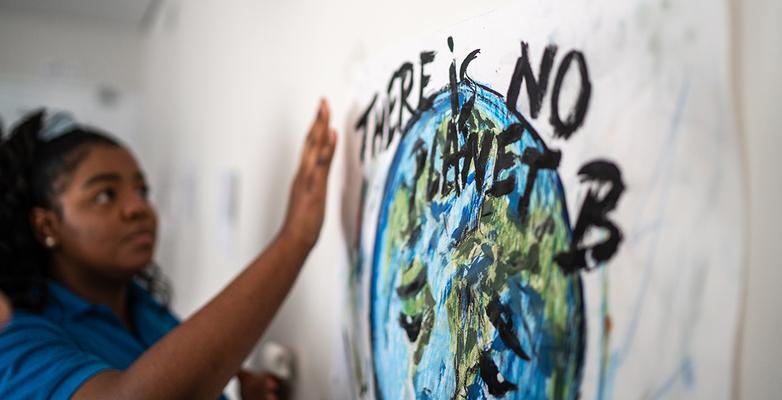 Climate and Environmental Justice
Because the climate fight is a justice fight.
No parent should have to ask about chemicals in the water their kids drink. No one should have to wonder what the air they breathe is doing to their lungs. Or worry that yet another hurricane will unleash life-threatening floods and take everything they own. Once again.
But today, thanks to fossil fuels and centuries of systemic racism, this is exactly the reality millions of people of color and poor families live with.
In the US, it's there in the legacy of racist housing and industrial policies that mean Black people are 75% more likely than white people to live in fenceline communities close to oil and gas facilities polluting our air and changing our climate.
It's there in the staggering fact that Black people breathe air with 38% more pollution than white people. In the fact they're exposed to 56% more pollution than they cause – while white people breathe 17% less pollution than they produce.
Globally, it's there in the fact that those suffering the most from climate impacts from sweltering heat to never-ending drought to ever-more powerful storms are overwhelmingly people of color in poorer nations. As just one example, the majority of the 10 countries hit hardest by climate-fueled extreme weather from 1999– 2018 are also on the list of the world's least developed nations.
The bottom line is this: Poor families and people of color have done the least to create the fossil fuel economy and the climate crisis. And yet they're paying the greatest price.
It's injustice, pure and simple. And it's got to stop.
Climate Injustice by the Numbers
If you're new to the justice fight in the climate movement, it can feel like there's a lot to learn.
To help, we've put together introductory explainers on some of the key issues and ideas in this fight.  It's important to recognize that we're not the field experts here and our work draws heavily on grassroots partners and organizations who've been fighting this fight for many years and even decades.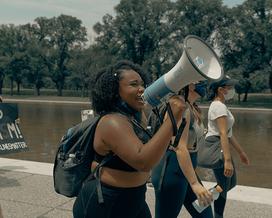 At The Climate Reality Project, we believe it's time for a new kind of climate movement.
It's time to listen to the expertise of frontline voices, Indigenous peoples, and activists of color fighting pollution and climate change in their communities and learn from their leadership. It's time to hear the young activists calling for intergenerational justice.
Most of all, it's time to fight for equity. To fight for a world where we all breathe clean air and drink safe water. To fight for a future where people of color and poor families no longer suffer the worst of climate change while the wealthy look away. To fight for good jobs and real opportunities for all. No matter what we look like or where we come from.
We're working to build this movement by focusing on five key areas: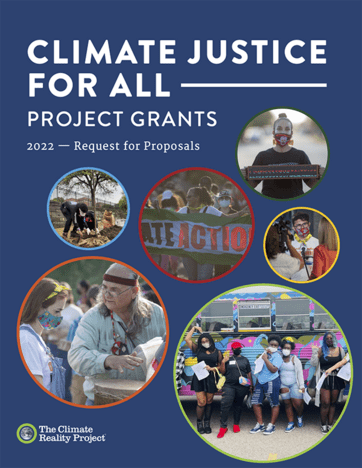 DRIVING HIGH-LEVEL POLICY CHANGE:
Our Climate Moment™ brings together activists across the US to push Congress to embrace bold policies that clean up the pollution hotspots killing families of color and accelerate a just transition to clean energy that creates good jobs and opportunity everywhere from our big cities to rural communities.
TRAINING LEADERS AND EMPOWERING ACTIVISTS
Since 2006, the Climate Reality Leadership Corps has recruited and trained over 31,000 world-changers of all ages, backgrounds and walks of life all across the planet. The program gives people ready to lead the fight for just climate solutions the understanding of climate science, organizing skills, and global network to inspire and mobilize their communities for action at critical moments.
Alongside the Climate Reality Leadership Corps, our Climate Speakers Network trains community leaders to be powerful climate messengers inspiring people of faith and frontline communities to act now.
CLIMATE JUSTICE GRANTS:
We support grassroots partners across the US fighting for environmental justice by cleaning up pollution hotspots, ensuring access to quality nutrition, and expanding clean energy in low-income communities, to name only a few areas. Apply for support today.
ELEVATING VOICES OF COLOR:
We work to amplify voices of color and build a more diverse and inclusive movement that draws on their leadership, innovations, and expertise and fights for equity.
INTERNATIONAL BRANCHES:
Our 11 international branches and partnerships – in Australia, Brazil, Canada, China, Europe, India, Indonesia, Japan, Mexico and Latin America, the Philippines, and South Africa – organize activists to raise awareness of climate injustice and fight for the solutions that can make a difference in their country or region.
Stories from the Front Lines