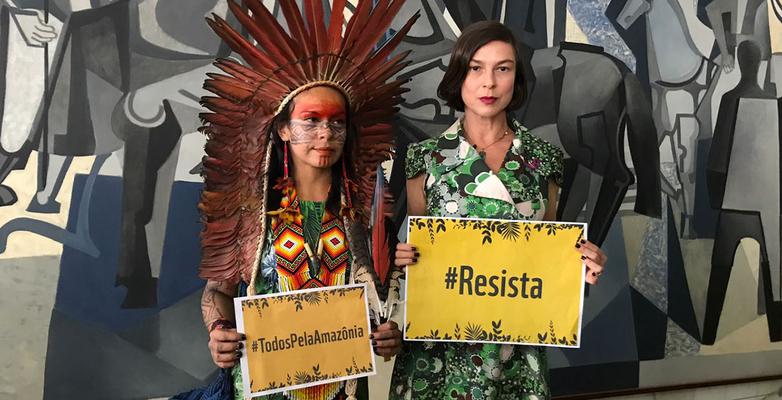 Frontline and Fenceline Communities
To build a winning coalition and beat the climate crisis, we need to understand and respond to how social inequities intersect with climate change, creating a world where rising temperatures and rising injustice go hand in hand.
It starts with listening to the communities already living with fossil fuel pollution and experiencing the worst of climate change. By understanding what the crisis means for them, we can work together for truly just and equitable solutions.
FRONTLINE COMMUNITIES
Frontline communities experience the impacts of climate change "first and worst."
Overwhelmingly and disproportionately people of color, individuals in these communities have endured the incredible physical, economic, and mental burdens of climate change. They've been forced to rebuild their homes and lives after climate-fueled floods or wildfires take everything they've worked for. They've lived through heatwave after heatwave or watched endless droughts turn crops into dust. And on and on.
Because of their lived experience, people in frontline communities have become experts on the climate crisis: not just what it's like to go through, but what solutions actually work on the ground. Which is why their voices and leadership are so important to the future of the climate movement.
FENCELINE COMMUNITIES
A fenceline community lives immediately adjacent to highly polluting facilities – think fossil fuel infrastructure, industrial parks, or large manufacturing facilities – and is directly affected by the traffic, noise, operations, and most-concerningly, chemical and fossil fuel emissions of the operation.
According to a report from the NAACP and the Clean Air Task Force, "Most fenceline communities in the United States are low-income individuals and communities of color who experience systemic oppression such as environmental racism."
CANCER ALLEY
To see what environmental racism means for fenceline communities, you only have to look at the stretch of land alongside the Mississippi River running from Baton Rouge to New Orleans, Louisiana.   
The predominantly majority Black communities along this stretch include seven of the 10 US census tracts with the highest cancer risks in the nation. Dubbed "Cancer Alley," this 85-mile stretch is home to more than 150 chemical plants and refineries – and thousands and thousands of people.
The region accounts for nearly 25 percent of the nation's petrochemical production, but has seen few economic benefits from playing host to the industry. Poverty runs rampant and illiteracy levels are high across the region.
This is injustice pure and simple – and we have a moral obligation to act.
MAKING COMMUNITIES SAFER
For many low-income families and communities of color, climate-related events like extreme drought, major floods, wildfires, and urban heat islands add insult to injury after decades of disproportionate exposure to fossil fuel and industrial pollution.
How can we change this? By fighting for environmental justice.
According to the US Environmental Protection Agency, environmental justice will be achieved when all people enjoy "the same degree of protection from environmental and health hazards, and equal access to the decision-making process to have a healthy environment in which to live, learn, and work."
We like the sound of that. To make it happen we must embrace the fight to end the systemic racism that dumps power plants outside Black and Latino communities and looks away when hurricanes and floods wash away poor neighborhoods.
In practical terms, this means fighting for a just transition from the dirty fossil fuels poisoning frontline communities to clean renewable energy. It means working for policies that bring good green jobs and real opportunities to the communities so often left behind. It means investing in infrastructure and disaster preparedness in neglected neighborhoods to help residents safely weather hurricanes and other climate events and supporting all communities equally in recovery – not just the white and wealthy parts of town.
This is our fight – and justice must be at the heart of it.
---
It's clear: We are facing the real possibility that the climate crisis could steal the chance at a better tomorrow from people all over the world. But it doesn't have to be this way. Learn more about becoming a trained Climate Reality Leader, and fight for climate justice in frontline and fenceline communities when it matters most.