Global Dialogue on Expanding Zero-emission Vehicles and Transportation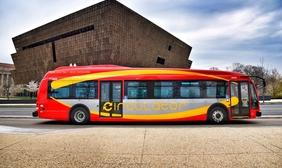 Join us for this global dialogue moderated by Al Gore.
Transportation isn't just one of the biggest drivers of global warming. It's also a major contributor to the air pollution killing millions prematurely and sickening millions more each year. The problem is especially pronounced in urban areas, with many relying on dirty diesel and gasoline-powered systems that pour pollution into the air many poor families and frontline communities breathe.
It's time to do better. Join activists from Climate Reality's Philippines, Canada, and US branches to explore the state of climate-smart transportation today and learn how we can work for policies that transform the sector, shrink emissions, and make better options like electric vehicles and buses and rapid transit choices available to all.
Join us for this global dialogue and learn about:
How we can support advocacy measures through research, data collection, and fostering competition between cities.
Education opportunities connecting dirty transport and the climate crisis.
Demanding increased accessibility to public transit and infrastructure for underserved communities.
 
This event will feature speakers from Canada, the Philippines, and the US. It will be hosted at Philippines - 9PM PHT / Canada - 9AM EDT / US - 8AM CDT (times listed in local time zones).