Global Dialogue on Building Green Communities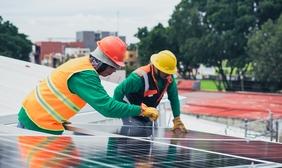 Join us for this global dialogue moderated by Al Gore.
The fight for just climate solutions isn't only about stopping rising temperatures. It's about creating healthy and inclusive communities ready for a warmer world and communities where we can all thrive.
Join advocates from Climate Reality's Latin America, Brazil, and India branches for a global dialogue on empowering residents and developing new community-led approaches to building the neighborhoods, towns, and cities we call home.
In this dialogue, we'll explore key issues including: 
How we create ambitious local climate action plans that emphasize resilience and smart growth.
Teaching municipalities how to include climate action in their development plans.
Equipping local communities with the knowledge they need to build the action plans right for their circumstances and their lives.
 
This event will feature speakers from Colombia, Brazil, and India. It will be hosted at Latin America - 10AM CDT / Brazil - 12AM BRT / India - 8:30PM IST (times listed in local time zones).