Global Dialogue on Just Transition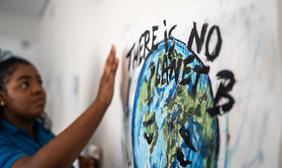 Join us for this global dialogue moderated by Al Gore.
The term "just transition" is fast becoming a key part of climate advocates' vocabulary worldwide, as we work to quickly shift global energy use from polluting and climate-changing fossil fuels to clean sources like wind and solar.
But with community input core to the process, what a just transition actually means in practice can look very different all around the world. Join us for a dialogue with advocates from Climate Reality branches in Europe, the US, and Japan to explore varying perspectives on what a truly just transition is for their respective communities, share best practices, and learn how we can accelerate this process planet-wide. 
Join us for this global dialogue and learn more about:
How advocates can support clean electricity initiatives at every level, from local all the way up to national.
Proven strategies for advocating for clean energy installations and incentives.
Fighting new fossil fuel infrastructure and industry greenwashing.
How a just transition can create good green jobs with a future for workers and new opportunities for disadvantaged communities.

This event will feature speakers from the US, Europe, and Japan. It will be hosted at Europe - CEST 2PM / US - CDT 7AM / Japan - 9PM JST (times listed in local time zones).