Tell EPA: Hold Heavy Trucks to a Higher Standard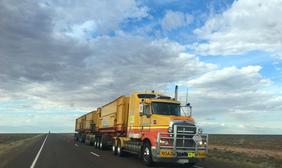 America, we have a heavy truck problem.
The big trucks hauling our food and freight are the biggest polluters on the road, filling the air with toxic chemicals like nitrogen oxides (NOx) and climate-changing greenhouse gases.

For the 72 million Americans living close to freight routes – overwhelmingly people of color and poor families – this means breathing in chemicals that contribute to asthma, heart and lung disease, and other respiratory issues.
Thankfully, EPA is taking action with a proposed new rule that requires new trucks reduce greenhouse gas emissions and cut NOx pollution by 90% by 2031.
These are critical first steps. But we can do better.
It's time for EPA to follow the lead of several states that require new trucks cut NOx pollution 90% by 2027.
Adopting this standard nationwide would not only prevent thousands of asthma attacks, hospital visits, and even deaths each year. And paired with strong GHG standards, it would also accelerate the transition to the 100% electric trucks by 2035 we need to fight climate change and ensure clean air for all.
Take action and tell EPA: Follow leading states' examples and hold heavy trucks to a higher standard for tailpipe pollution and greenhouse gas emissions.