March to End Fossil Fuels with Climate Reality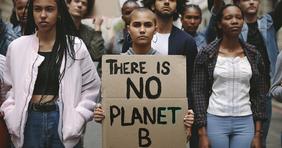 On September 17*, we are taking to the streets with thousands of other climate advocates in New York City calling on world leaders to stop fossil fuel expansion and extraction.  
If you're in the area, join Climate Reality on the ground and march with us. Once you've signed up, we'll send you the meet-up location closer to the march date! 
The march will take place ahead of the UN Climate Ambition Summit – a first-of-its-kind meeting hosted by the United Nations Secretary-General (UNSG) Antonio Guterres, who is asking heads of state from around the world to come with concrete steps to keep fossil fuels in the ground.  
We are mobilizing around the summit to leverage national and international pressure to demand leaders change course. This is a critical moment for mass mobilization on fossil fuels that could ignite bigger and bolder climate action. Are you in? 
*We recognize this mobilization is planned for the second day of Rosh Hashanah. There were a number of factors that led our partner to choose this date, and they did not make this decision lightly. We deeply respect that Jewish communities have different relationships with protest and social action during the High Holidays. We honor and affirm that many Jewish communities and organizations will be praying at this time and celebrate their observance.