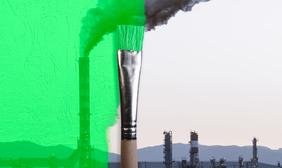 First, fossil fuel companies brought us global warming. Then, they spent millions blocking climate action to protect their bottom line.
Now, they want us to believe they're on our side, leading the clean energy transition and protecting our planet's future – all while quietly walking back their commitments, or making superficial ones that do nothing to bring us closer to a true net-zero future.
Enough. It's time to call out these Big Polluters.
Chances are, you've seen it too. Big claims from oil companies and others about all the things they're doing to tackle climate change. (Or not.)
Tell us: Have you seen any ads lately from fossil fuel companies that assert a commitment to advancing clean energy? Or any other blatant greenwashing?
We're compiling examples for our new anti-greenwashing campaign and want to hear from you!