Tell the Postal Service to Deliver on Climate Action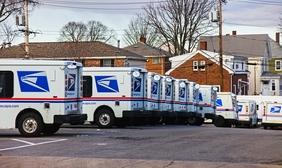 Here's the good news: Our voices can make a difference.
Earlier this year, the US Postal Service (USPS) announced it would spend billions of our taxpayer money to buy a new delivery fleet, equipped with thousands of inefficient and polluting gas-powered vehicles.
Advocates like you joined states and organizations across the country to say, "No way. Not with our tax dollars." USPS listened and announced at least 40% of this new fleet would be the electric vehicles we demanded from the start.
Here's the not-so-good news: 40% is good but not good enough.
As planned, the new USPS fleet will still include thousands of gas guzzling vehicles that will lock in huge carbon emissions and drive climate change for years to come.
We made USPS change once. We'll do it again. Take action today and keep the pressure on USPS to buy a majority electric vehicle fleet. The public comment period has been extended but is only open for a limited time.
Take action today.