Cleaner Air, Healthier Communities, and More Efficient Vehicles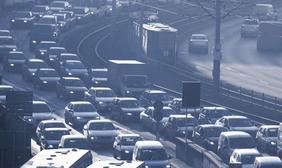 The US Environmental Protection Agency (EPA) is proposing the strongest regulations on vehicle emissions ever. They have to be enacted.
Targeting light-and-medium-duty vehicles (e.g. passenger cars and pick-up trucks) and heavy-duty vehicles (e.g. delivery trucks and school buses), these rules would cut nearly 10 billion tons of CO2 emissions through 2055 from the transportation sector – our single biggest contributor to climate change. All while accelerating the transition to zero-emissions vehicles and potentially producing over $1.6 trillion in net benefits. 
The proposals will also pump the brakes on deadly air pollutants from tailpipes that disproportionately affect communities of color living close to highways and ports. That means lower rates of lung and cardiovascular diseases and fewer premature deaths in these communities. 
With the fossil fuel industry and its allies going all out to spread misinformation and block these rules, the EPA has to hear from us and know that Americans want the strongest possible standards on vehicle emissions. 
Add your name today.