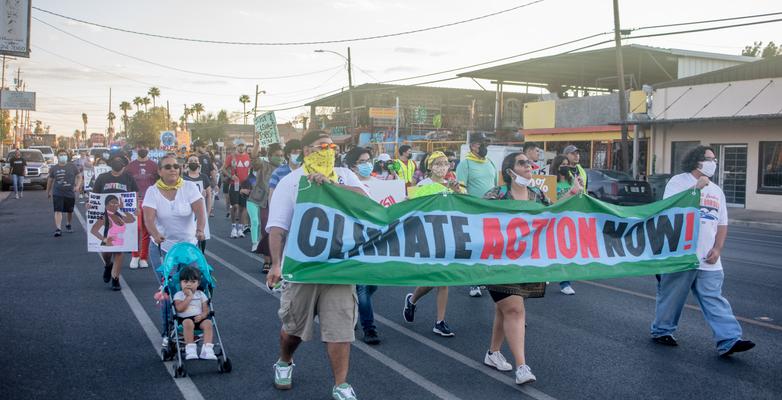 Climate Justice For All Project Grants
2023 – Request for Proposals
At The Climate Reality Project, our mission is to catalyze a global solution to the climate crisis by making urgent action a necessity across every  sector of society. To achieve this goal, we are committed to uplifting the voices of historically marginalized groups who have vital perspectives on the climate crisis and how we solve it. This includes people of color, low-income families, youth, and individuals living on the frontlines of climate change and facing systemic inequalities. In recognition of the expertise and much-needed leadership these communities bring to the success of the climate movement, we launched our Climate Justice for All Grant Program in April 2020.
The Climate Justice for All Grant Program (CJA grants) is an initiative that supports organizations or grassroots groups run by and primarily serving frontline communities in developing community solutions to environmental injustices in the US and Puerto Rico.
Selected organizations receive a one-time grant of up to $20,000, access to our curated library of resources, and opportunities to help amplify and spread their message in partnership with Climate Reality and peer organizations.
As part of the grant cycle, organizations are invited to participate in capacity-building workshops, check-ins with Climate Reality staff, and peer-learning opportunities with other grantees.
Our grant-making approach is based on working collaboratively with all grantees and building authentic relationships together. While we work closely with grantees to help them advance solutions, grantees are always in the driver's seat. With flexibility, trust, and recognition of their expertise, we see organizations as working partners in the pursuit of an equitable and sustainable future for all.
What We're Looking for
This year, we are seeking to fund 10 organizations led by and serving frontline communities interested in implementing project-based solutions that address environmental injustices. Each grantee will receive a one-time grant of up to $20,000.
Frontline communities experience the impacts of climate change first and worst. Communities of color, low-income communities, and people living in places impacted by environmental disaster and extractive industry have disproportionally endured the physical, economic, and mental burdens of climate change.
Proposed projects should start in July 2023 and end in March 2024.
Before starting the application process, please make sure that your organization meets the following basic criteria:
Your organization must be based in any of the 50 US states, the District of Columbia, or Puerto Rico. We strongly encourage applications from: 
Environmental or climate justice organizations.
Grassroots groups.
Faith groups.
Youth-led climate organizations.
HBCU campus organizations.
Organizations with members directly impacted by climate change in their communities.
Previous CJA grantees.
Your organization must show proof of 501(c)(3) tax-exempt status or have a fiscal sponsor actively registered in one of the 50 states of the U.S., the District of Columbia, or Puerto Rico to do business.
Your organization's board, senior leadership and staff must be primarily led by frontline members and reflect the communities served. We define organizations primarily lead by frontline communities as organizations where individuals impacted first and worst by the climate crisis make up all or the majority of board, senior leadership, and staff positions. 
CJA grant recipients who have received funding in one round are eligible to apply for a second round of funding. If selected, these organizations will only be able to receive 20% of this year's funds.
Type of Projects We Seek to Support
Organizations are invited to implement community-driven solutions to the climate crisis that engage, empower, and benefit a disadvantaged community in the U.S or Puerto Rico. However, we will prioritize for selection projects implemented in the following states: AL, AZ, CO, FL, GA, LA, MS, NC, NM, NV, OH, PA, TN, TX, WV.
The project-based proposal must pursue one or more of the following objectives:
Raise awareness of the disproportionate impacts of climate change in frontline communities and the need for clean energy and energy efficiency.
Mobilize communities against the fossil fuel industry or petrochemical production and in support of emissions reduction.
Engage communities in green workforce development opportunities (related to climate, natural disasters, environment, clean transportation, housing, water, and wastewater infrastructure) or in paths for a just transition to clean energy. 
Further community resilience to climate change, environmental injustices, and/or legacy pollution.
As frontline communities continue to bear the brunt of fossil fuel pollution and toxic chemicals, we will dedicate fifty percent of our funding to support projects that prevent and fight the rapid expansion of fossil fuels, petrochemicals, and plastic production  across the country.
Note that a very limited number of grants that focus on influencing legislative efforts can be supported.
Type of Applications Ineligible for Funding
Applications that do not address climate-related issues.
Applications that are not project-based or pursue funding to support an organization's general programming.
Applications submitted by organizations without 501(c)(3) status or that lack a fiscal sponsor.
Applications submitted by organizations that are not based in the U.S. or Puerto Rico.
Projects undertaken by organizations that are not primarily led by frontline communities.
Projects that do not engage, empower, or benefit frontline communities.
Initiatives that support or oppose political candidates or engage in political activity.
Academic research.
Applications submitted by Climate Reality board members, officers related to Climate Reality's employees, or board members or to Climate Reality's high-level donors.
Applications submitted by CJA grantees who have received funding in two opportunities.
Climate Reality will not consider joint applications for this grant cycle. However, we understand that the support of partner organizations may be crucial for the success of a community project. In these cases, grant recipients will be allowed to regrant part of the funds to support the work of a partner group as long as their involvement increases the grantee's chances to meet the goals and objectives submitted in their project proposal.
APPLICATION AND PROPOSAL GUIDELINES
The grant application period is currently closed. 
Applicants will be asked to provide basic information about the organization leading the project and summarize key aspects of the project proposal. These include:
Problem statement and importance.
Objectives and activities.
Timeline.
Experience with population served and programming.
Expertise and partnerships on the ground.
Project sustainability.  
Budget.
We recommend that organizations be concise with their responses since there is a character limit to answer each question. Overall, applicants should not spend more than two hours completing their application.
Before completing your application, make sure to have a copy of your organization's IRS Exemption Determination Letter or that of your fiscal sponsor.  We have also included the application questions in the last section of this document.
Evaluation Criteria
A Climate Reality review committee will evaluate grant project proposals in accordance with the following criteria:
How clearly the climate problem, the community affected, and its importance are explained. (15%)
Project sets specific, measurable, attainable, relevant, and time-bound objectives within a realistic and attainable timeline. Activities are strongly linked to project objectives. (25%)
Project sets a clear vision for success with defined outcomes that demonstrate its potential to engage, empower, and benefit a local community. (15%)
Organization's ability to conduct a successful proposal, based on expertise in the field as it relates to the project, relationships on the ground, and experience working with population served. (20%)
Organization's ability to sustain the work beyond the grant period if the project is not temporary. (10%)
Proposal details how grant funds will help the organization achieve the project's objectives and make an impact. Additional resources such as matching funds, in-kind contributions, or support from other sources are identified. (15%)
Performance as a former CJA grantee (only applicable for organizations that have received a grant from Climate Reality in the past.)
Award Selection Process
Selected organizations will be asked to:
Provide proof of the organization's registration in its state to do business.
Sign a grant agreement.
Provide the organization's bank account details to receive the grant funds in one payment.
Post Award Process
Grantees attend an online kick-off session.
Grantees are invited to record a one-minute video highlighting key aspects of their climate justice initiative for Climate Reality social media.
Grantees are responsible for managing the day-to-day operations of their projects during the nine-month grant period.
Grantees are invited to participate in trimestral  check-in calls with Climate Reality staff.
Grantees are invited to participate in two peer-learning activities with other grantee organizations.
Grantees will be asked to submit mid-term and final reports of their project's accomplishments.
2022 CJA Grants Timeline:
April 27: Q&A Session
May 12: Application deadline
June 30: Announcement of selected organizations
July 1: Beginning of grant period
November 15: Mid-term report deadline
March 15: End of grant period
March 30: Final report deadline
If you have further questions about the grant opportunity or would like to brainstorm best practices to submit a successful project proposal, we strongly encourage you to take advantage of the following opportunities:
Register here for a free Q&A session on April 27 at 1 PM (ET).
Attend office hours and meet with our grants team for more personalized feedback. Office hours are hosted every Thursday from 4:00 PM to 4:45 PM (ET) until the application closes.  To sign up, please contact us by email at climatejusticegrants@climatereality.com.