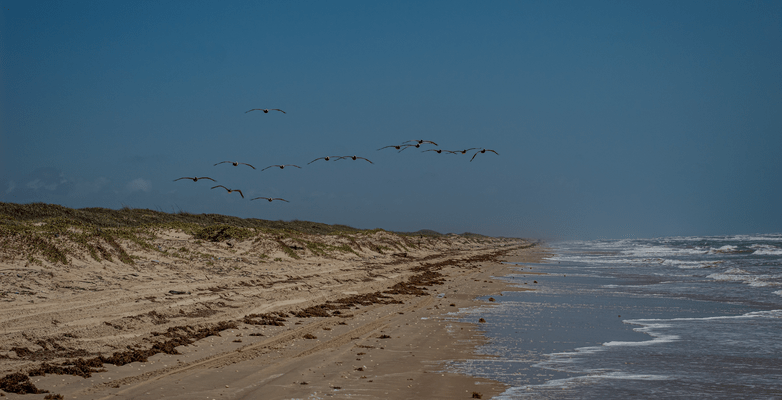 Climate Reality Training on Advocacy in Action
HOUSTON, TEXAS | OCTOBER 27-28, 2022
 SCHOLARSHIP APPLICATION
The scholarship application period for Power UP: Climate Reality Training on Advocacy in Action has ended.
This fall, The Climate Reality Project will be teaming up with environmental justice advocates and civil rights organizations in the Gulf South for a first of its kind, Power UP: Climate Reality Training on Advocacy in Action, taking place in Houston, Texas from October 27–28. The training will be delivered in English. Simultaneous Spanish interpretation will be offered during some sessions.
From Florida to Texas, communities along the Gulf Coast have paid much of the price of our nation's dependence on fossil fuel energy, with entire communities disrupted by polluting infrastructure in their backyards. Even worse, petrochemical companies now plan to invest billions in new pipelines and plants in the region to grow this dangerous industry at a time when we can least afford it.
At this training, we'll bring together local community organizations and activists to oppose this expansion, explore the negative health impacts of petrochemicals on Gulf South communities, develop a shared vision of a just and equitable transition to clean energy for the region, and share the knowledge and resources to bring it to life.
This free two-day training provides those ready to make a difference with the tools, knowledge, and networks to mobilize their communities and drive real action for climate justice solutions. As part of this training, attendees will gain:
A deeper understanding of the environmental justice and climate issues in the Gulf South region and learn why the region is a key battleground in the fight against climate change.
Opportunities to join coalitions of regional leaders tackling climate change and environmental injustice, share your stories and work, learn about regional campaigns and programs, and connect with other allies on climate change solutions and policy.
The chance to connect with Climate Reality's vast network of volunteers and Climate Reality Leaders, learn about our campaigns, partnerships, and strategies in the region, and join with us to advance environmental justice on the national stage.
Space to network with and support the work of other climate champions, social justice organizations, civil rights groups and others working to advance equity and justice in the region
 
And the training is just the beginning! Once trained, you'll become a Climate Reality Leader and join the Climate Reality Leadership Corps of over 42,000 activists from 174 countries fighting to solve the climate crisis.
SCHOLARSHIP OPPORTUNITY
At The Climate Reality Project, our mission is to catalyze a global solution to the climate crisis by making urgent action a necessity across every level of society. We know that climate justice must be at the heart of this effort if we are going to create a truly equitable and healthy future for all. We also know more needs to be done to build an inclusive climate movement that listens to and learns from communities experiencing environmental injustice firsthand. That's why our training scholarships aim to increase representation of these communities, many of who have been historically left out of the climate conversation.
Frequently, one of the biggest barriers to attending a Climate Reality Leadership Corps training is the cost of travel. To help people in frontline communities, students, youth activists, low-income individuals and faith leaders overcome this barrier, the scholarship program provides funds to cover transportation, hotel accommodation, meals, and a childcare stipend for selected participants.
We are looking for 50 or more passionate individuals who are ready to work together and build a healthy and equitable future for all. Does this sound like you? If yes, then keep reading to learn more about the scholarship opportunity!
WHO CAN APPLY?
Frontline communities: The scholarship program has been created to ensure the participation of individuals who identify as part of a frontline community and do not have the economic means to attend our trainings. Climate Reality understands frontline communities are those that experience the impacts of climate change first and worst. Communities of color (Black, brown, Indigenous, and Asian), low-income communities, and those who live in places impacted by environmental disaster and extractive industry have disproportionally endured the physical, economic, and mental burdens of climate change. Because of their lived experiences, frontline communities can speak with authority on climate solutions that will improve and succeed in their communities.
We strongly encourage applications from individuals on the front lines of environmental injustices who have experience in environmental or social justice advocacy and also identify as:

Community activists and organizers fighting against polluting industries.
HBCU students or young people ready to lead the transition to a clean energy future.
Social justice organizers looking to amplify their message and engage new audiences.
People of faith embracing stewardship and creation care.
Parents concerned about the impacts of pollution on their family's health.

Live within the targeted geographic area: Power Up: Climate Reality Training on Advocacy in Action has a regional focus on the Gulf South and the Ohio River Valley. As such, we will only consider scholarship applications from individuals currently living in Alabama, Florida, Louisiana, Mississippi, Ohio, Pennsylvania, Puerto Rico, Texas, West Virginia. 
Meet the minimum age requirement: Applicants need to be at least 13 years of age to attend the training and apply for a scholarship. Any individuals below the age of 18 must be accompanied by a parent or legal guardian. The parent or legal guardian must also apply and be accepted to our Houston Climate Reality Training in order to attend.   
Are not related to Climate Reality employees or board members.
Are not already a Climate Reality Leader: Scholarships are not available for individuals who attended and successfully completed a Climate Reality Leadership Corps Training.
Have not previously received a scholarship: The scholarship program seeks to benefit individuals who have not received a scholarship from Climate Reality in previous years. 
SCHOLARSHIP BENEFITS
While there is no registration fee for the training, our scholarship program covers travel, meal, and lodging costs for selected individuals. For those who need support to cover incurred childcare expenses during the training days, a fixed daily stipend will be provided. Depending on the scholarship recipient's location, the scholarship benefits may include:
Accommodation: The training will be held in Houston, Texas from October 27–28, 2022. Attendees are highly encouraged to arrive in the Houston area on the afternoon of October 26. Climate Reality will provide scholarship recipients with free accommodation from October 26–28.
Transportation: Scholarship recipients will be able to suggest their preferred modes of transportation to the training. This may include taxi, bus, train, airplane, or a personal transportation vehicle. However, we strongly recommend select participants to choose the method of transportation that emits the least amount of greenhouse gases per mile.

Travelling by air, train or bus: Climate Reality will be responsible for booking these tickets based on your travel preferences.
Travelling by car or taxi:  Individuals driving themselves to the training site or taking a taxi will be reimbursed for milage expenses or taxi fares in a per-diem card at the registration desk during the training opening. The mileage reimbursement will be calculated at this rate from the scholarship recipient's residence to the training. Free parking at the training venue will be also offered.

Meal Stipends: Scholarship recipients will receive a per-diem card to cover expenses for meals that are not offered during the training. Climate Reality's per diem rates are:

Breakfast: $15.00
Lunch: $25.00
Dinner: 35.00

Childcare services stipend: Scholarship recipients who need support to cover expenses for childcare will receive a daily fixed stipend of $50 for each day of the event. Scholarship recipients will receive the total amount of $150 in a per diem card at the registration desk of the training.
Please note that scholarship awards may be taxable to the recipient.
EVALUATION CRITERIA
Climate Reality will offer 50 or more scholarships for the upcoming Power UP: Climate Reality Training on Advocacy in Action in Houston, TX. To select scholarship recipients, we will consider the following criteria:
Personal Statement (35%):  Why are you passionate about environmental justice, and what is your experience, if any, in environmental or social justice advocacy? Applicants with personal experience living with and actively fighting against environmental and climate injustices on the front lines will receive priority.
Potential Impact (35%): Tell us about a climate issue in your community and how would receiving this scholarship and attending our Climate Reality Leadership Corps training empower you to take action? Applicants with understanding of the climate issues affecting their community and of the ways that the training and scholarship would help them take action will receive priority.
Location (20%): Proximity of the applicant's residence location to the region where the training is taking place. Applicants who can attend the training using less carbon will receive priority.
Partner Relationship (10%): Applicants that were endorsed by or show affiliation with a partner organization for the training.
APPLICATION TIMELINE
Application deadline: September 15 at 11:59 PM (ET)*
Announcement of scholarship recipients: Before or on October 10
Climate Reality Training on Advocacy in Action in Houston: October 27–28
* Important: We encourage you to apply early as we will review applications on a first come first serve basis!
WHAT TO EXPECT IF YOU ARE SELECTED AS A SCHOLARSHIP RECIPIENT?
We will reach out to you by email or phone to notify you of your selection.
You will need to complete and submit a scholarship agreement to confirm the acceptance of your scholarship.
You will be invited to complete a scholarship travel form so that we can understand your travel and accommodation needs.
Climate Reality staff will contact you to make sure you are reimbursed for any out-of-pocket expenses incurred related to your participation in this event. This may include mileage or taxi fare, childcare stipend, airport parking, etc. Please note that we will reimburse you for these expenses at the training registration desk.
Attend the training from October 27–28. Scholarship recipients are expected to attend all days of the event and successfully complete the training.
---
Climate Reality will be taking safety measures to reduce the spread of COVID-19 during the training.

Masks may be required throughout the event space for attendees and staff. Participants will be notified in advance of the training if masks will be required.
Climate Reality strongly recommends that all participants stay "up to date" with their COVID-19 vaccination, as defined by the U.S. Centers for Disease Control and Prevention ("CDC"), to protect the health and safety of participants and the community from COVID-19 infection. Please review the latest CDC guidance on maintaining an "up to date" vaccination, as those requirements are subject to change from time to time by the CDC.